Pointing your domain's name servers to Kinsta's DNS lets you manage all your DNS records in MyKinsta and take advantage of our premium DNS with Amazon Route 53.
Below, we've covered the general steps for updating name servers. For more specific details on updating name servers at some popular domain registrars, check out these articles:
Step 1
The first step is to add your domain to Kinsta's DNS in MyKinsta. Click on DNS in the left sidebar, then click Add Your First Domain. If you already have a domain in Kinsta's DNS, click Add Domain in the top right corner of the page instead.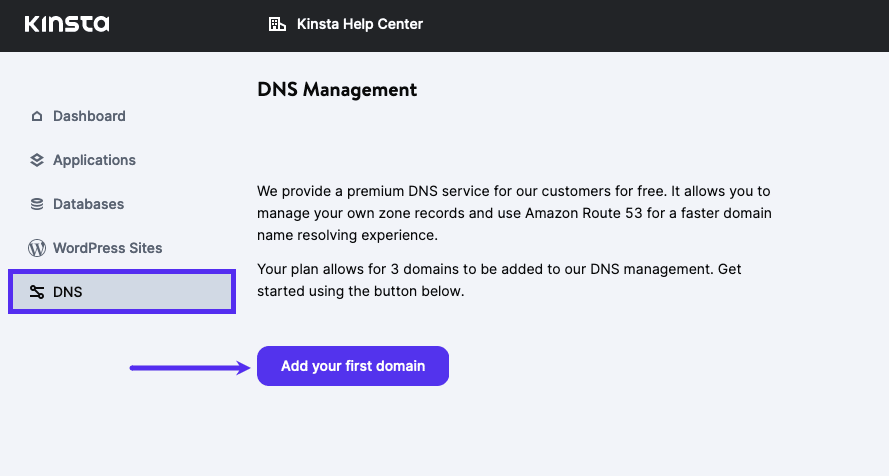 Step 2
Enter your domain in the Add domain modal/pop-up. If you're using Google Workspace for email, you can check the Add Gmail MX Records option to automatically add the required MX records. Note: This only adds the MX records, and you may still need to add additional CNAME and TXT verification records for Google Workspace later on.
After entering your domain, click the Add Domain button.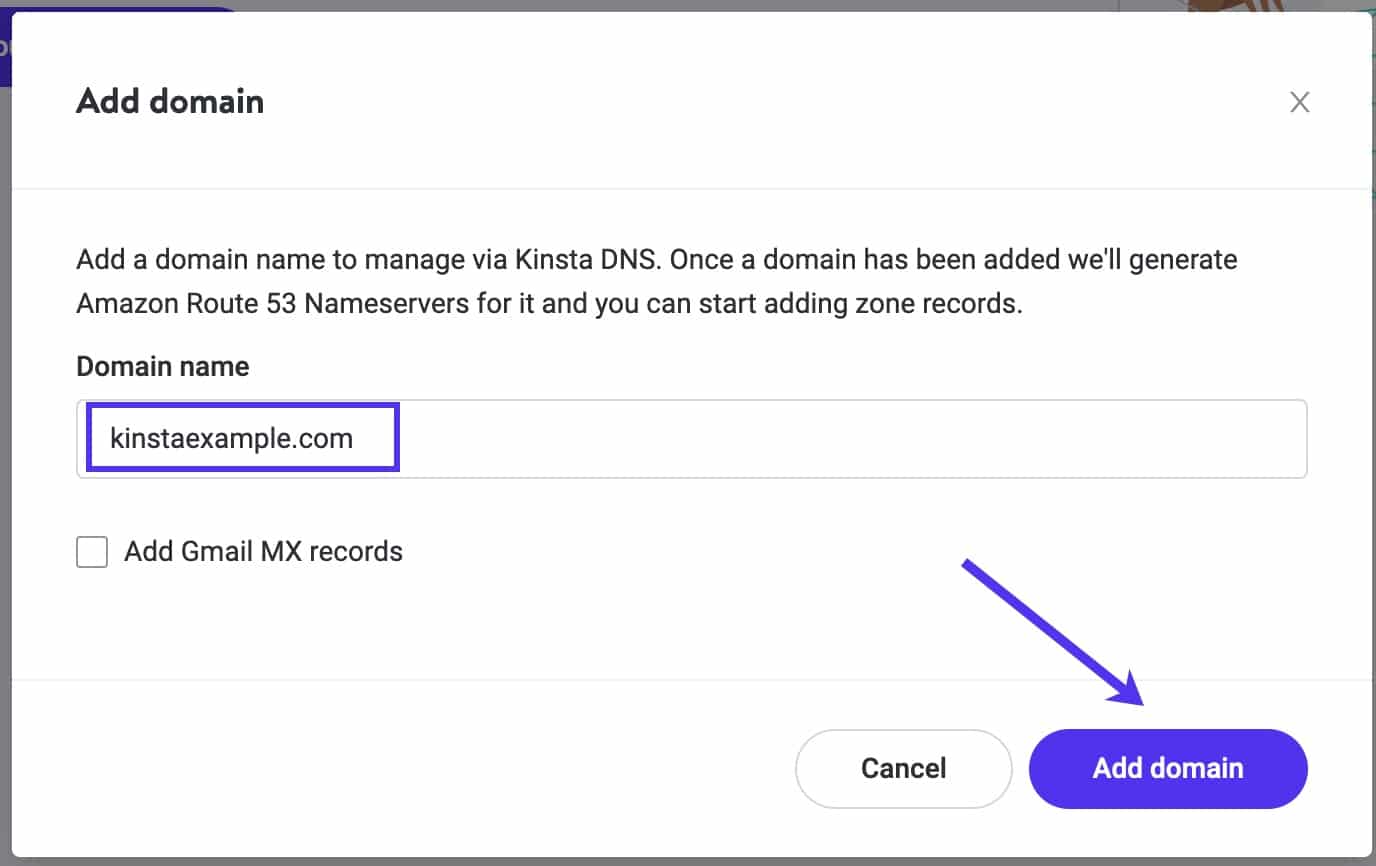 Step 3
On the next screen, the 4 name servers you need to point your domain to will be shown; similar to the ones below:
ns-332.awsdns-41.com
ns-1255.awsdns-28.org
ns-618.awsdns-13.net
ns-1650.awsdns-14.co.uk
Step 4
Before changing your domain's name servers, you'll first want to copy over any existing DNS records you have set up for your domain.
Log in to your DNS provider, where your domain's name servers are pointed to. This may be your domain's registrar but could be another DNS provider.
Copy each of your site's DNS records from your current DNS provider to Kinsta's DNS. This will need to be done manually, as Kinsta's DNS doesn't automatically copy your DNS records.
Step 5
Log in to your registrar's management panel. Note: This may or may not be the same place you currently manage your DNS. Your DNS is managed where your name servers are currently pointed. The name servers your domain points to are managed at your domain registrar. Since you need to change the name servers your domain points to, you'll need to log in to where your domain registration is managed.
Step 6
Navigate to where your name servers are managed at your registrar. This is usually found under DNS, Manage Zones, Modify DNS Servers, Custom DNS, or something similar. If you have trouble locating that, consult your registrar's documentation or support team for help locating and updating your name servers.
Step 7
Depending on your registrar and current name server configuration, you may need to delete existing name servers first. Then you can add the name servers shown in MyKinsta. Make sure all 4 name servers are added and make sure they are the only name servers.