We provide daily automatic WordPress backups for all your sites on your account. These backups are available as restore points on the My Kinsta admin. Note that WordPress backups can not be downloaded but can be used at any time. Follow the steps below on how to create a WordPress backup.
Step 1
Select your site in the Sites section and click on the backups tab. You'll see a list of your available backups. Simply click on "Backup Now" to manually create an additional backup.
Step 2
Give your WordPress backup a short identifier. It may only contain letters and numbers (no spaces or special characters). Then click on "Create Backup."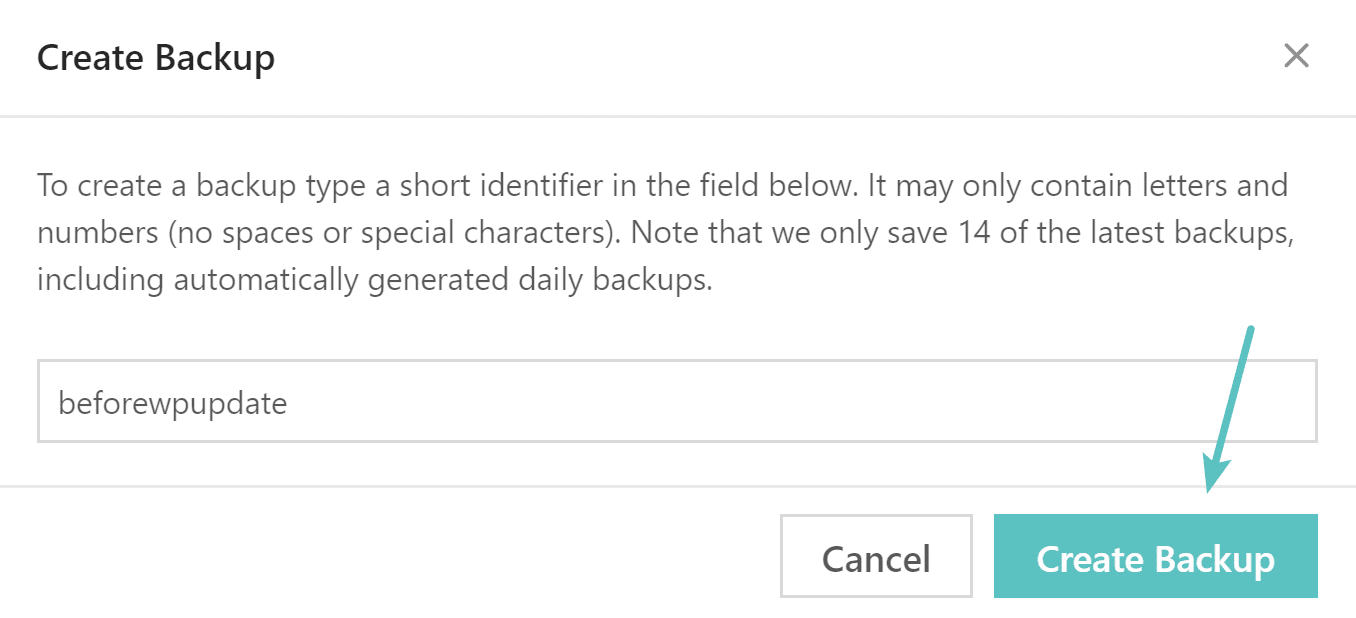 Note that at most 14 backups are accessible at any given time. This includes automatic and manual backups as well.
Restoring WordPress Backups
To restore your WordPress site or backup simply click the "Restore" button next to the backup you'd like to restore. Depending on how large your site is this may take a couple of minutes. While the restore is in progress you will not be able to access your site in the admin, we'll show you a friendly reminder of the restoration process.
Once the restore process is complete the admin will refresh automatically and you'll have access to the site again.
Whenever you restore a backup a new backup is generated which will reflect the state of your website just before you restored it. This is handy if you'd like to undo the restore.
Restoring WordPress Backups to Staging
To restore a WordPress backup to staging simply click the "Restore to staging" button. Depending on how large your site is this may take a couple of minutes. You can then access your staging site, which now has its own environment, completely separate from your live production site.
Related Articles