The Kinsta MU (must use) plugin has been designed to work on our WordPress hosting platform. It handles things such as our full page caching technology, as well as the Kinsta CDN integration.
By default, the Kinsta MU plugin is installed on every site hosted by us and is available from the left-hand side of your WordPress admin dashboard. The plugin is required to ensure your site runs smoothly in our environment.
Installing the Kinsta MU Plugin
If you've migrated your site yourself, you might need to install the Kinsta MU plugin manually.
Step 1: Create mu-plugins Folder
Connect to your site via SFTP and create a folder called mu-plugins in your wp-content folder if it doesn't already exist (finished path: /wp-content/mu-plugins/).

Step 2: Download and Unzip the Plugin
After ensuring the mu-plugins folder has been created, download the Kinsta MU plugin and unzip it.
Step 3: Upload to Site
Upload the kinsta-mu-plugins folder and kinsta-mu-plugins.php file to the /wp-content/mu-plugins/ directory.

This will install the plugin, and you can see it in your WordPress dashboard by logging in and going to Plugins > Must-Use.
Kinsta MU Plugin Settings
The Kinsta MU plugin is set to work harmoniously with WordPress and our infrastructure, and on most sites won't need any modifications. This enables automatic clearing of cache on important parts of your site when you make page and post content updates.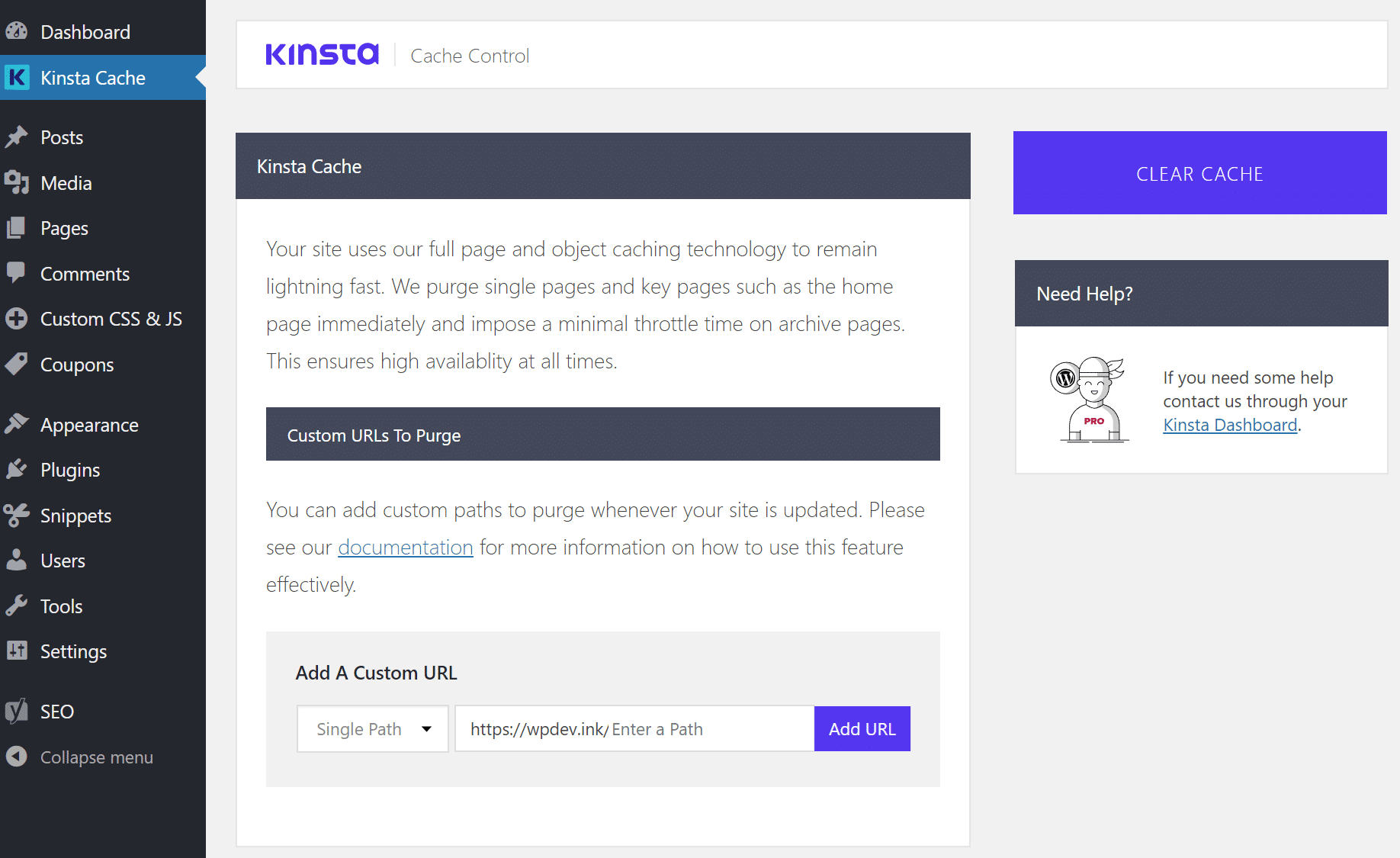 You can also manually clear the cache on your WordPress site with the following methods.
Press the Clear Cache button on the Kinsta Cache plugin page in your WordPress dashboard.
Press the Clear Cache link on the WordPress admin toolbar.
Adding Custom Caching URLs
We already purge single pages and key pages such as the home page immediately and impose a minimal throttle time on archive pages. This ensures high availability at all times. However, depending on how your site's configuration, additional caching rules might be needed. You can add custom paths to purge whenever your site is updated.
1. Add Single Path Custom URL
If you need cache cleared on an exact URL (post or page), you can enter this as a single path rule on the Kinsta Cache plugin page in your WordPress dashboard. Example: https://yourdomain.com/page
2. Add Group Path Custom URL
The group path purges all the URLs which start with that specific URL. This can be especially useful, say if you have a custom post type and need the cache cleared on it and the posts underneath it. For example, if you add https://yourdomain.com/custom-post-type/ as a group path URL, then it will purge the cache on the following:
https://yourdomain.com/custom-post-type/
https://yourdomain.com/custom-post-type/post-1
https://yourdomain.com/custom-post-type/post-2
https://yourdomain.com/custom-post-type/post-3


Additional Notes
You aren't allowed to add only "/" as a path, as this would trigger a clear of the full site's cache with a post/page update. Purging all pages would take a significant toll on server resources, especially during high load times and frequent publishing schedules. This could also degrade the performance of your site for visitors as it would have to re-cache everything.
If you have clients and prefer they not see any Kinsta branding, you can also white label the plugin.