23 Very Different Ways You Can Use WordPress
By Shaumik Daityari, Updated: June 5, 2017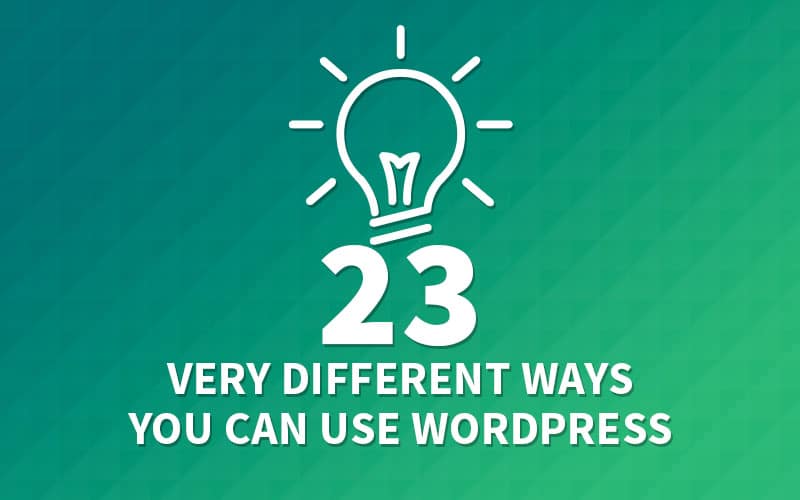 However, WordPress is not just a blogging tool today. With the ability to add third party functionality in the form of plugins, people have come to use WordPress in a variety of ways in over a decade of its existence unimaginable during its first release. Let us have a look at a list of common solutions that WordPress provides nowadays, along with a few innovative tasks.
Ways You Can Use WordPress
Let us start with how people have used WordPress as an old fashioned Content Management System, wherein you add data or information periodically, to update your website.
1. News Portal
Plugins- News Manager, WP RSS Aggregator
Those who use their website to provide news would probably use a plugin to change the look and feel of the news items. We recommend using the News Manager, which in addition to management of news items, lets you maintain an archive, calendar, categories and tags.
Just providing the news is not enough, you need feeds as well. RSS Feeds are used by many people to integrate with their readers and get a mashup of different feeds. WordPress provides feeds of your posts by default, but you might want to display feeds from various sources. That is when the WP RSS Aggregator comes into play. This plugin enables you to select a variety of RSS feeds and display them on your website. Examples of a news website which uses WordPress are Sportskeeda and SitePoint.
2. Real Estate Management System with WordPress
Plugins- WP Property, Real Estate Website Builder
If you are a company that deals in property and real estate using WordPress, you would probably want a separate plugin to manage your property listings. With the help of these plugins, you could create a website where builders, brokers and customers come together. You could add a separate search functionality to help your users. Add a payment gateway (which we discuss under e-commerce) and you could manage payments from within your website! An example is Placester.com.
3. Encyclopedia/Wiki
Plugins- Encyclopedia Lite, Wiki
Although we have Wikis like MediaWiki (PHP) and MoinMoin (Python), you can create one within WordPress by using this plugin. You can create a knowledge base on a niche – an encyclopedia with features like a glossary and a dictionary. You can associate terms with your glossary, in addition to creating tags and categories. You can create user defined templates for displaying your content. In addition to that, you can also create RSS feeds for your readers.
One drawback of the plugin is the minimal set of features in the lite version. The lite version seems to curtail your imagination and hinders your site's progress. You would need to purchase the full version to fully use the capabilities of this plugin. Alternately, you could explore the Wiki plugin, which gives you far more features for free.
4. e-Learning Portal
Plugin- StudyPress
Want to create your own Coursera? With StudyPress, you get to create a minimal version of an e-learning website from within your WordPress site. You can create content and publish it as slides on your site. If you use BuddyPress (discussed later under social networks), you have an option of integrating with that too!
Alternately, if you prefer the popular learning management system Moodle, you can integrate it with WordPress by using Frumbert. Although WordPress and Moodle run separately, the end user gets a seamless experience.
Business Matters
We have looked at a few ways people can extend WordPress from a basic content management system. We will now look at ways you could use WordPress for purposes that could help your business.
5. WordPress based e-Commerce stores
Plugin- WooCommerce
If you imagined selling digital downloads or even fan merchandise right from your desktop, you have the capability to do it right from your WordPress site. Create pages for your items, add a shopping cart to your website, integrate a payment gateway and convert your website into an e-Commerce store! We have a detailed tutorial on how to set up WooCommerce on your WordPress site in case you are interested.
6. Appointment Scheduling with WordPress
Plugin- Appointzilla
If you want to manage bookings or online appointments through your WordPress site, you have a plugin for that too! Appointzilla is a simple, yet powerful plugin that allows you to add staff and services, business hours, time off and set appointments. You can customize it to your needs. Be it lawyers, musicians, consultants or doctors- if your firm or company needs time management tools, you should definitely give Appointzilla a try!
7. Invoicing System
Plugin- WP Invoice
Created by the developers of the WP-property plugin, WP-Invoice is a billing solution for your clients. Although sites like Nutcache and Freshbooks give you a lot of business tools like time and project management, if you want to do it within your WordPress site, WP Invoice is a basic, but useful plugin.
Create an invoice for your products and services and send them to your clients. You can enable them to pay you directly through your site by integrating a payment gateway like PayPal or Authorize.net. Add any time management plugin, and you can create a system that serves your full business needs.
8. Creating a Job portal using WordPress
Plugin- WP Job Manager
If you want to convert your WordPress site into a job board, all you need is a plugin. WP Job Manager lets you add, manage and categorize job listings on your website. Registered users (or guests) can search, manage and apply for jobs. Employers can manage job listings (fill, edit and delete active listings) too. Here you can read our complete WP Job Manager tutorial.
9. Customer Relationship Management (CRM) System

Plugin- WP-CRM
Again developed by the WP-Invoices and WP-Property team, WP-CRM integrates a customer relationship management (CRM) module into your WordPress site. This plugin helps your users to contact you through a form, and also helps the management of these incoming communication on the admin part.
If you not satisfied with the basic features of WP-CRM, here's a list of CRM plugins for your WordPress site which provide far more features. Or you can read our WordPress Leads Review.
10. Events Management Systems
Plugin- Event Organiser
If you want to create events on your site and integrate them with a calendar, you could use a simple plugin. You can sync the events with your iCal too! In this post we cover the best event management plugins.
11. Auction Website
Plugin- WP Auctions
Although WooCommerce allows you to turn your website into an Amazon like site, what if you wanted auctions like eBay? We have plugins for that too. Enter WP Auctions. It looks pretty much like an e-commerce site, but with the ability to bid for items rather than buying them directly.
12. Business Directory Portal
Plugin- Business Directory Plugin
If you want to create a business directory, you should use this plugin. You can create local directories, list business providers and generate a yellow pages like listing. You can keep the listing free, or make it available at a payment. As premium modules, you can add a ratings module to rate businesses and a Google Maps module to add locations to your listings. You can visit their official site for a list of features and documentation.
Productivity
13. Photo, Music and Video Gallery
Plugins- NextGEN Gallery, GMedia Gallery
If you want to showcase photographs of your events, what better way than to use a WordPress plugin to do the task? We would suggest having a look at the NextGEN Gallery plugin.
In case you are a music artist, you would probably want to play your music on your site. You have to take care of things like copyrights. Here's a post on how to set up music playback on your WordPress site. You could choose to put the music on your site, or host it on a cloud provider.
In case of videos, is there a better service than Google's own YouTube? Here is a comprehensive list of 11 tools to integrate YouTube with your WordPress site! You can also try DailyMotion or Vimeo for integration if you want a change.
14. Project Management System
Plugin- CollabPress
To manage the progress of a project and its sub tasks, you need a project management system. Although standalone options like Redmine (Ruby) are popular among developers, certain people might want options within WordPress for such a system. For those people, I would recommend the use of CollabPress.
You can create projects, add tasks to the projects and then assign them to users. The users are integrated with the built in user system of WordPress. CollabPress is open source and you can customize their code if you wish.
15. Bug Tracking System
Plugin- Bugerator
Although a bug tracker is a part of a project management system, you might require a different one for your site. MantisBT is a popular PHP bug tracker and there are a lot of bridge plugins available, but none of them are stable enough to be used for production.
For simple bug tracking, I suggest the use of Bugerator. You can add projects and track issues related to those projects. Bugerator seems to provide the basic features of any popular bug tracker.
16. Digital Download Manager
Plugin- WP-Download Manager
If you want to manage digital files in your website, you could probably try using the WP Download Manager. There are many options available to you for this, some of which enable you to sell your digital downloads too.
One of the more full-featured plugins you could use for this is Easy Digital Downloads. It's a whole platform instead of a single, separate plugin, that you can extend with lots of addons, some of which are paid, but most of them are free.
17. To do list
Plugins- Cleverness To Do List
There are many to do list managers out there, but if you prefer to do it through WordPress, we have a plugin for the purpose. This plugin helps you organize your users into groups to set the visibility of certain to do lists that you create. With shortcodes, you can add these lists to pages and posts too. Here is a detailed post on the use of WordPress as a To Do List manager.
18. Forum
Plugin- bbPress
The easiest solution to creating a forum out of your WordPress site is bbPress. It's a lightweight plugin for WordPress, developed by Automatic, the same company behind WordPress.com. bbPress comes with the ability of plugins and themes, to customize the functionality, look and feel of the core plugin.
Some forum plugins may be a part of social networks (as discussed below), so make sure you don't install multiple plugins that perform the same task..
19. Idea Management System
Plugin- WP Idea Stream
Have you ever lost yourself into the flow of ideas? Well, this plugin lets users submit ideas to your WordPress site, which then can be discussed and rated. Many widgets and shortcodes are provided for your use.
Miscellaneous
20. Hot or Not contests
Plugin- Hot or Not
The fans of the movie 'The Social Network' would know that Mark Zuckerberg shot into fame by mining information from university websites and creating his own rating site, where users could say whether an image was hot or not.
You can create your own Hot or Not contest by using this creative plugin. Create items, with individual pages and attach them to a contest. Create a contest page and let users take part in a list of such ratings! Here's a detailed post on how to set it up on your website.
21. Create Surveys and Questionnaires with WordPress
Plugin- Gravity Forms
The best way to interact with your audience is to ask them questions. Not only does it allow you to create surveys, but contact forms and user submitted posts too! Surveys are available as an add on to this plugin, and once activated, can be used to created enticing surveys. The reports generated from the surveys are exhaustive too.
22. Crowdsourcing
Plugins- IgnitionDeck, CrowdFunding
These plugins allow you to run your own crowdfunding websites. You set up a cause, and integrate a payment gateway like PayPal to accept payments. In fact, you can enable a feature where people are only charged if you reach your goal! If you use CrowdFunding, you can enable donations too.
IgnitionDeck is not a free plugin, with the cheapest plan for $79. There are premium themes too, some of which are compatible with the CrowdFunding plugin as well. Here you can read our guide how to use WordPress for your crowdfunding projects..
23. Social Network
Plugin- BuddyPress
If you want a mini Facebook within your website, BuddyPress is what you should look for. It allows you to create a social network for your company or organization. It allows users to set up profiles, post messages, connect with each other and create communities. BuddyPress has its own set of plugins for further functionalities and here is a list of recommended plugins. In general, BuddyPress provides a simple, yet good user experience if you want to create a minimal social network within your website.
With this, we come to the end of the list of some different ways people use WordPress. One reason that webmasters like to stick to WordPress is the presence of a familiar UI – handling plugins within the admin panel is often found to be easier than a new interface altogether. That being said, although WordPress is a great CMS, it is not the solution for every little problem, you will have to decide. While this list is not exhaustive (and no list can ever be, because there are about twenty thousand plugins available just in the official WP.org plugin repository!) we tried to collect the best ones of each category.
Did we leave some of your favorite plugins out? Let us know in the comments section below!