So you've got your site all set up, but you are unsure how to drive traffic to your website?
Don't worry, you are not alone. With so much written about improving traffic, it's hard to separate what will and won't work for you.
This article does not list every single method of increasing traffic. Instead, it lists the proven tactics that work.
Sound good? To make it easier, we've divided the tactics into the categories on the side.
Content Marketing
As long as you create good & relevant content on your site, you'll have a steady stream of visitors (hopefully) arriving at your site from Google.
Unsure of what exactly good content looks like? Then check out this awesome content marketing hub put together by Brian Dean of Backlinko:
Inside you'll find 30+ resources on everything you need to know about content marketing like promotion, copywriting and design.
Inspired now? Here are some tips for driving traffic to your website traffic with content:
1. Write Useful Content (aka Create Content That Answers Questions)
It sounds obvious, but most SEO-focused content boils down to this:
Answer a question that a lot of people are asking online, that isn't being answered well.
If you have a question, what's the first thing you are likely to do? You Google it.
It can be literally anything. From what is a meme, to where the best place to live is to why were cornflakes invented: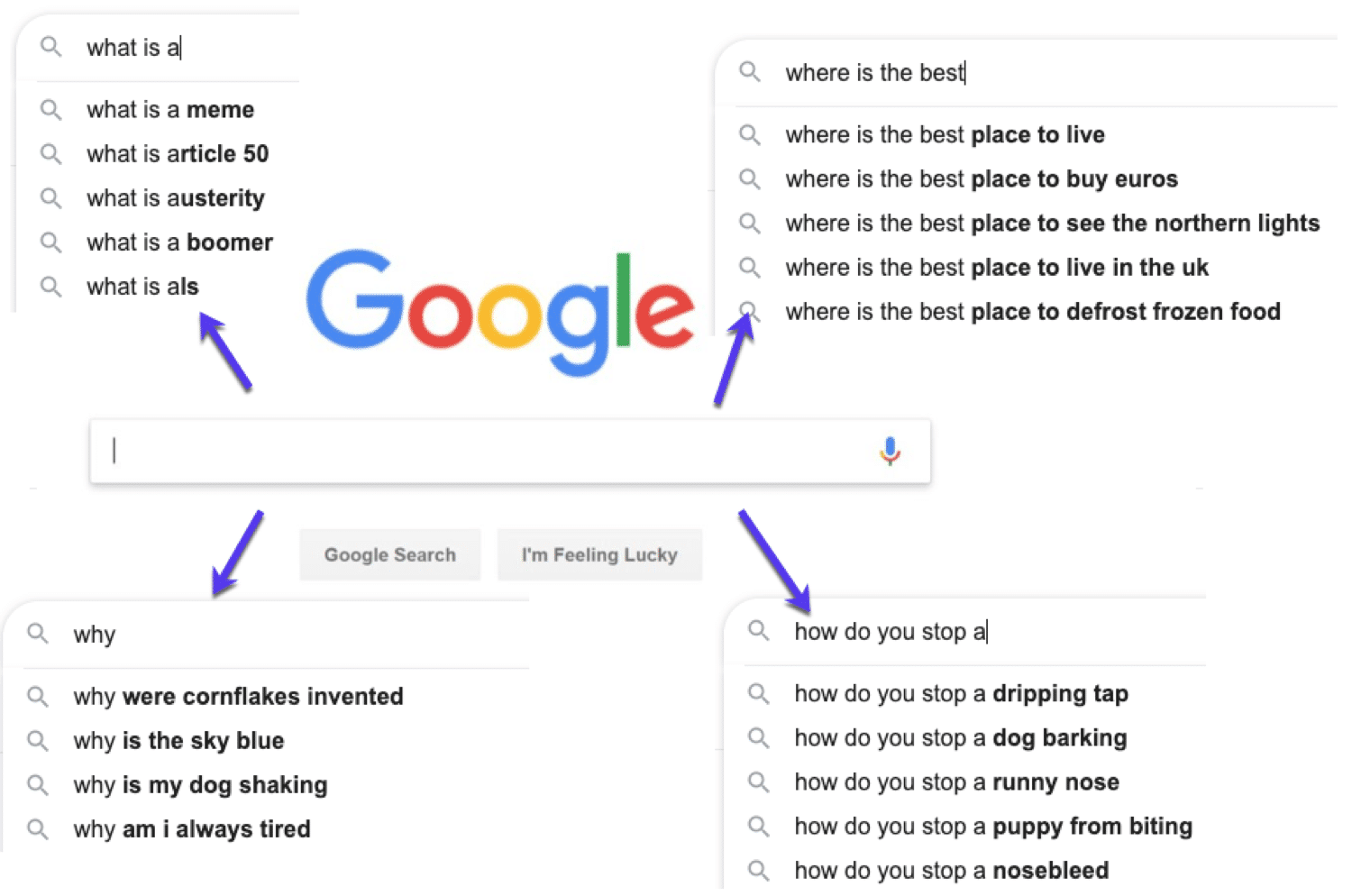 The point is: Google and alternative search engines exist to primarily give people answers to questions. If you can answer questions with content on your website, Google will send traffic to your site.
So how do you find these questions?
Well, that's the hard part. Understanding your audience helps. So does using keyword research tools.
(There will be more on how to actually find these questions you should be answering in the keyword research section of this guide later on).
But one of the simplest ways to find questions to answer is to Google it.
Type in a question your audience may have and go from there. I guarantee you'll end up down a rabbit hole of potential questions to answer.
Once you've got some questions, use this simple framework to approach writing useful content:
Do some keyword research to find a popular question.
Write an article that answers this question.
Follow SEO best practices for your article.
Make sure the word count is long enough to fully answer the question
Edit your article (we all make mistakes).
Hit publish, rinse, and repeat.
Just make sure you pick a content topic that isn't going to be dead in a few months…
2. Write Evergreen Content
Evergreen content is content that will continue to be relevant way after it's been published.
It can include things like:

Some content becomes outdated quickly, whereas evergreen content doesn't date like news articles. In fact, it can bring in a steady stream of search traffic, leads, and social shares over time.
It will also:
Provide lasting (and compounding) value.
Help to educate new customers/clients/readers.
Help to build your authority.
It may help to attract links.
If you want an example of evergreen content, this is something we actually do at Kinsta in our Knowledge Base. Just check out this common technical questions content:
These are questions that people are always going to be asking (just make sure that information is up to date).
3. Publish Long-Form Content
There is no right or wrong content length. The ideal word count for your content is the one that best covers the topic fully.
Having said that, it has been observed that longer content works best: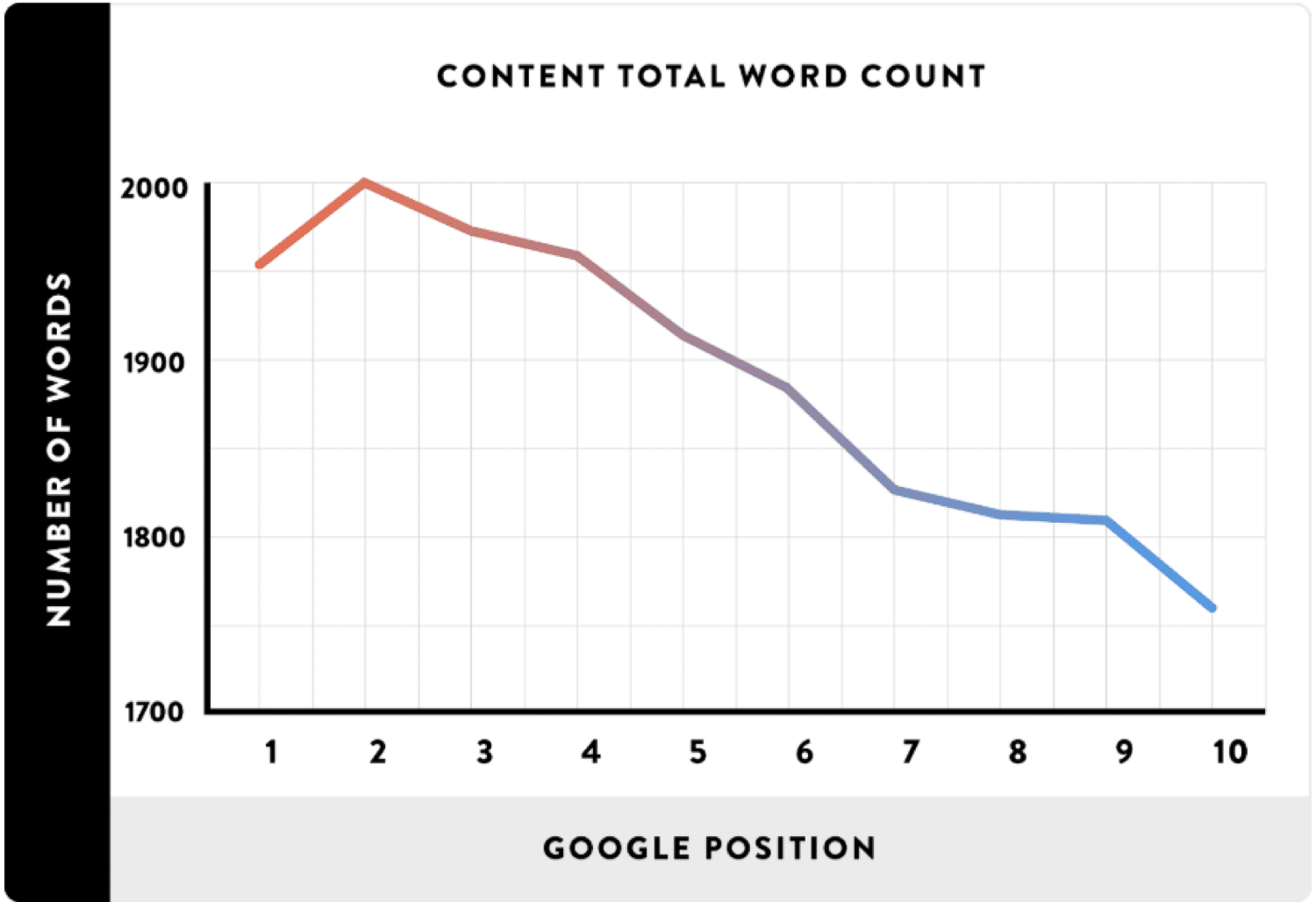 So why write long-form content?
There are four main reasons why you should:
Longer content generally ranks better vs shorter content.
The longer the content, the more social shares it gets.
Content is more topically relevant (a Google ranking factor)
It can help to convert readers into customers (with things like content upgrades)
Although word count does seem to equal better rankings, there are other factors than just content length to consider.
If you want an example of long-form content… you are reading one!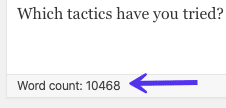 4. Publish More List Posts
A list post is an article whose headline features a numbered collection of things.
There are a lot of list posts floating around the internet. BuzzFeed publishes mainly list posts: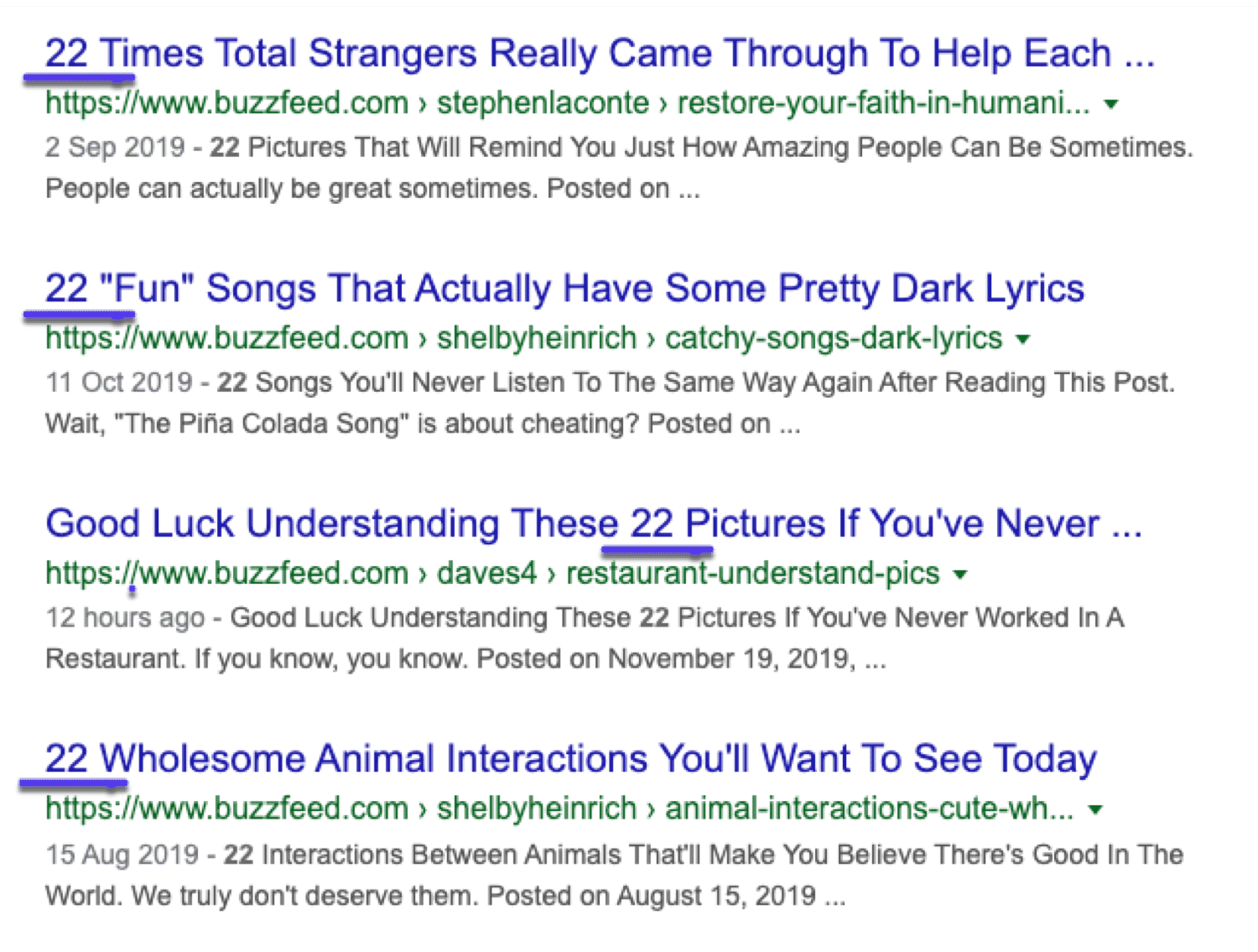 When it comes to driving traffic to your website, list posts work because numbers act as a psychological trigger.
Not only are they easy to scan when reading, but they draw the eye.
When we see a number in a headline online, we are more likely to click on it because the brain gets activated by something called the Click, Whirr response.
There you go, lists posts work because of science.
One thing, though, you need to keep in mind: list posts are useful to bring in traffic to a given site but aren't the best content format when it comes to converting visitors into users/customers. For that, you'd need to leverage different formats (through guides, comparison landing pages, etc.) but that's a topic for a future blog post.
Let's get back to driving traffic to your website…
5. Create a System (Hint: Use a Content Calendar to Plan Out Content)
Driving traffic to your site is like a lot of things in life, it's all about consistency.
Consistency in your content strategy not only keeps you relevant to your audience but also signals to Google that you are on a reliable source of information,
Slowly but steadily publishing blog posts is better than a frenzied and erratic posting schedule.
And one of the best ways to manage this is with a content calendar. Somewhere you can store ideas and plan out what you are going to publish and in what order.
You can use an editorial calendar, your project management app of choice like Trello or Asana, an alternative or a spreadsheet or even pen and paper (well, that'd be old-school).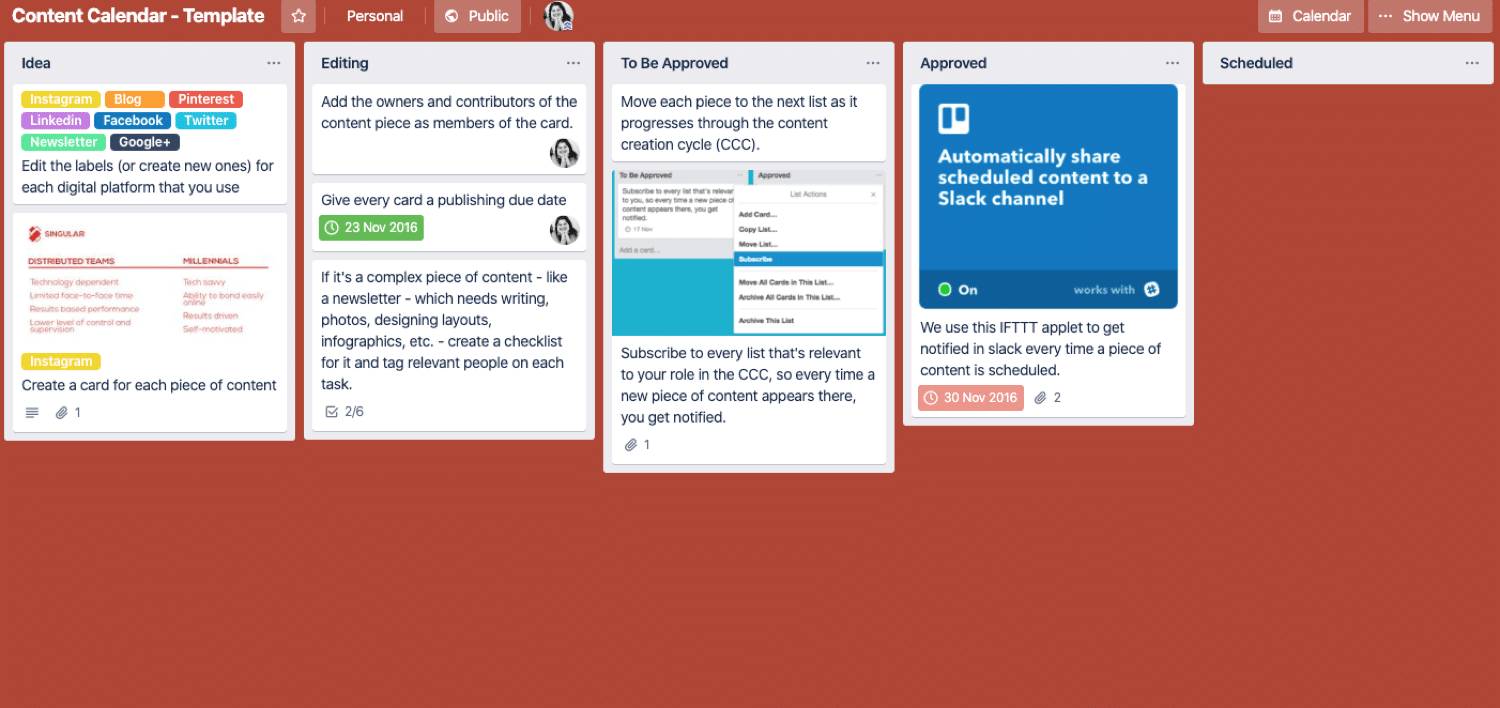 It doesn't really matter which you choose. The best format for your content calendar is the format you are most likely to use and to carry on using.
6. Repurpose Content on Other Channels (And in Other Formats)
Repurposing content is best described as finding new ways to reuse your existing content.
It is useful for reaching new audiences on different mediums, breathing new life into forgotten content as well as making the most of your content efforts.
Ahrefs does a great job of repurposing their content across their blog and YouTube channel, like with their content audit article + video:
And so does GaryVee, who uses a 'content pyramid' approach to get 30+ pieces of content from one speech: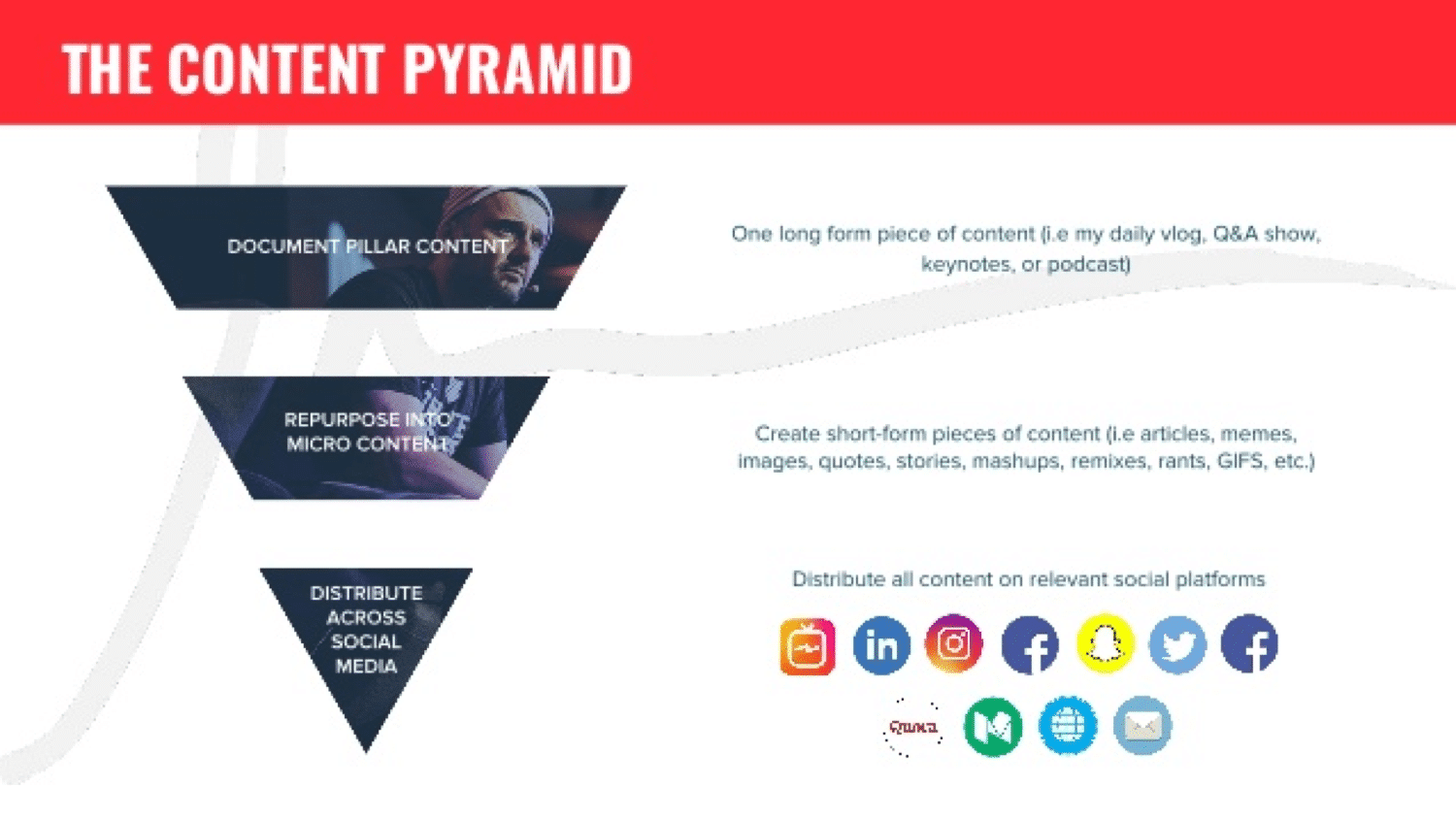 The point is: get as much value as you can from one piece of content by repurposing it.
Here are some content repurposing ideas you can try:
Webinars > Videos
Old Blog Posts >Downloadable Guides
Interviews > Blog posts or Ebooks
Images >Pinterest Board
Quora Q&A > Blog Post
Slideshow > Infographics or blog post
Statistics > Twitter threads
Blog Post > Podcasts
7. Create Content That Appeals to Influencers
Most industries have influencers: individuals with large followings who seem to get loads of likes, shares, and links to their content.
Wouldn't it be great to leverage their authority for your own content?
If you want influential people to share your content, you need to create content that appeals directly to them.
Here's a simple process for creating content influencers want to see:
8. Write Eye-Catching Headlines (Using Headline Analyzers)
Headlines are one of the most important parts of your content.
They are likely to be one of the first things people see in Google Search results. Without a compelling headline, even the most comprehensive blog post may go unread.
To help you craft eye-catching headlines, you can use a headline analyzer like Sumo's headline generator: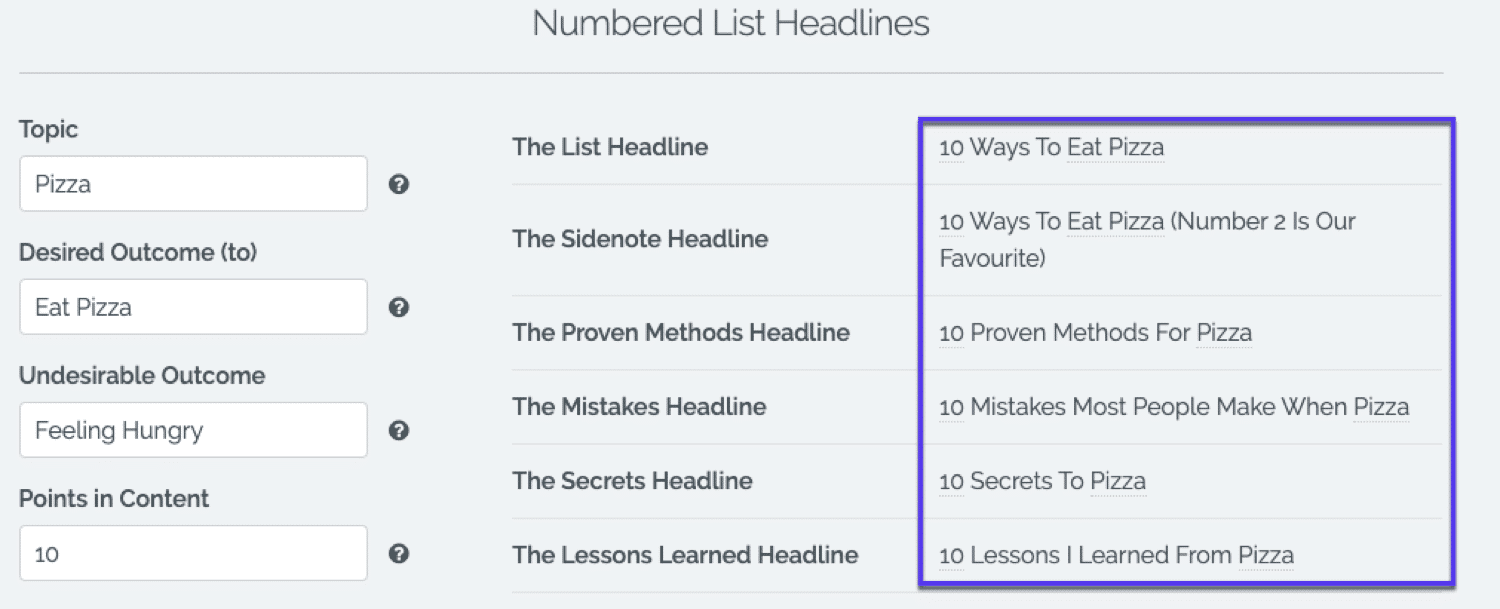 Writing good headlines is an art form. But don't worry, it can be learned and improved with practice. If you have to start from scratch, follow these tips:
Research your customers.
Take a look at your competitor's headlines.
Use your words your audience may use (+ avoid jargon).
Use numbers at the beginning if you can.
Use powerful words like "secret", "untold", "hidden."
A/B test your headlines if you can.
Measure your CTR (click-through rate) and tweak accordingly.
9. Improve Old Blog Posts
The solution to increasing traffic to your website is probably something simple that you already have: old blog posts.
If you've been blogging for a while, you probably have tons of posts sitting in your archives in need of some love to bring them back to life and get them generating search traffic.
Look for pages that are hovering at the bottom of page one or the top of page two of Google's search results. These pages are perfect examples to improve.
But how do you improve them?
Here are some quick ways to improve old blog posts:
Update any outdated information.
Add more images, screenshots, videos, etc.
Improve your introduction (to make people want to read on).
Increase your word count (if it makes sense to do so).
Add links to and from related posts.
Improve readability with shorter paragraphs and bullet points.
Republish them and promote them again as new.
Sometimes though, instead of updating old posts, you are better off just merging them…
10. Merge Similar Articles (+ Redirect Them)
If you have a backlog of similar articles covering the same topic and keywords, it may be worth merging them into a single post.
By consolidating similar posts into one page, it is likely to perform better in Google as well as cleaning up your site architecture.
Why?
Because you aren't spreading the 'authority' across multiple articles. Instead, you have one focused and strong post. You'll also have one longer post that goes deeper into a topic, leading to more traffic.
Here's how to merge similar articles into one:
Decide which URL to keep, and which ones to remove and redirect.
Copy all the content you want to keep from the old articles and paste it into the one that's staying.
Now format, edit, and double-check the new article.
Set up 301 redirects to the new page
Finally, delete your old pages.
11. Use the Skyscraper Technique
The skyscraper technique is a marketing term coined by Brian Dean of Backlinko.
Basically, it is a system for turning content into high-quality backlinks.
Here's how it works:
Step 1 – Find existing content with lots of backlinks.
Use tools like Ahrefs Content Explorer or BuzzSumo to find URLs with a lot of social shares and links.
Step 2 – Now go and create something way better.
Now you need to figure out how you can improve upon it. Can you add more up-to-date information? Maybe you can improve the visuals or expand it to include more points.
Step 3 – Promote your skyscraper content
Go to the sites linking to the original content and ask for links to your superior content.
Here's an outreach template you can use:
Hey [NAME],
I was reading your post about [TOPIC] and noticed you linked to this page: [INSERT LINK]
Just wanted to let you know that I just published an updated, more in-depth version of this page.
Here it is: [INSERT SKYSCRAPER LINK]
Might make a nice addition to the page?
[YOUR NAME]
The skyscraper technique sounds simple enough, but in practice, it can be tricky. Here are some resources to help:
In all fairness, though, the SkyScraper technique is now a pretty common approach among websites that do content marketing well. This means it has nowadays a weaker impact than a few years ago.
Still, it might prove to be helpful for driving some traffic to your blog.
12. Create an Expert Roundup Post
Expert roundup posts are blog posts that collect quotes from experts and then use them in the article.
Here's an example from Databox about the best free SEO tools according to experts: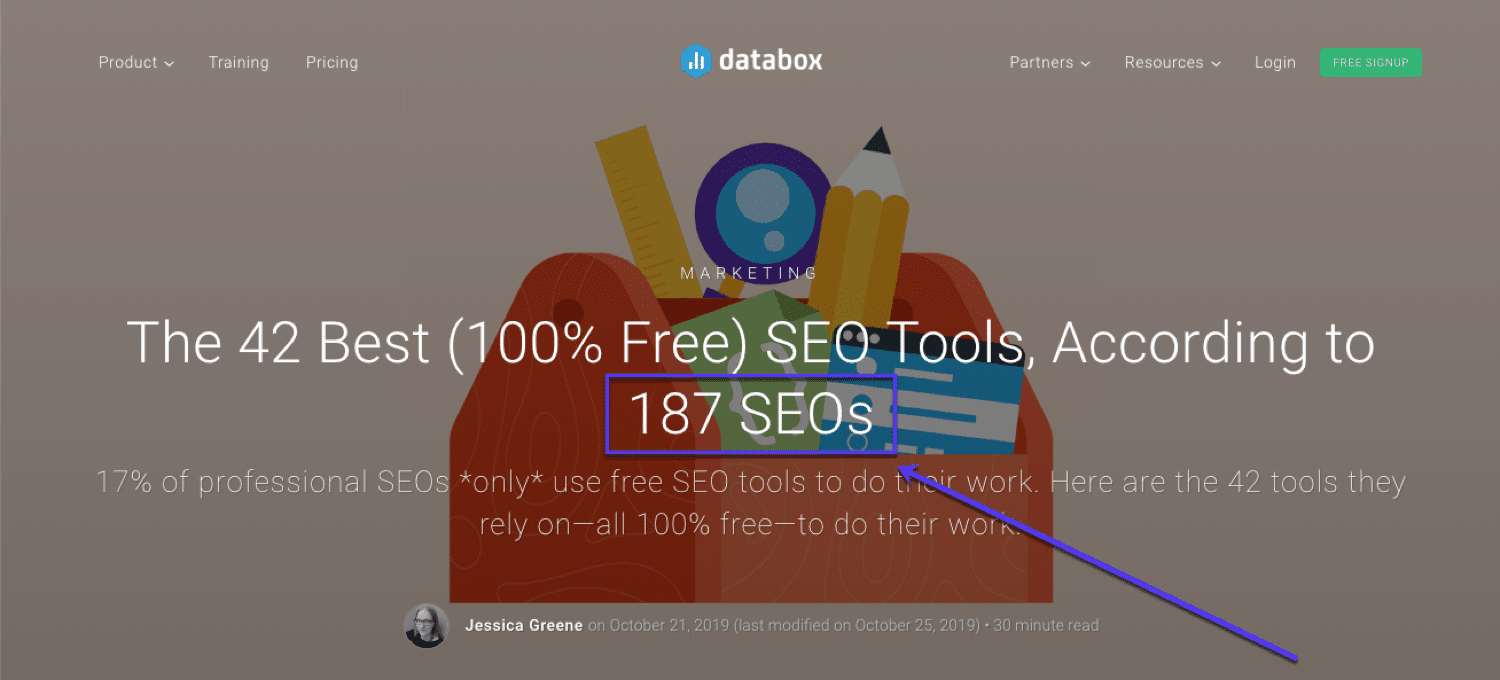 Roundups are great for getting links and shares from the people you have included.
This type of content generates traffic because:
They feature subject matter experts, who will likely share your piece of content to their audience.
It follows the structure of listicles, which we know perform well.
They attract many visitors and novices because they collect quotes and tips from well-known professionals.
Email Marketing
If you are doing anything online, you need an email. No matter the size of your business or website, being able to email your audience is vital.
Seriously, half the world's population uses email: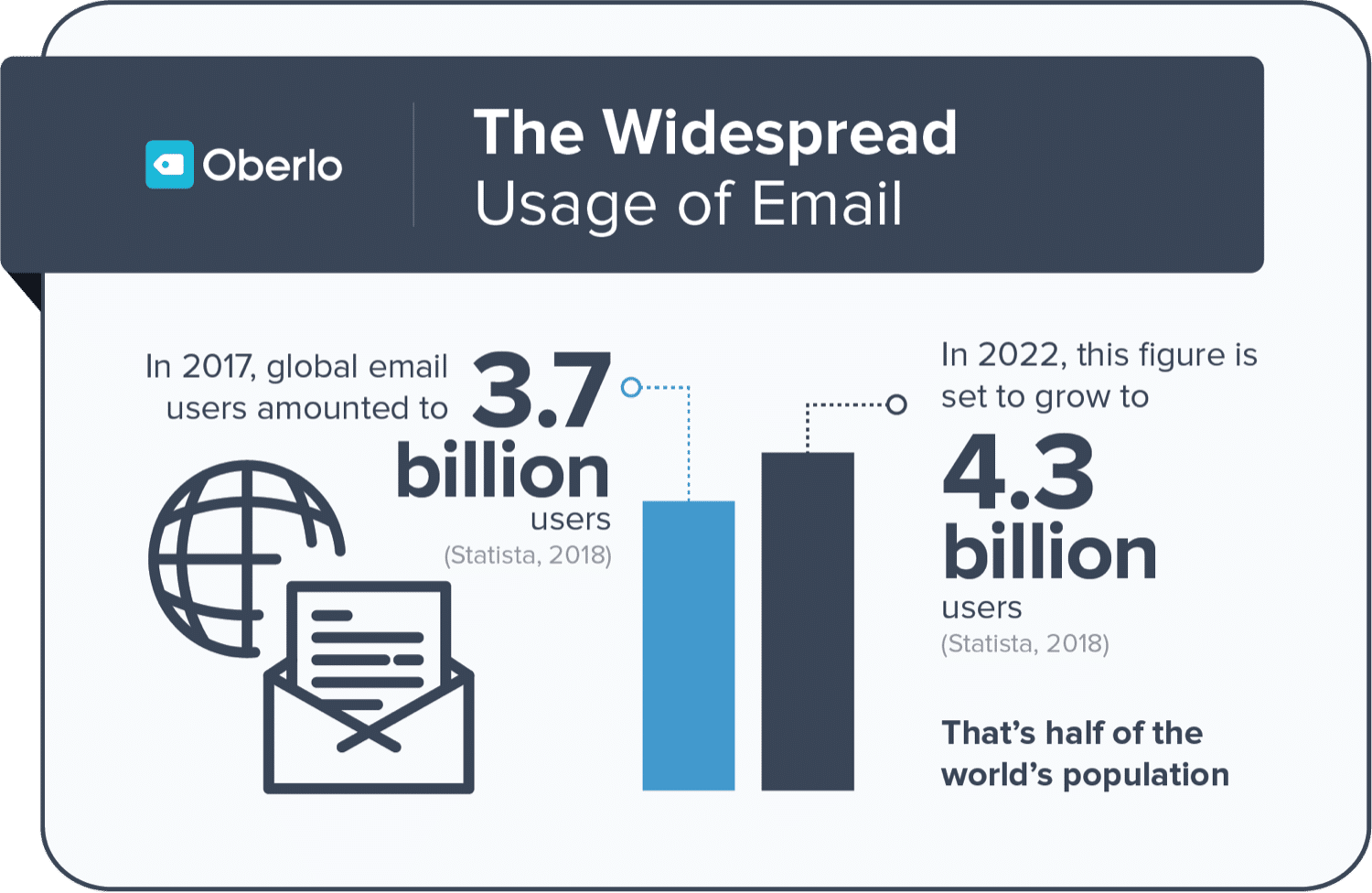 With so many people reachable via their inboxes, email is one of the best ways to drive traffic to a website because:
Your email list is already interested in your site.
Traffic is almost guaranteed as you are talking directly to your list.
Emails drive targeted traffic to the pages you choose.
13. Increase Website Traffic with Email Marketing
Email marketing is a fairly inexpensive but effective way of reaching your audience.
Aside from following email marketing best practices, here are some essential steps to take for increasing traffic with email marketing:
14. Use Content Upgrades to Get More Subscribers
Content upgrades (or lead magnets) are resources you give away in exchange for an email address. Here's a list of some of the best lead generation WordPress plugins to check out.
If you get the right upgrade, your audience will gladly sign up to your email list in order to get the free content.
However, you've got to understand your audience and know what they would want. Perfect Keto does a good job of this: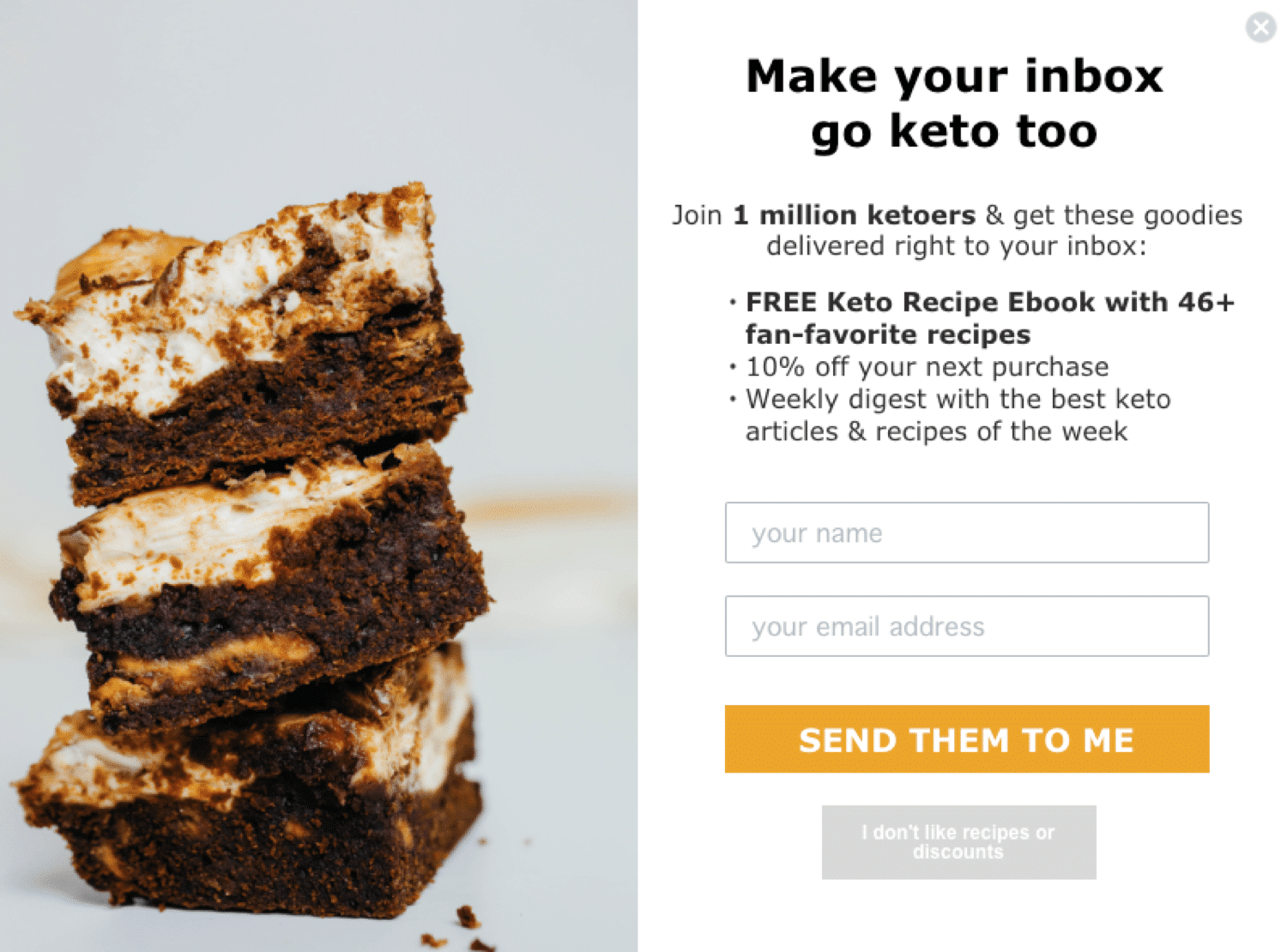 Some content upgrade examples you can use are:
Checklists.
Cheatsheets.
Quick-start guides.
Ebooks.
Templates.
Free courses.
15. Create an Email Welcome Series
A welcome email series is a sequence of emails that are automatically sent to your subscribers when they first opt into your list.
Just remember: it's your chance to make a good first impression. This can go a long way in increasing your website traffic, as well as increasing your subscribers.
Drift does a good job with this email that gets straight to the point and directs new subscribers to popular content: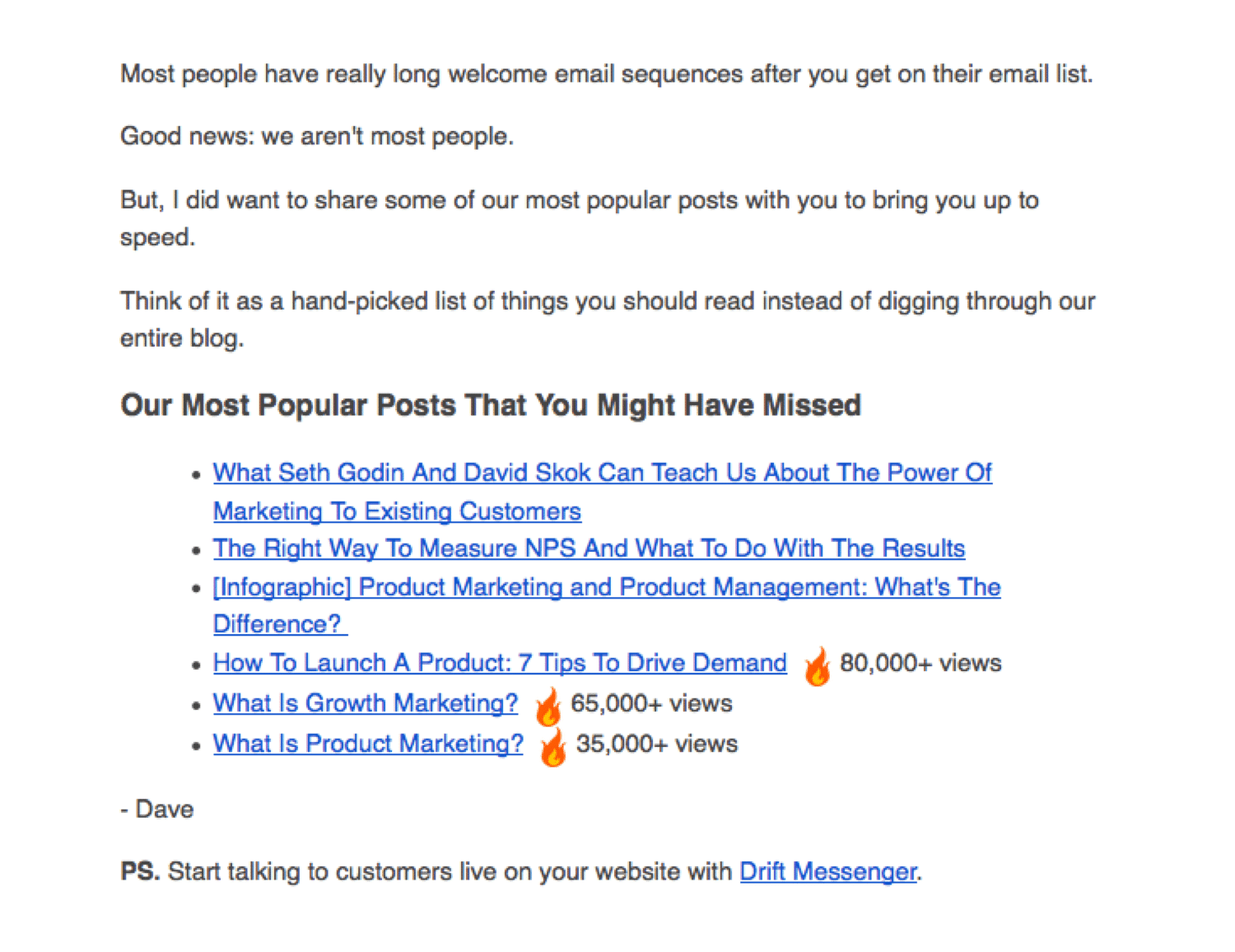 16. Add a Way to Capture Emails to Your Site
To start leveraging the power of email for traffic, you need a way to collect email addresses via your website.
You can use a sidebar or in-content sign up form like this:

The key aspect here is giving people a compelling reason to sign up.
Promotion
So you've written some great content, now what?
It's time to promote it.
Here are some content promotion tactics to try:
17. Submit Your Content to Aggregator Sites
A content aggregator is a website that doesn't create its own content. Instead, they collect content from other sites and "aggregate" it into one location.
Users generally like aggregators as it gives them the chance to find a variety of content in one place. On the other side, publishers get their content in front of people who want to see it.
Here are some ideas of content aggregators to submit to:
18. Write Some Guest Posts
Guest posting is when you write a blog post for a site other than your own. In return, you'll get a link back to your site.
This sends traffic to your site, gets you a backlink, and helps to increase your brand awareness.
One of the biggest challenges with guest blogging is finding suitable websites that would be willing to accept and publish your guest posts.
Thankfully, with just a quick Google search (+ some search operators) you'll be able to find tons of guest post opportunities relevant to your niche:
Here's a list of operators to try (just remember to switch out KEYWORD for a term relevant to your site's niche):
KEYWORD intitle:"write for us"
KEYWORD intitle:"write for me"
KEYWORD intitle:"contribute to"
KEYWORD intitle:"submit" + inurl:blog
KEYWORD "submit a guest post"
KEYWORD inurl:/guest-post/
KEYWORD "guest post"
KEYWORD "guest post by"
KEYWORD "accepting guest posts"
KEYWORD "guest post guidelines"
KEYWORD "guest author"
KEYWORD "guest article"
KEYWORD "guest column"
KEYWORD "become a contributor"
19. Promote Your Site With Blogger Outreach
Blogger outreach is the process of finding relevant blogs and sending them a personalized email highlighting your website, service, product, etc.
Step 1 – Find Blogs to Reach out To
You could reach out to bloggers:
who you have already featured on your site.
who have written content on the same topic.
who have previously linked to similar topics.
who have tweeted related articles.
Step 2 – Find the Right Contact Details for Them
Before you can get in touch, you need to find the email address of the blogger you are reaching out to.
There are a few ways of doing this, but one of the quickest is using an email lookup tool like Hunter.io:

Step 3 – Write Your Outreach Email
Now you need to write the email you are going to send.
If you need some help crafting your pitch, check out these email outreach templates by HubSpot.
All that's left to do now is hit "Send".
20. Invite Others to Guest Blog on Your Site
Don't forget: guest posts are a two-way street.
Don't think you can only write content for other sites. Invite other people to write for your blog too. Providing they write a high-quality and original article that's interesting for your audience of course.
Not only do you get some new content on your site, but the guest blogger is likely to promote the article, bringing in more traffic to your site.
Everyone's a winner.
21. Write on Medium (+ Other Sites)
Medium is a user-generated site that prioritizes and suggests articles based on their users' reading habits.
You should consider writing on Medium because:
It can send consistent traffic back to your site.
It boasts a built-in and engaged audience.
They even have a dashboard which shows how your articles are doing: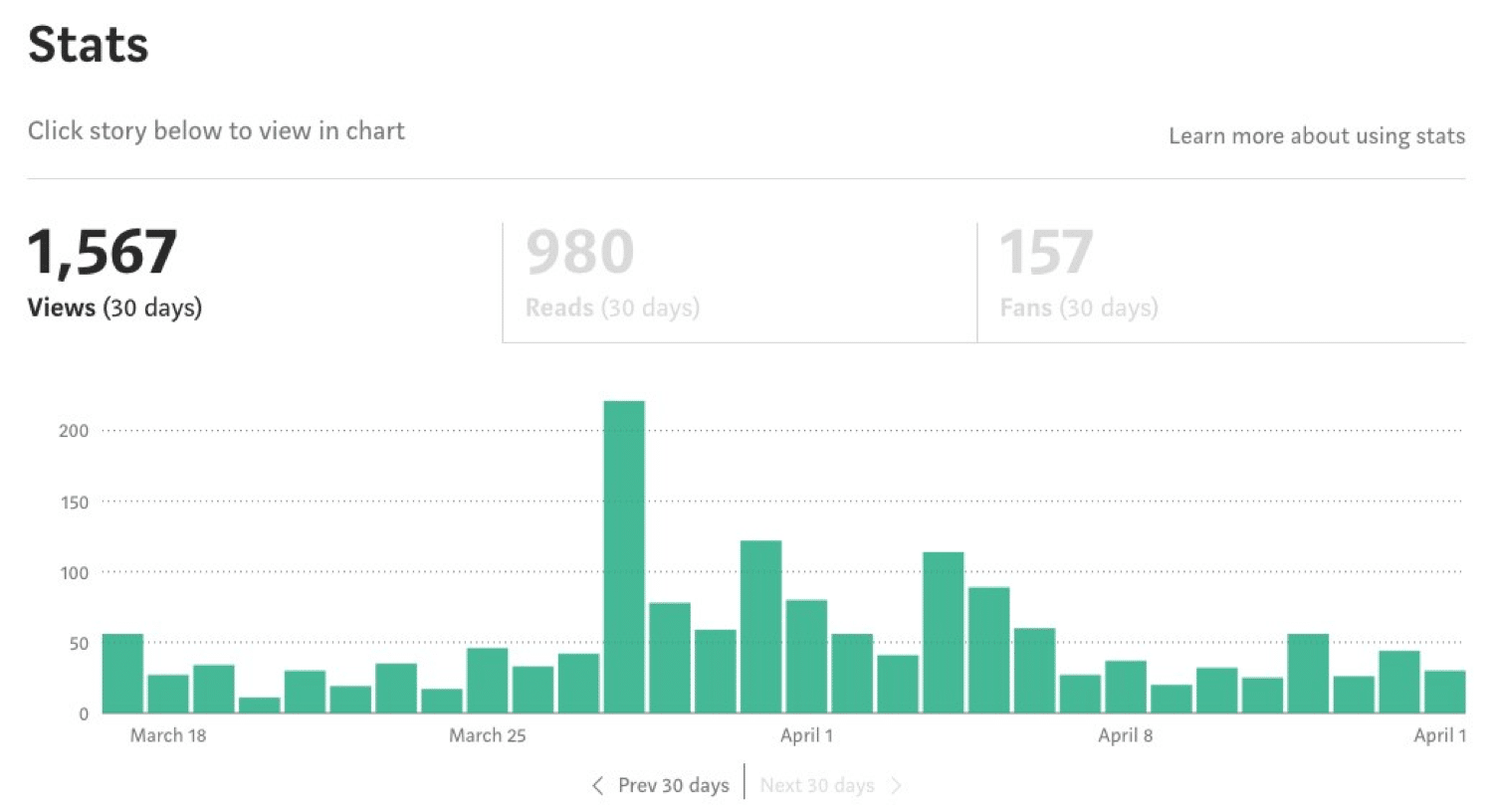 There are also a couple of sites like Medium you can write on like:
Make sure to read our Medium vs WordPress guide.
Communities
While we are on the topic of promotion, sharing content in online communities can be a great way of driving traffic back to your site, although it is getting tougher because more people are doing it and it isn't scalable. Still, it's always worth testing.
22. Promote Content in Relevant Online Communities
Online communities are places where your audience hangs out on the Web and can include Facebook groups, Reddit, Slack channels and forums.
Finding relevant online communities is easy if you are already part of the niche.
If you are not, here are some helpful resources:
23. Post Useful Content On Reddit
Reddit is a large and active community. There is probably already a subreddit related to your site's niche.
Leverage Reddit can send lots of traffic to your site if you get it right and don't get overwhelmed by the sheer amount of discussions happening at any one time.
In fact, you can use a tool like Notifier for Reddit to track Reddit discussions: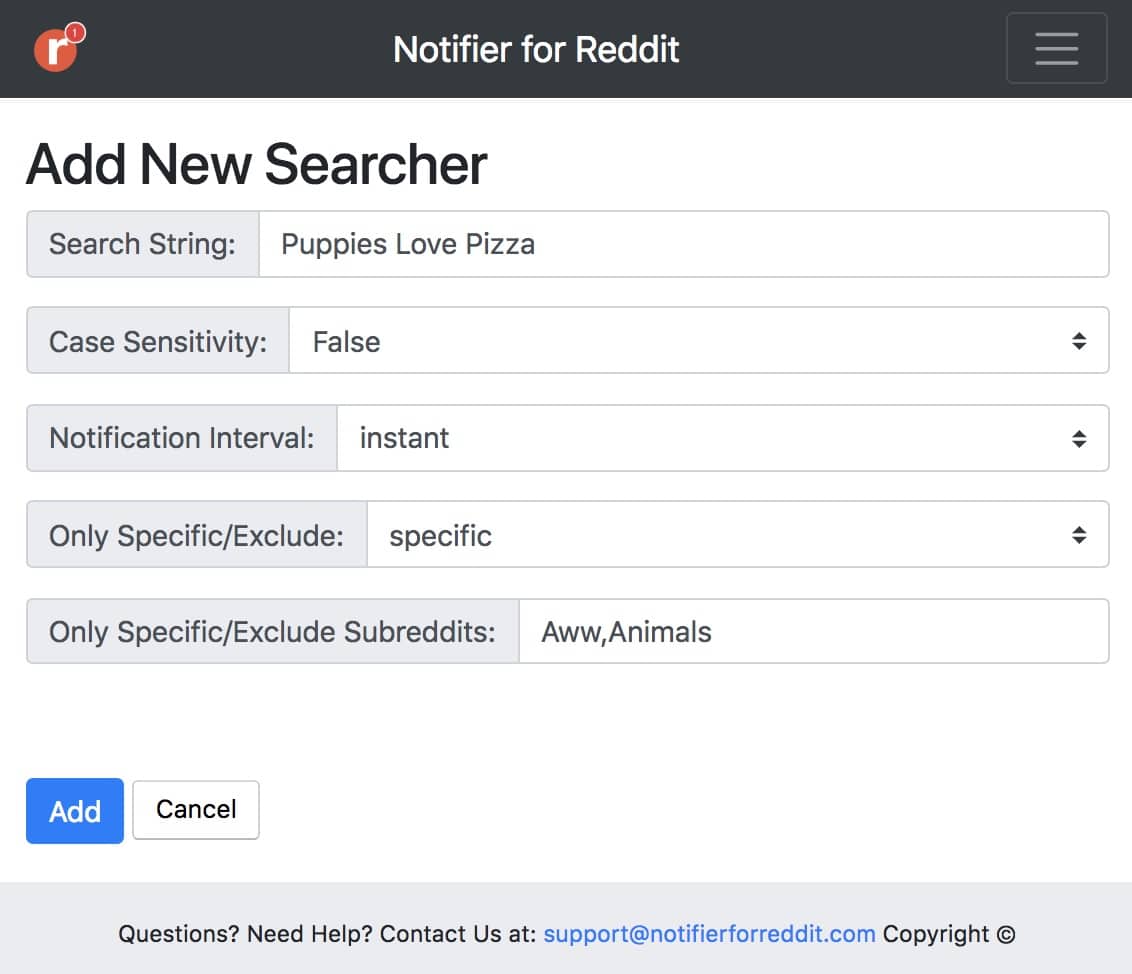 However, promoting things on Reddit can be hard. And users don't pull any punches if they don't like what you are doing.
Here are some best practices for posting on Reddit:
Be a member first.
Give more than you take.
Post original content and engage in a genuine way.
Don't use a fake account.
24. Get into Facebook Groups (+ Share Your Content)
You should join some Facebook Groups related to your niche and share your content inside them.
Again, you should respect the specific rules about promotion within those groups first.
Facebook Groups cover a wide range of niches where your target audience may hang out. For us, WordPress support based groups like WordPress Freelancers or WordPress Speed Up are likely to have members who would be interested in our content.
You can actually search for groups to find discussions happening related to your content: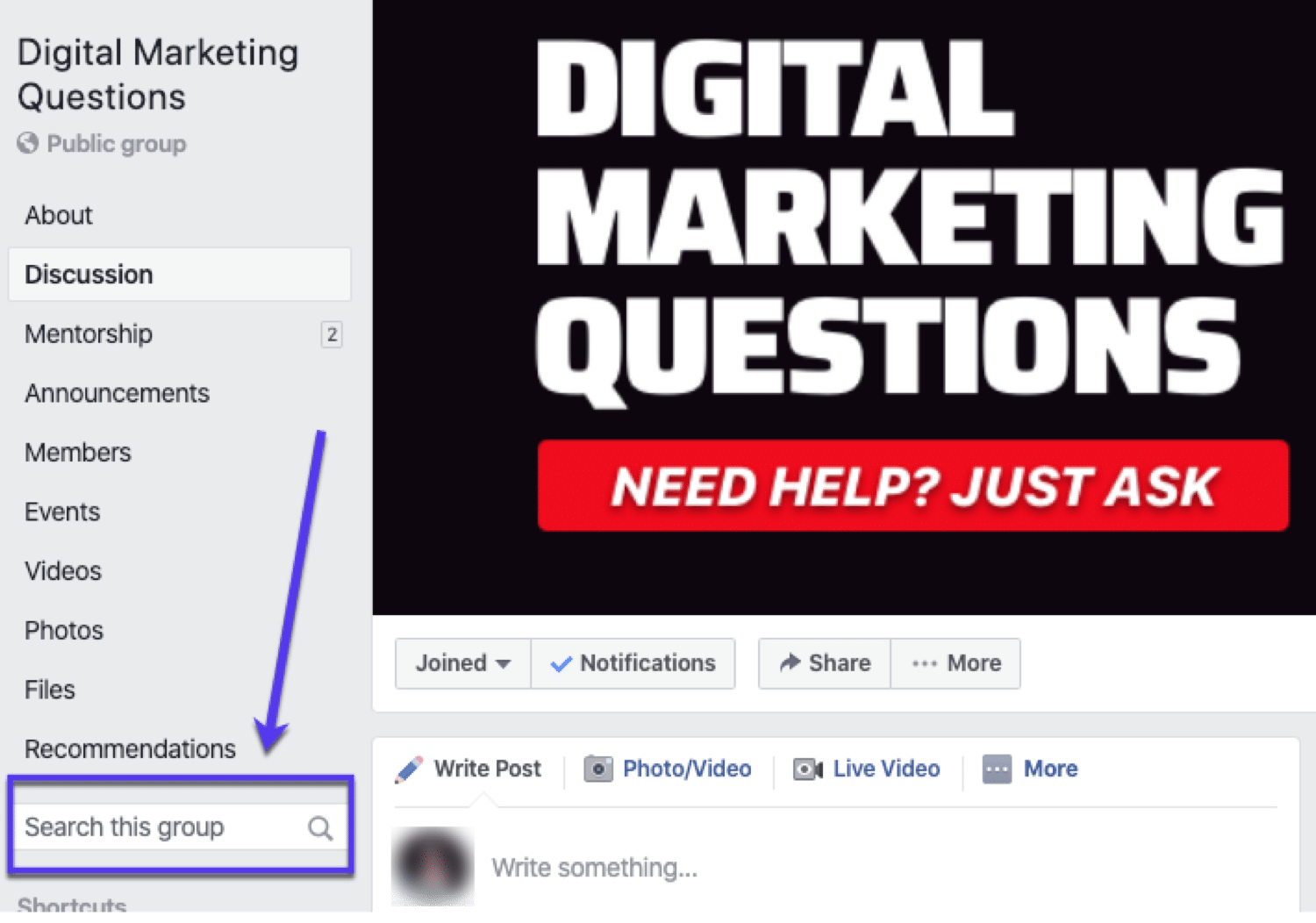 Find discussions related to the post you are trying to promote and then join in. Try sharing it in a conversational way that helps the group.
Like all online community promotion, you want to make sure you come across as helpful and no spammy.
25. Answer Questions on Quora
Quora can be great for driving traffic to your website.
If you don't have one already, first you'll need to create an account. Once you have a Quora account, you need to find the right questions to answer.
This is simple, just enter a keyword and Quora will suggest you related topics: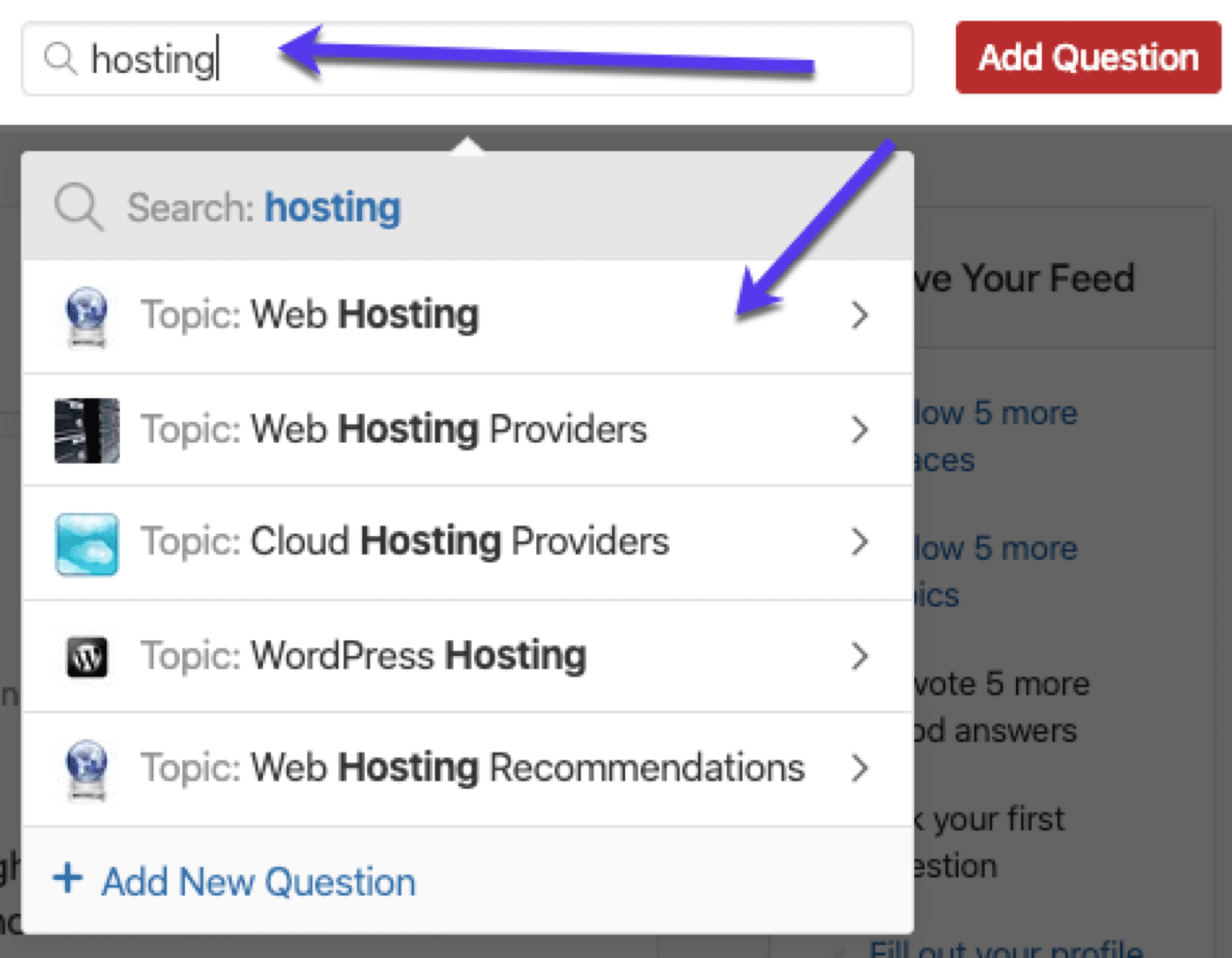 Choose your topics and you'll be able to see the latest questions related to that topic.
Just hit "Answer" to add yours. Try to answer the questions fully and provide a link to any relevant content you have on your site if it makes sense to do so.
If you to get the most out of Quora, fully complete your profile, pick questions relevant to your audience and add in links where it makes sense to do so. You should also check out our Quora marketing tips to help increase your reach.
By the way, you can also try out these other Q&A sites and follow the same principles:
26. Post on Product Hunt
Product Hunt is a community that curates the best new mobile apps, websites, and technology products every day.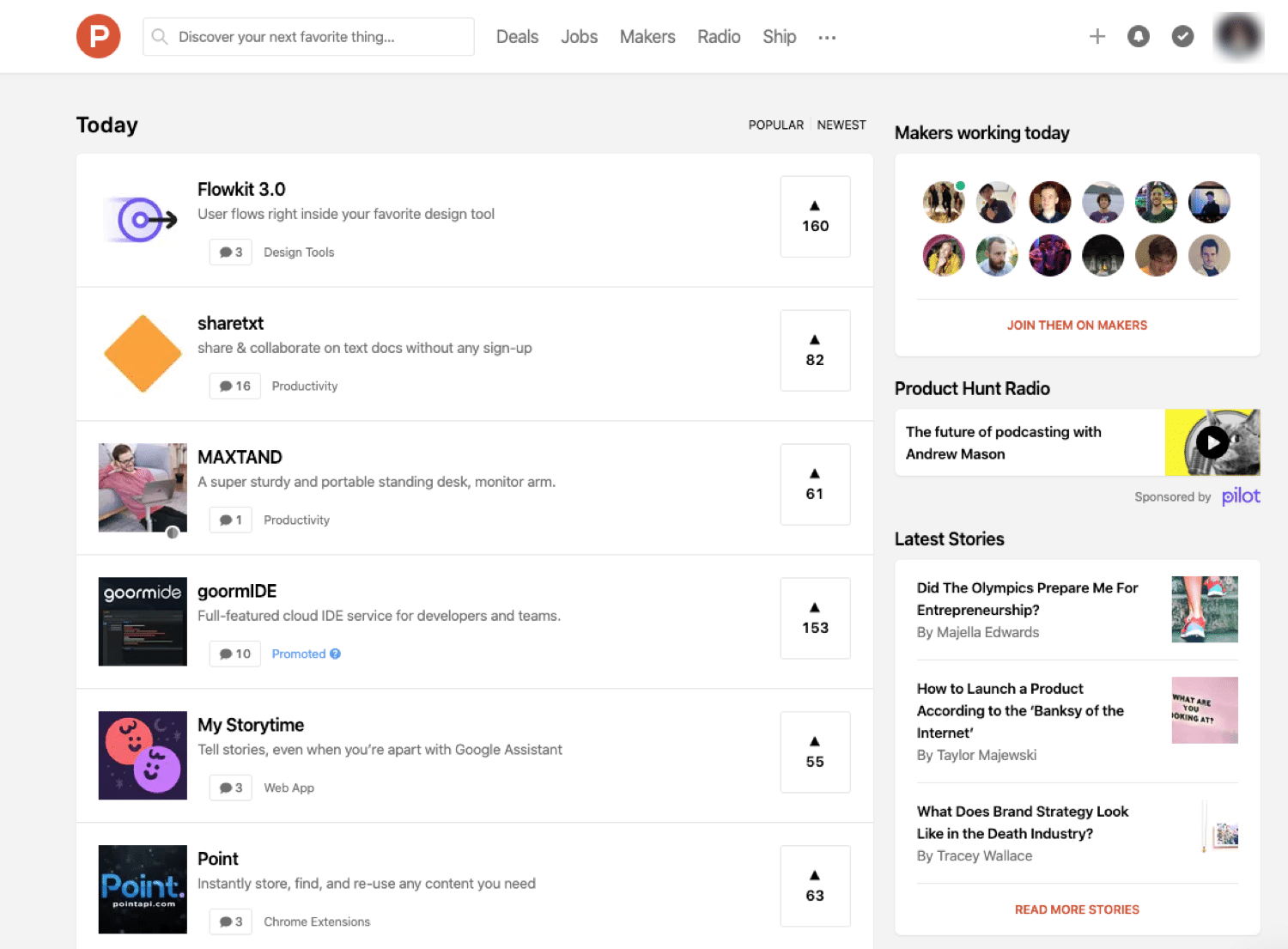 Getting traffic from Product Hunt can be a bit of an art, so here are some tips:
Answer questions on threads ASAP.
Tweets users who upvote you and thank them.
Tell your social media followers and email list about your Product Hunt launch.
Make sure you've set up Google Analytics on your WordPress site to track your results. And keep your analytics data free from referrer spam.
Check your share images work on Facebook, Twitter, etc.
Don't ask for upvotes, just share the URL to your PH post and let the users decide.
For a more detailed rundown, you can check out their guide.
27. Drive Traffic To Your Website From Forums
Forums have been around since the very early days of the web. Since then, people have been using them to drive traffic back to their websites.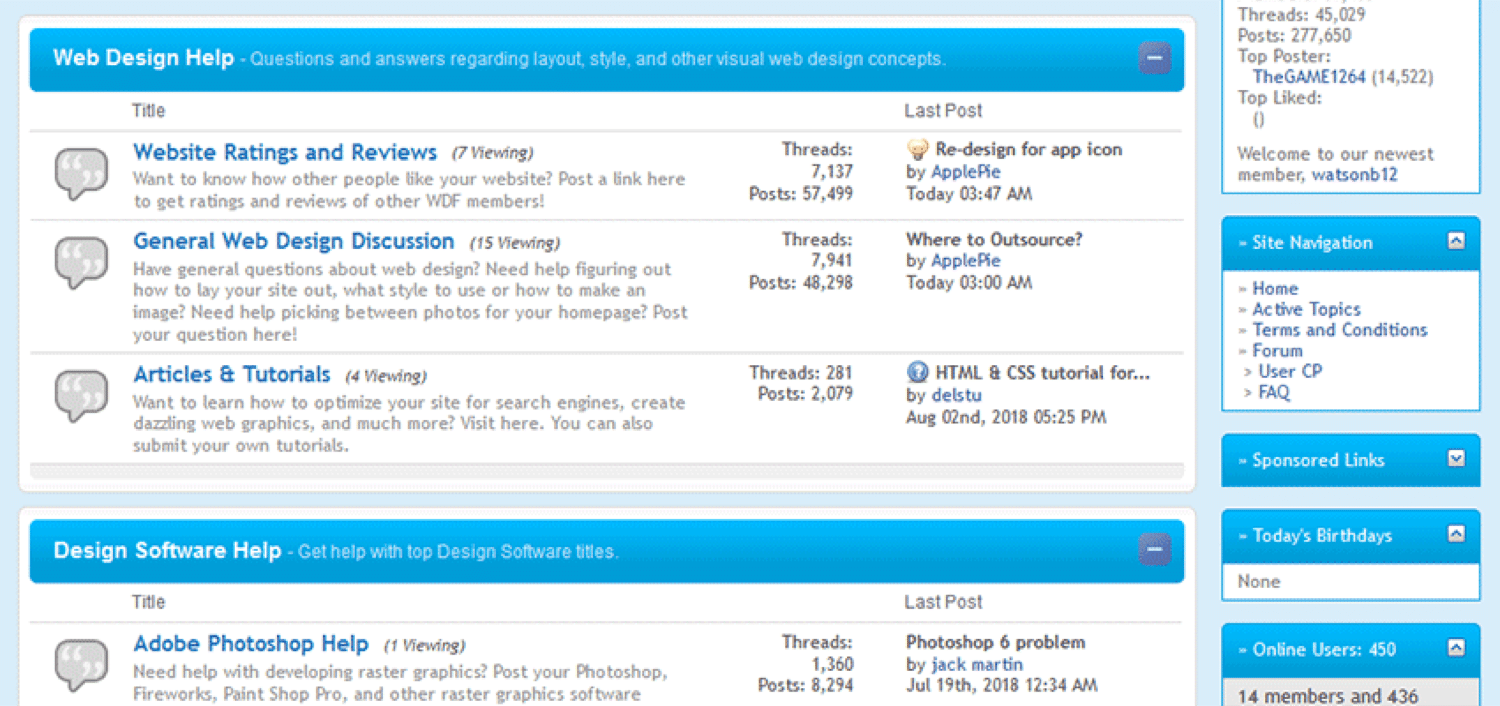 Even though certain forums can look outdated, if they have an engaged audience, they can be a great source of relevant traffic.
Here are some tips for promoting your site on forums:
Pick the right forum for your niche.
Choose your username carefully.
Put a link in your signature.
Craft your profile carefully.
Don't be spammy.
Provide quality content.
Start new threads.
Post often.
If you can't find the right forum to submit to, you can always…
28. Create Your Own Forum
If you can't find a good forum for your industry, you could look at setting one up yourself. In fact, with WordPress forum plugins you can be set up fairly quickly.
If you do go this route, you need to make sure your users are producing quality content, you have moderators, and your forum has good UX.
Getting that right could mean a steady stream of traffic back to your site.
SEO
All the keyword research (more on that later) and content in the world won't save your site if you have ignored SEO.
SEO is one of the best ways to get consistent traffic flowing into your site. As long as you rank high in Google, you'll be able to generate organic traffic to your site.
Now that sounds great, but nothing in life comes for free or without some work.
To benefit from SEO, you need to write about topics people are searching for in Google (which we covered in the previous section). But to fully benefit from it, you also need to ensure your site is optimized for search engines.
Here are some things you can do right now to use SEO to drive traffic to your website:
29. Pay Attention to Your Website's SEO Health
SEO is pretty simple. Most of the benefits from following best practices to make sure your website is healthy and has everything Google expects to see.
Getting these things set up can make a big difference on the amount of traffic to your site.
Here's are the SEO fundamentals you need:
A valid SSL Certificate.
Links from relevant sites.
Content that people actually want to read.
There can be more elements to SEO obviously, with website technical health being one (we'll cover this later on), but this should lay the groundwork for you.
30. Build Backlinks to Your Website
Links from authority and relevant sites are like votes of confidence for your site.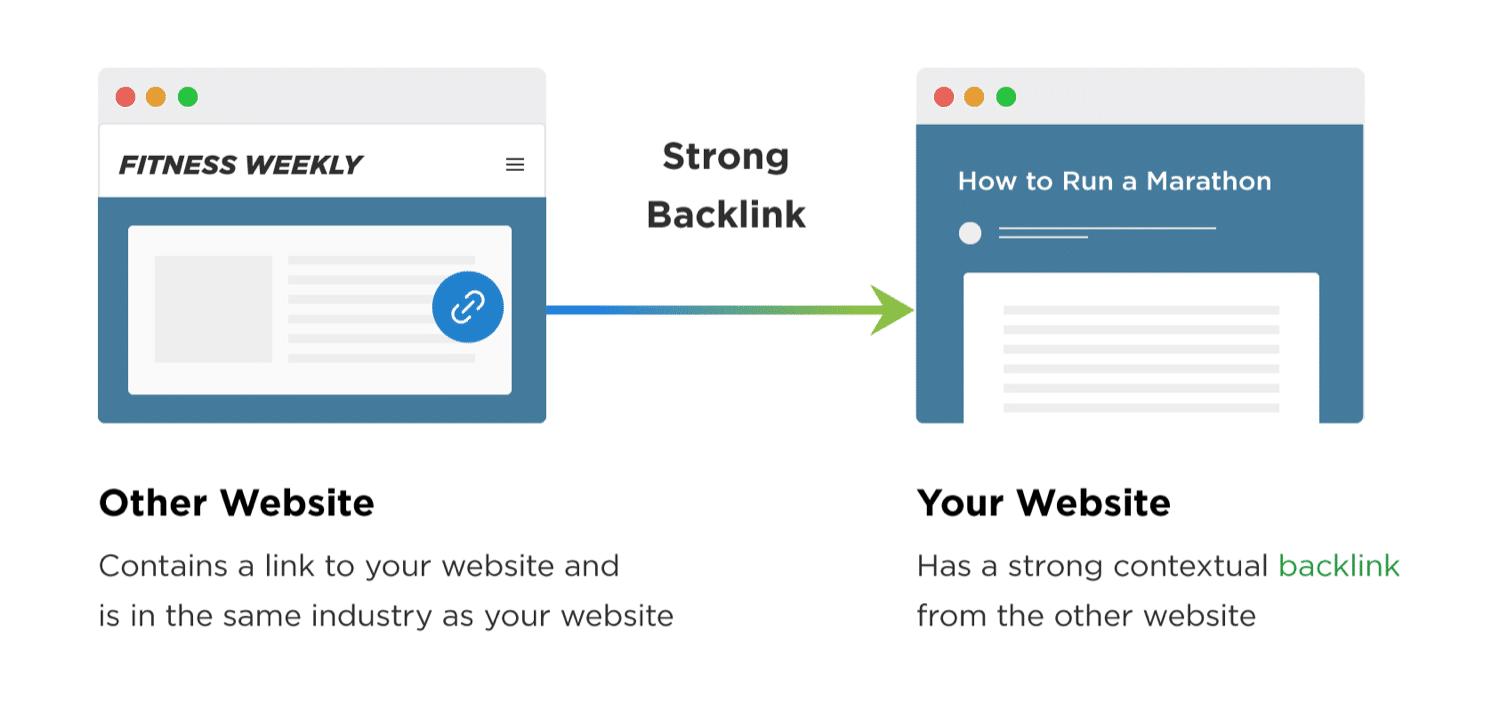 The types of links to build will differ depending on your niche. Here are some useful link building resources:
Check Out This Guide to Optimizing Links for SEO
31. Get Your Content in Featured Snippets
Since its inception, Google has been adding more information to the search results to enhance the experience for users.
One such feature is featured snippets:
Featured Snippets are content boxes that appear directly under the search box on Google. They are designed to provide users with a quick answer to their search query (without even having to click through to the actual website to get the answer).
Snippets can be a great way to send traffic to your site, especially if you already have some pre-existing ranking content.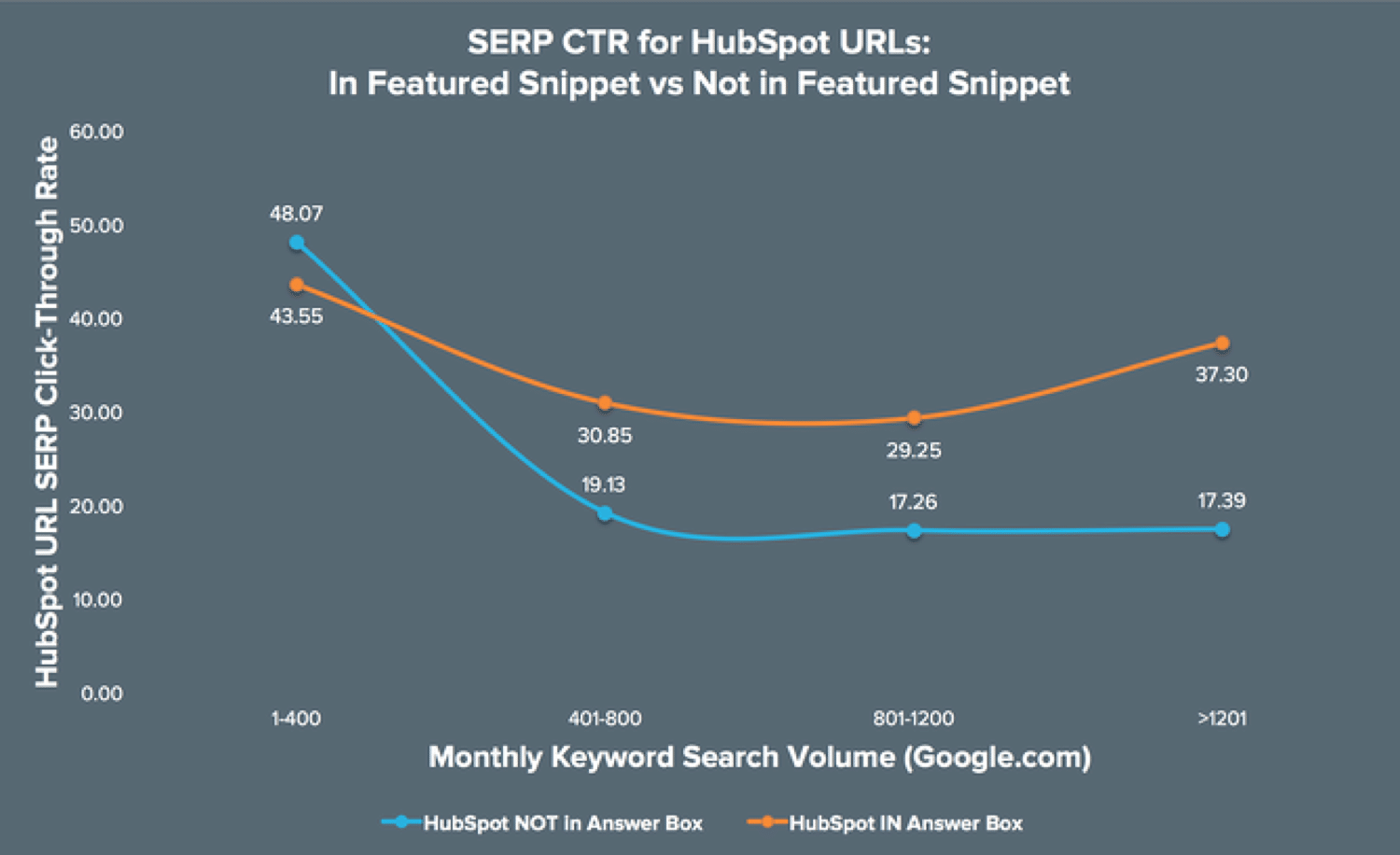 We covered how to get featured snippets before, but if you need a quick rundown, here's a quick summary of how to optimize for them:
Target question-keywords.
Be aware of the type of snippet (paragraph, list, table, etc).
Keep paragraphs and sentences short.
Answer the question directly.
Logically structure your content with subheadings.
Use tables to show that.
Include the question in the answer
Add a summary at the start or end of the content.
32. Use Analytics Data to Find Under-Performing Pages (& Vice Versa)
If you are familiar with Google Analytics open up the dashboard.
Got to Behaviour > Site Content > Landing Pages and then hit the Sessions column to order from low to high.
You'll get something like this:
Now you'll be able to see pages that are getting the lowest amount of traffic.
From here, see if they are missing anything your top-performing pages have. Try to improve these underperforming pages so every page on your site is bringing in traffic. Another tool to gather more insightful data would be Google Search Console, specifically its Performance tab.
Of course, you can also do the opposite too:
Filter Analytics and Search Console to show your highest performing pages and see if you can make them even better.
While you are in Google Analytics, you should…
33. Optimize Your Best Traffic Sources
In Analytics, go to Acquisition > All Traffic > Source/Medium.
Now you'll see where your traffic is coming from: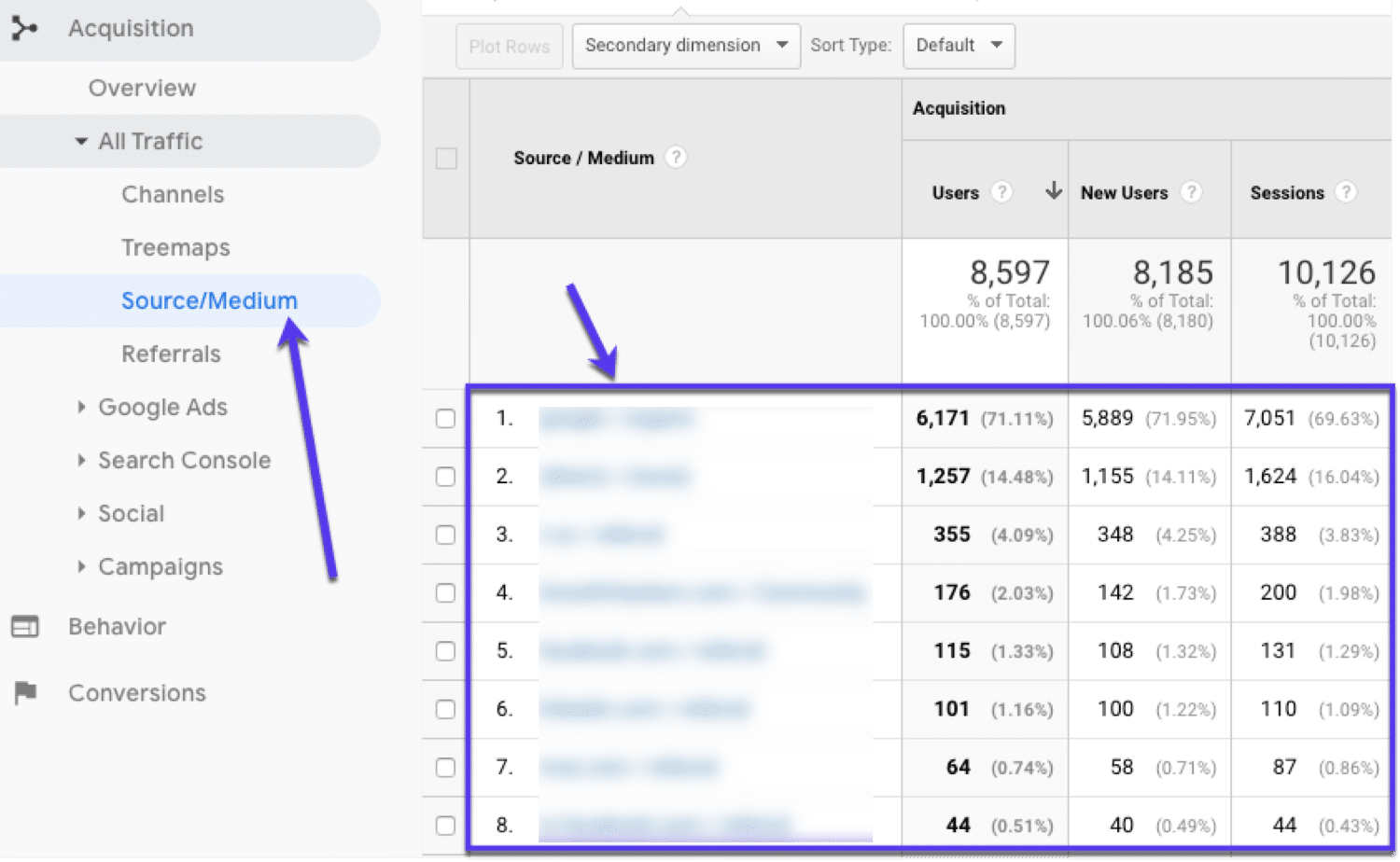 In case you are unsure:
Source is the place users are before seeing your content, like a search engine or another website.
Medium describes how users arrived at your content.
From here, you want to ask a few questions about your traffic sources:
Which send the highest volume of traffic.
Which send the highest-converting traffic.
Which send the most engaged traffic.
From there, try and figure out why those sources are effective. Then try to replicate it.
And it's not just your traffic source you should be thinking about…
34. Steal Your Competitors' Traffic Sources
Sometimes the best way to get more traffic is to see what is already working… and then do that.
One of the quickest ways to do this is by 'stealing' your competitor's traffic. If you feel bad about stealing from your competitors, let's just call it reverse engineering instead.
Now you will need to use an SEO tool for this one.
Here are two quick ways to spy on your competitors:
Competitor Traffic Method #1 – SimilarWeb
Go to SimilarWeb and paste your competitors URL in the search box.
Scroll down to the Referrals sections to see exactly where they are getting their traffic from:
Competitor Traffic Method #2 – Ahrefs
Go to the Ahrefs backlink checker. Input your competitor's domain and click check backlinks.
Now you'll be able to see the top 100 backlinks and how much estimated traffic they are sending to your competitor: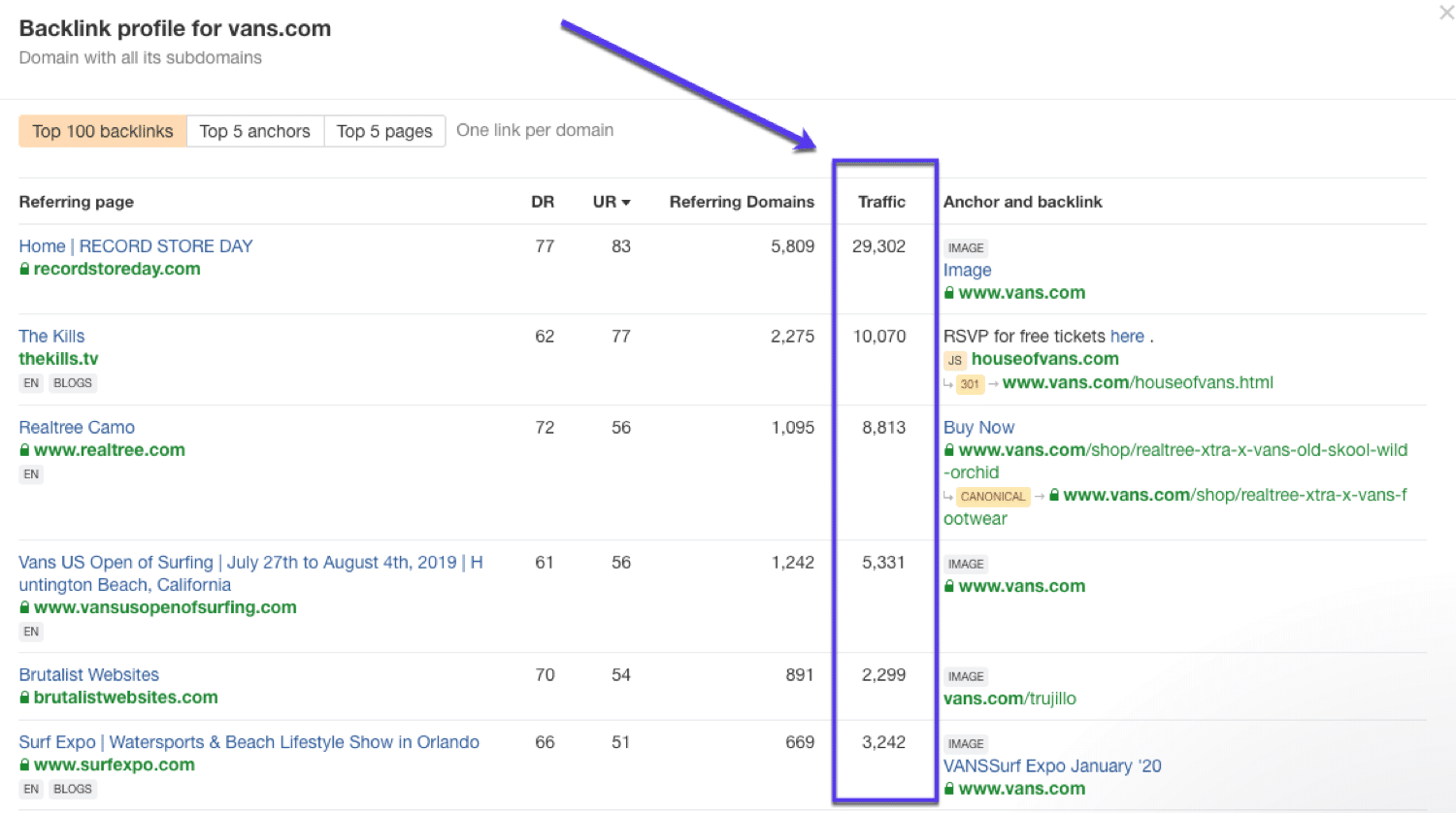 Armed with the knowledge of what is working for your competition, you can go out and try to replicate it.
Keyword Research
Keyword research is the process of finding relevant phrases (keywords) that your audience is searching for.
Once you have a list of keywords, you want to include them in pages with the intention of these pages showing up in search engines.
There are lots of ways to generate keywords, using both free and premium tools.
Let's get started:
35. Target Topics with Traffic Potential
SEO is one of the best ways to send consistent traffic to your blog (more on this later in this article).
But to get Google to send visitors your way, you need to be showing up for the right keywords. In other words: you need to target keywords with traffic potential.
After all, you want your traffic to look like this:

The metrics you want to keep in mind when doing keyword research are:
Search and Global Volume: how many people are searching the keyword each month
Keyword Difficulty: how difficult the keyword will be to rank for.
There are lots of free and paid keyword research tools available. Here are some of the best:
Ahrefs Keyword Explorer (PAID)
SEMrush (PAID)
KWFinder (PAID)
UberSuggest (FREE)
Google Keyword Planner (FREE)
Keyword Sheeter (FREE)
Oh, and don't forget to:
36. Target Long-Tail Keywords
Long-tail keywords are 3+ word phrases that are very specific to whatever you are selling or the information you are providing on your blog.
Here's an example: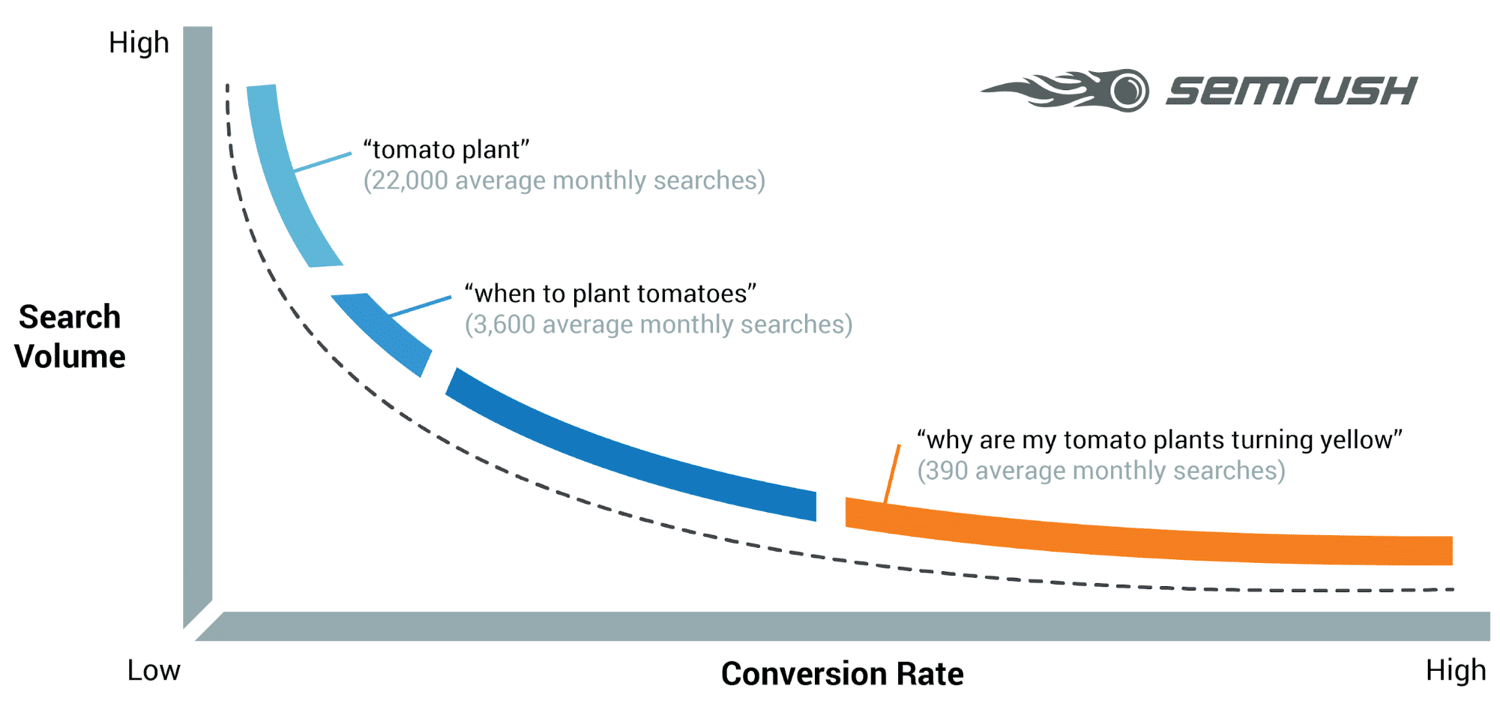 Notice how as the keyword becomes longer and more specific, the conversion rate increases.
This is one of the benefits of long-tail keywords, along with the fact that they are often easier to rank for (because they are less competitive)
So how do you find long-tail keywords?
Well, it's pretty easy to do so without ever leaving Google.
Here are 3 quick methods to find long-tail keywords:
Method #1 – Autocomplete
First up is autocomplete. Just start typing out your main keyword or topic and let Google generate suggestions based on what other people have been searching:
Method #2 – People Also Ask
If you scroll down a bit on the results page, you'll see the next long-tail keyword research method: the people also ask (PAA) box:
Method #3 – Related Searches
And finally, at the bottom of the page is the related searches suggestions:
Boom: that's three ways of doing long-tail keyword research using only Google.
37. Do Question-Based Keyword Research
As we mentioned earlier, you really want to be writing about things people are asking.
Two great tools finding these question-based keywords are Answer the Public and QuestionDB.
Just drop in your keyword and you'll get loads of question ideas.
Here are the results for the keyword 'credit card' on Answer the Public:
And here are the results for QuestionDB: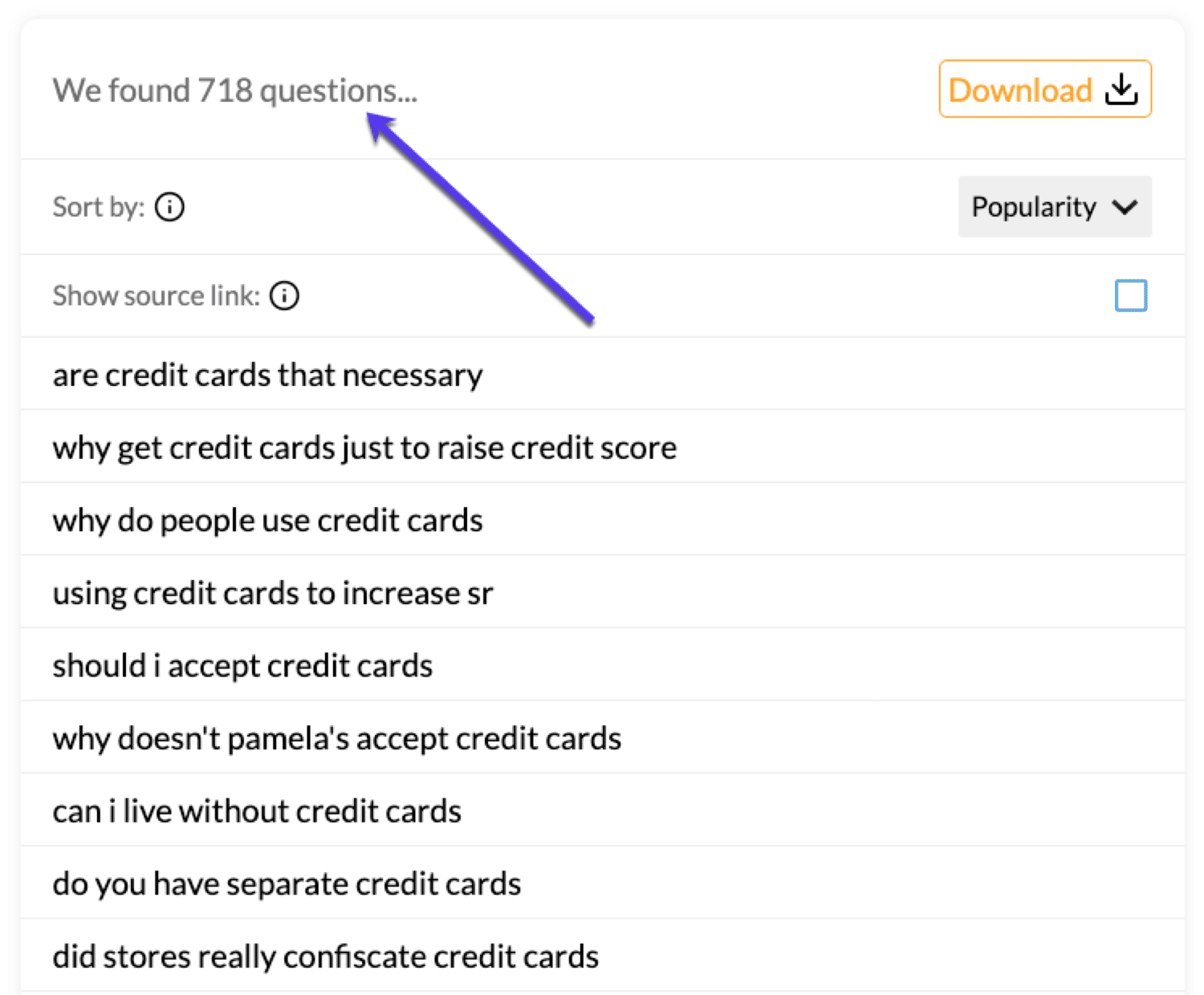 As you can see, from just one keyword you can generate lots of potential questions you can turn into articles (that people in your niche are asking).
38. Identify Keyword Gaps
This is just a fancy way of saying find keywords you don't rank for that get a high amount of monthly searches.
And then — you guessed it — try rank for them.
The quickest way to find keyword gaps is with this free content gap finder or with Ahrefs.
If you choose the latter, here's a quick walkthrough:
Fire up the Ahrefs Content Gap tool and drop in the domains you want to compare: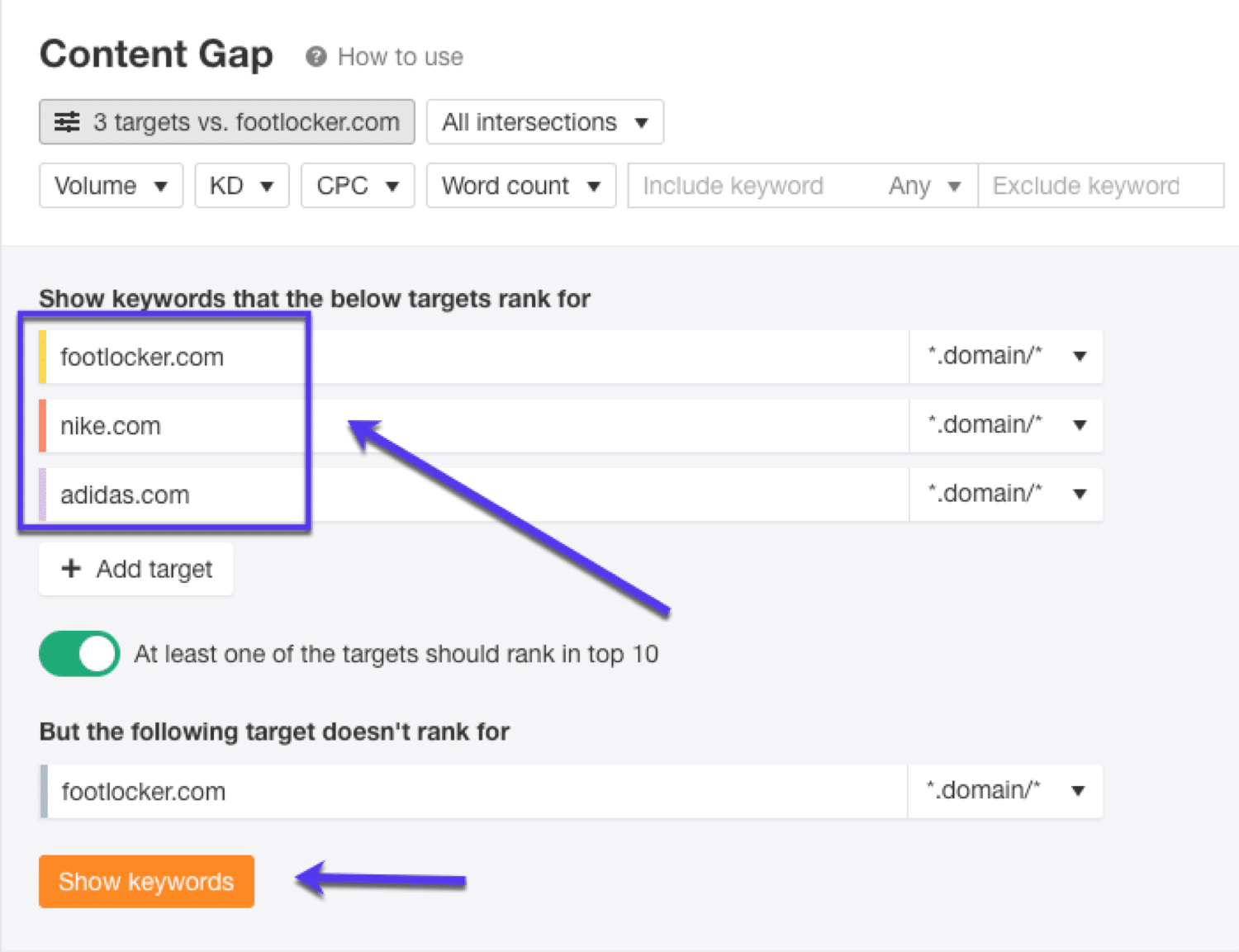 Hit 'show keywords' and you'll see any potential keyword gaps: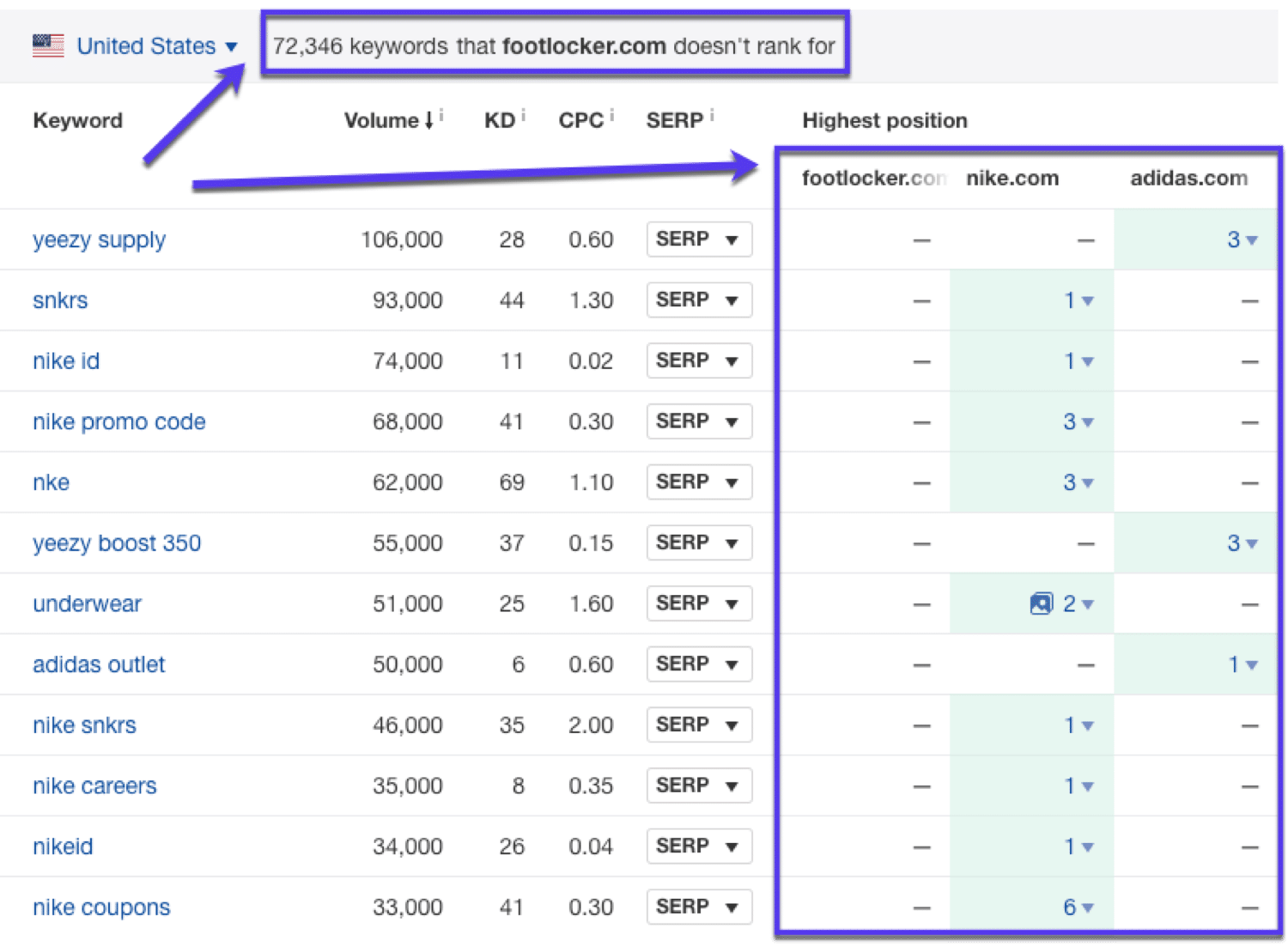 If you do this for your site and a few of your competitors, you'll be able to see all the keywords they rank for, but you do not.
Based on your competitors, you'll be able to prioritize the keyword gaps to go after and try and rank for.
39. Optimize Your Content With LSI (or Semantic) Keywords
LSI, which stands for "latent semantic indexing" (also sometimes referred to as semantic keywords) are words/phrases that are related to your main keyword.
Since Google Hummingbird, the search engine has put more importance on understanding a topic fully. LSI keywords are a good way to help the search engine crawlers.
You can use a tool like LSI Graph to find them. Just drop in your main keyword and it will give you a list of terms related to your topic: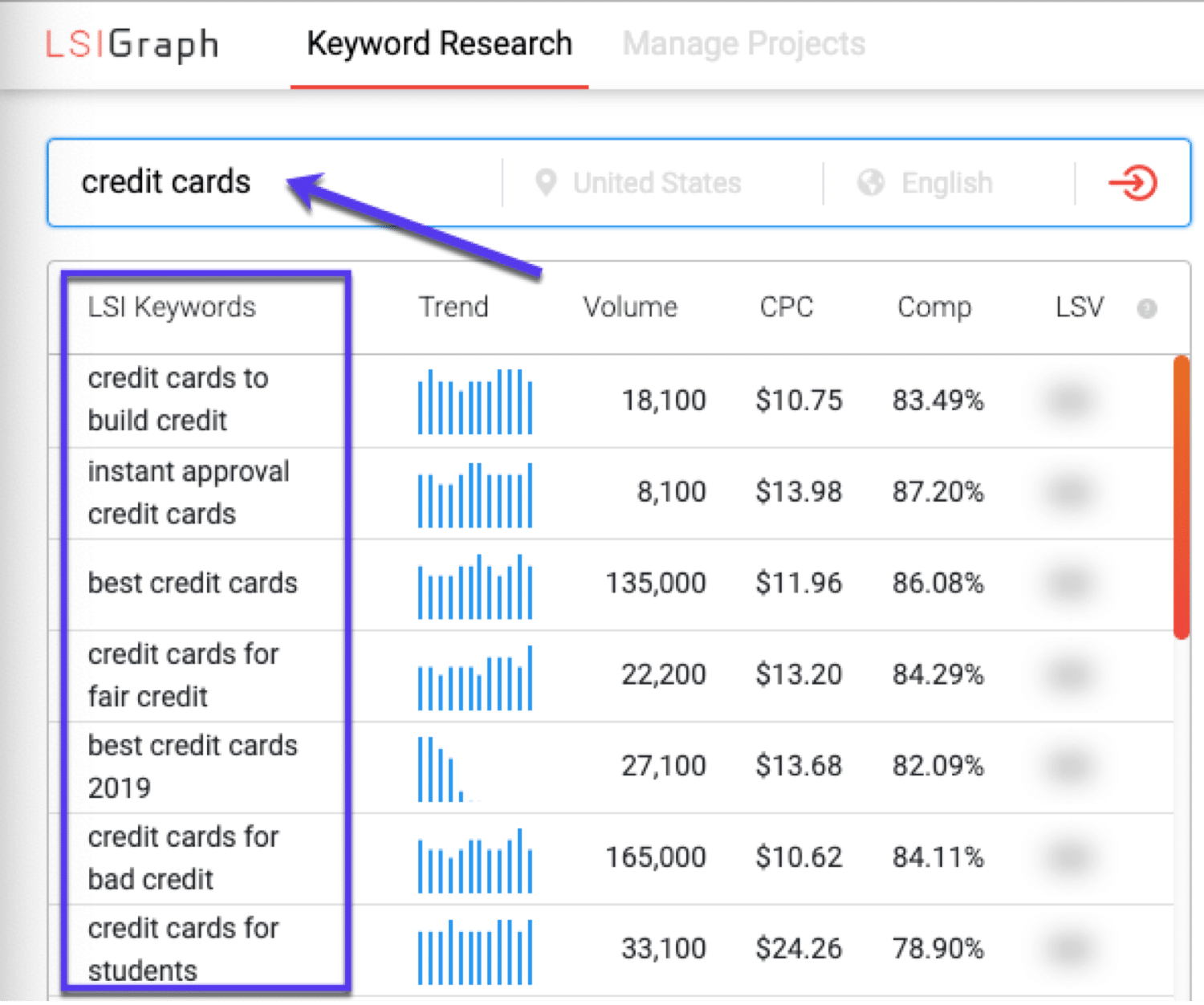 Try to add these to your articles and pages.
To be honest, if you are writing good content, you will be including semantic keywords anyway, but it's worth keeping in mind.
40. Prevent and Remove Keyword Cannibalization
Keyword cannibalization is when two or more pages on your website are competing against themselves by trying to rank for the same term.
It's actually quite common, especially with large sites with lots of pages. Here's a pretty detailed article from Moz about it.
The lesson to learn here is: you want to avoid keyword cannibalization as it can confuse Google (it won't know which page it should rank). Having two similar pages competing against one another is not helpful for driving traffic.
It can also:
Lower the authority of your page.
Dilute any links you have to the page(s).
Impact your conversion rate.
Often you will be better off consolidating these into one post. You can use this free spreadsheet to find keyword cannibalisation and run a quick "site:yourdomain.com 'keyword' query to surface potential issues.
41. Find Easy-Win Keyword Opportunities
Here's a quick traffic win you can do if you have an existing site:
Find pages that are performing relatively well, and then improve them to give them a boost.
Let me explain:
Pages/keywords that are ranking around the top of page 2 of the bottom of page 1 are ideally suited. These may just need a few tweaks to get them to climb up the ranks and send more traffic to your site.
Some ways you can improve these easy-win keywords pages are by:
Doing keyword research to target the main term + related terms better.
Adding more content.
Pointing internal links to the page.
Building some backlinks to the page.
To find these pages you can use the built-in keyword filtering of SEO tools like Ahrefs, SEMrush again, use some free SEO spreadsheets for SEO tasks or go through the performance report in Google Search Console.
Technical Improvements
Another aspect of SEO that determines how much traffic your site will get is its technical health.
In order for search engine bots to find, crawl, and index your site, there are some technical elements you need to tick off.
Let's check them out:
42. Follow Technical SEO Best Practices
Technical SEO is the process of optimizing your site for Google's crawlers.
It is an important step in getting traffic to your site. If Google can't find, crawl, and index your site, you won't rank. No ranking = no organic search traffic.
It is called "technical" SEO because it is less about the content of your site and more about the infrastructure.
Technical SEO can be a big topic. But in terms of getting the best practices down, here are the things you want to do:
Specify a preferred domain (www or no www?)
Optimize your sites URL structure.
Have a logical site structure and website navigation.
Use breadcrumbs to improve UX.
Set up canonicals.
Set up and optimize your 404 pages.
Make sure your website is mobile-friendly.
This is by no means an exhaustive list. But if you can tick off everything above, you are on the right track for a healthy site.
43. Submit Your Site to Search Engines
You want your site to show up on Google and Bing right?
Then you need to submit your site to search engines.
Actually, this process is very quick. Most of the work is done for you, but it is worth doing so you have control of indexation in the future.
Search engines don't technically require you to submit your site. But there are plenty of scenarios where it makes lots of sense to do. Think of:
New sites with little to no backlinks.
Rehauled sites with new content and structure.
Big chunk of updated content now available.
Manually submitting your site to Google and other search engines should cut down on the time required to get re-indexed properly, hence gaining organic traffic regularly flowing towards you.
44. Improve SERP Click-Through Rates (with GSC Data)
Click-through-rate (CTR) is the percentage of searchers who click through to your website from the Google search results.
Here's the great thing:
By improving your CTR, you can effectively increase traffic.
To see your CTR, go to Search Console > Performance, now make sure Average CTR is selected and choose Queries. From here you will be able see your best and worst queries in terms of CTR: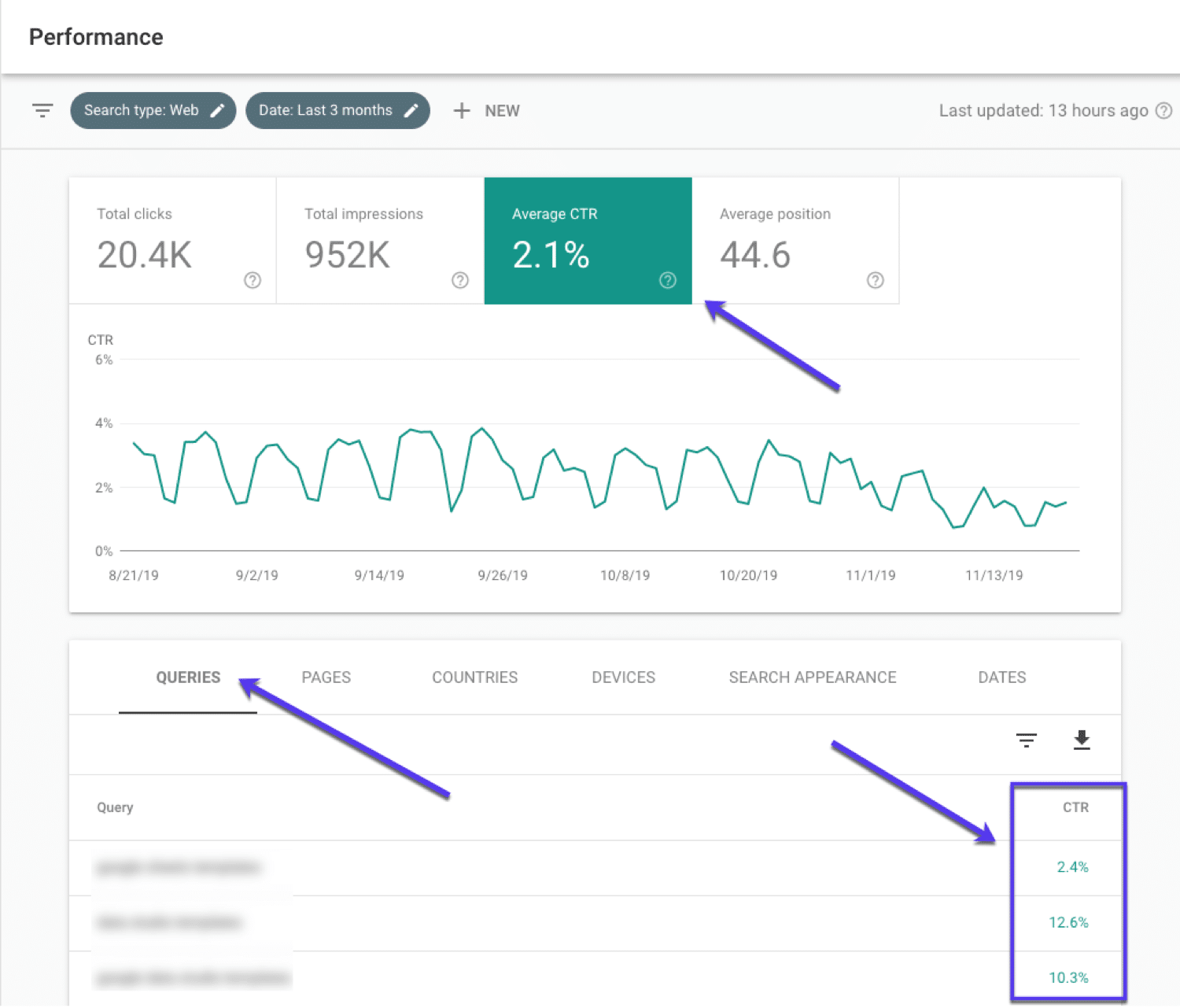 Some ways you can improve your organic CTR are:
Improving your page titles.
45. Fix Lost 'Link Juice' on 404 Pages
When you delete a linked page, add an incorrect URL to a page, or incorrectly change a URL, a broken link is created. These are bad for UX.
No one wants to go buy some Lego and be greeted with this 404 page: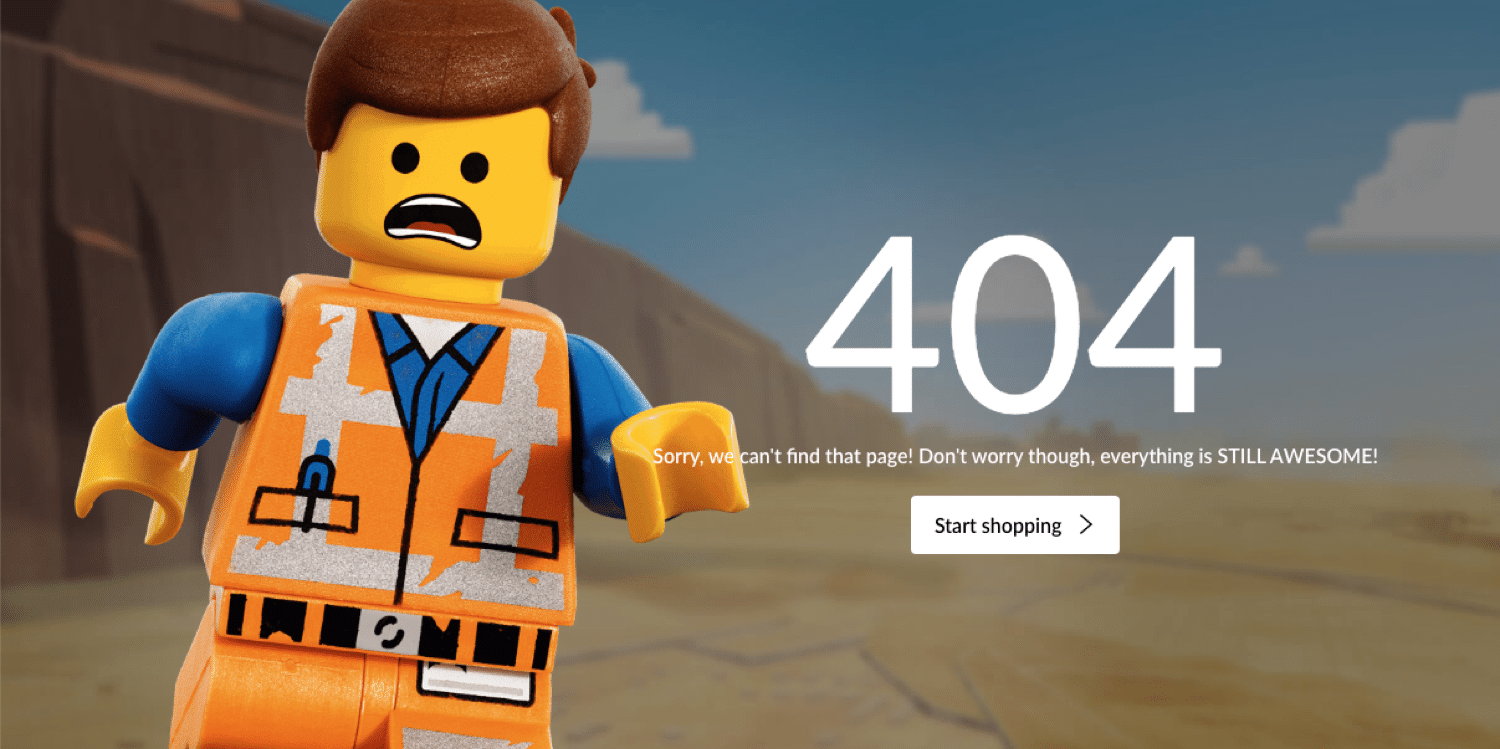 Okay, so maybe they kinda do because that's a good 404 page.
So, how do broken links affect SEO?
When a search engine is crawling your site and they find dead links, it can stop the spiders from crawling your site. This can stop it from being indexed.
In other words, when searchers (and/or web crawlers) browse through your site and click on the link, they may be directed to a page with a 404 error.
I don't know about you, but when this happens, I either get a bit annoyed with the website in question or just leave.
Don't take the risk. Go find and fix any potential broken links.
46. Boost Authority with Internal Links
Interlinks are links that point from one page on your site to another page on the same site.
You will have seen them countless times before: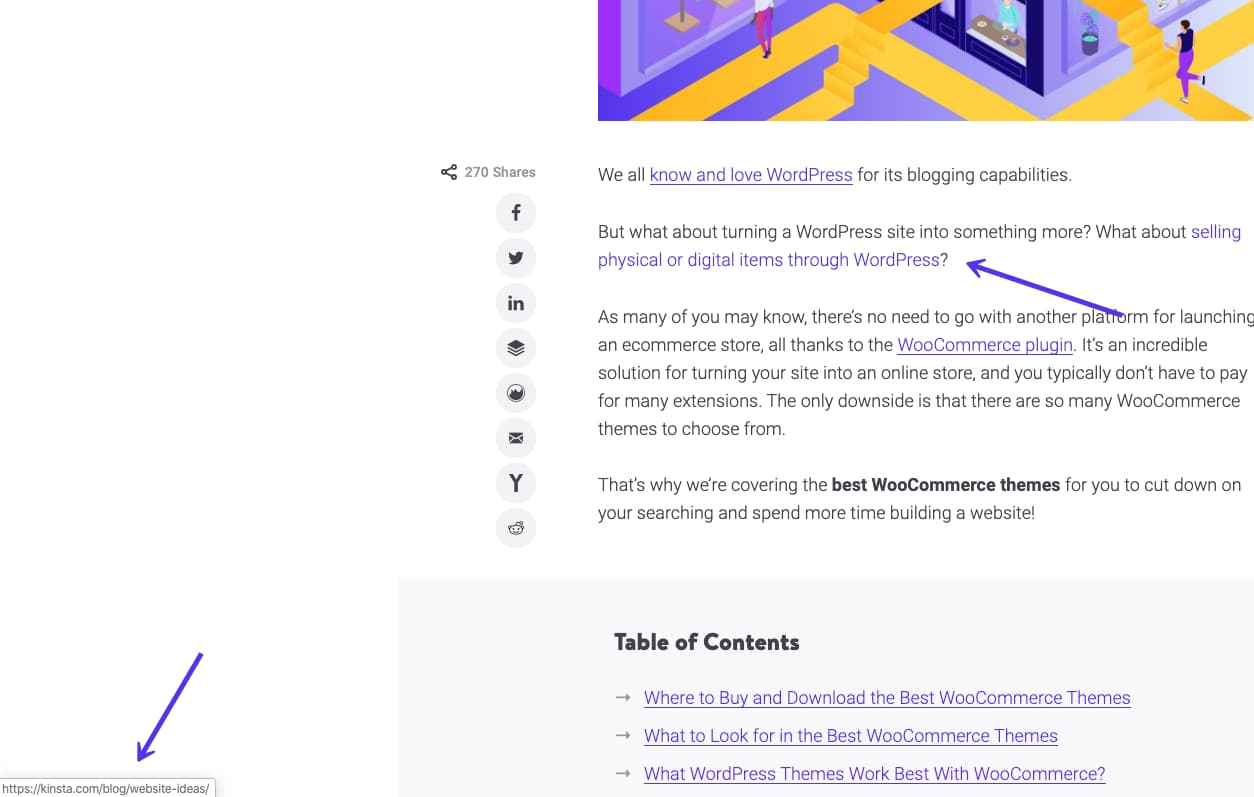 Interlinks (or internal links) usually occur naturally when you are referring to past content or related pages in your content.
Adding internal links can:
Help visitors (and search engines) navigate your own website.
Help to establish an information structure.
Spread link juice or authority throughout your site.
47. Make Sure Your Site is Responsive
Almost everyone has a smartphone. And almost everyone browses websites on their mobile.
In 2019, there were 4070 million unique mobile internet users!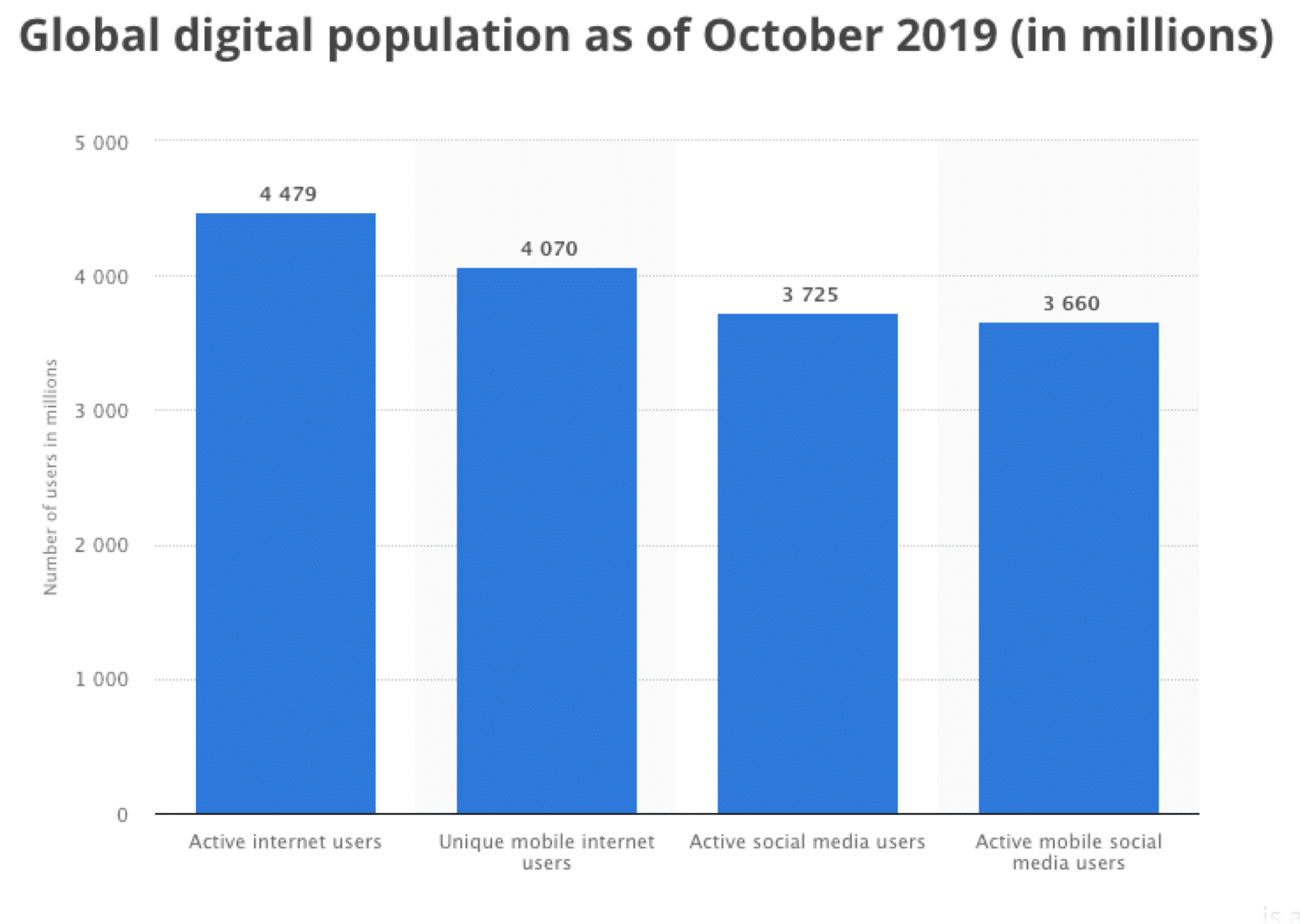 That's a lot of potential mobile visitors to your site. Google recognized this with its introduction of mobile-first indexing.
If you don't have a responsive website, here why you should:
It improved site usability for visitors.
It will load faster.
It will reduce bounce rate.
It may improve social sharing.
48. Enhance SERP Appearance with Schema
Also known as structured data, Schema is a markup easily read by search engines.
It makes it easier for search engine crawlers to find and index your page. Because it gives search engine bots more information about your site, your site can get rich site snippets (which can improve your CTR).
If you're featuring reviews on your site, you could score rich snippets like the one below:

We've actually got a more detailed guide on how to add schema markup to a WordPress site.
49. Make Sure Your Site is Fast
We've touched on this a bit already, but how fast your site loads does affect SEO.
Page speed is a direct ranking factor, and can also affect rankings indirectly via increased bounce rate.
Page speed is important for users. Think about: if a web page is loading slowly for you, what do you do? Do you wait for it to load or do you go somewhere else?
Chances are you leave.
Faster loading pages are more efficient for keeping people on your site. And Google knows this too. That's why way back in 2010 they announced that page speed counts as a ranking factor for SEO.
John Mueller of Google says to make sure web pages load for users in less than 2-3 secs:

When it comes to speeding up your site, there are a few things you can do to boost performance like compress images, use a lightweight WordPress theme and have a good hosting setup able to deliver high performances.
If you want to geek out on page speed, we've plenty of resources to browse through:
Social Media
If you want traffic, go to the places online where your target audience hangs out and shares content. Social media can also help you build brand recognition as well as a community.
And it's not just sharing memes and cat videos: 43% of adults in the US get their news from Facebook: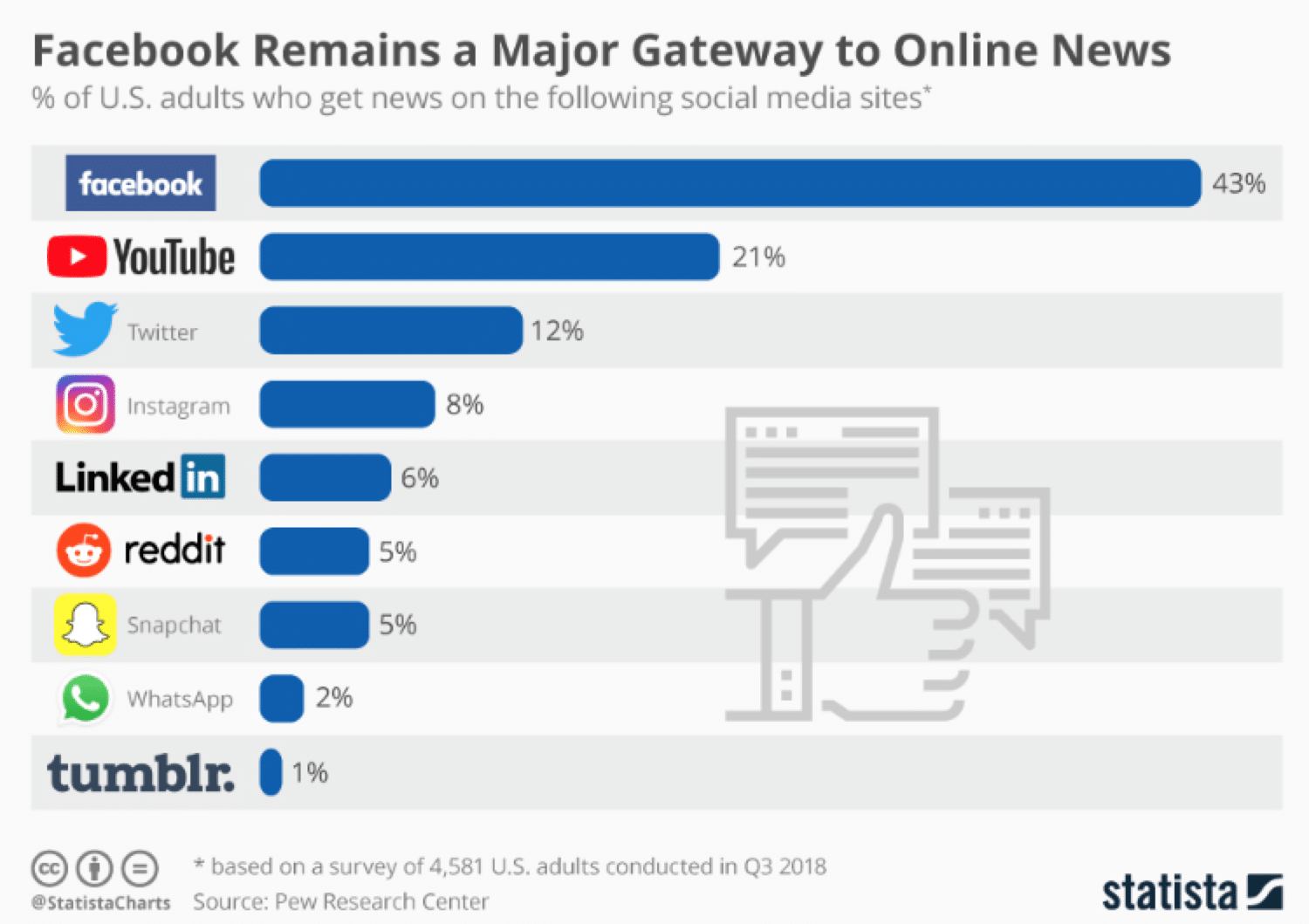 Here are some ways to drive traffic to your site using social media:
50. Get Active on Social Media
This sounds like an obvious step, but you actually need to set up your social accounts if you want them to drive traffic.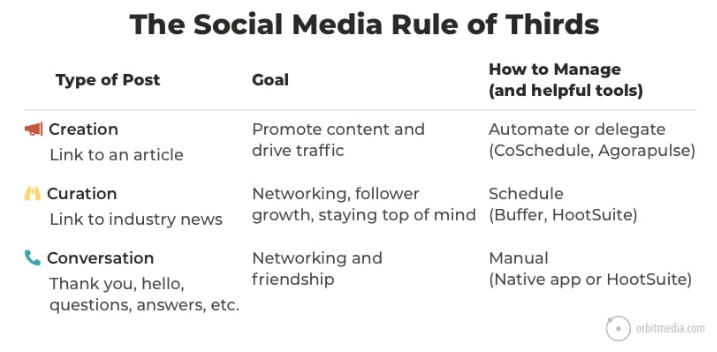 Here are the essentials to complete across whichever platform you choose:
Fully complete your profile (don't forget to link to your site) and your business pages (Facebook and LinkedIn).
Promote your blog content.
Be sure to share interesting content (follow the rule of thirds).
Post when your audience is online.
Talk with your audience.
In terms of which platform you should be on, depends on your audience.
The best social media platform is the platform where your audience hangs out.
51. Post On Social Media at Strategic Times
This will be very dependent on your audience and the platform you are on.
There have been lots of studies into when to post on social media like this one from Hootsuite or this one from Sprout Social.
According to Post Planner, here are the best times to post on social media:
| | | |
| --- | --- | --- |
| Social Network | Best Day | Best Time |
| Facebook | Thursdays | 8pm |
| Twitter | Thursday | 5pm |
| Linkedin | Wednesday | 9am |
| Instagram | Friday | 7pm |
| Pinterest | Friday | 1am |
52. Add Social Share Buttons to Your Site
Oh, and don't forget to make it easy for people to share your content on social media.
(Pssst, if you are reading this on desktop, just look to the left.)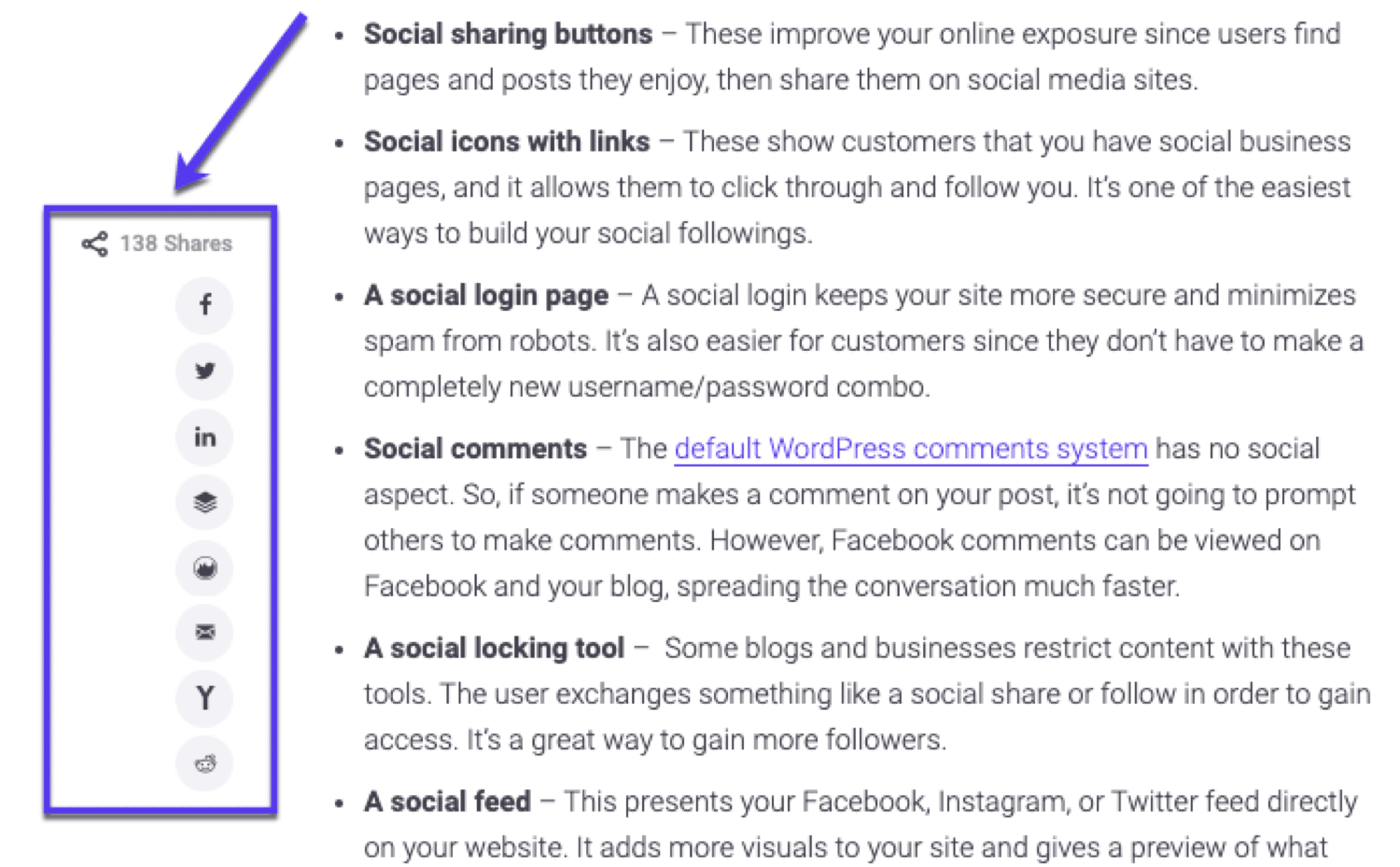 These improve your online exposure since users find pages and posts they enjoy, then share them on social media sites.
The easiest way is to set up a WordPress social media plugin for your site.
53. Use a Social Media Calendar
Wouldn't it be great to get more click-throughs on social media?
Well, the answer may be in using a social media calendar.
This type of calendar helps you to understand:
Why your audience shares (or doesn't share) your content.
Which types of content people prefer.
What's more, it also stops you from over sharing the same type of stuff too often and allows you to plan on sharing content you know works.
It doesn't take long to set up your calendar, a spreadsheet will do the trick: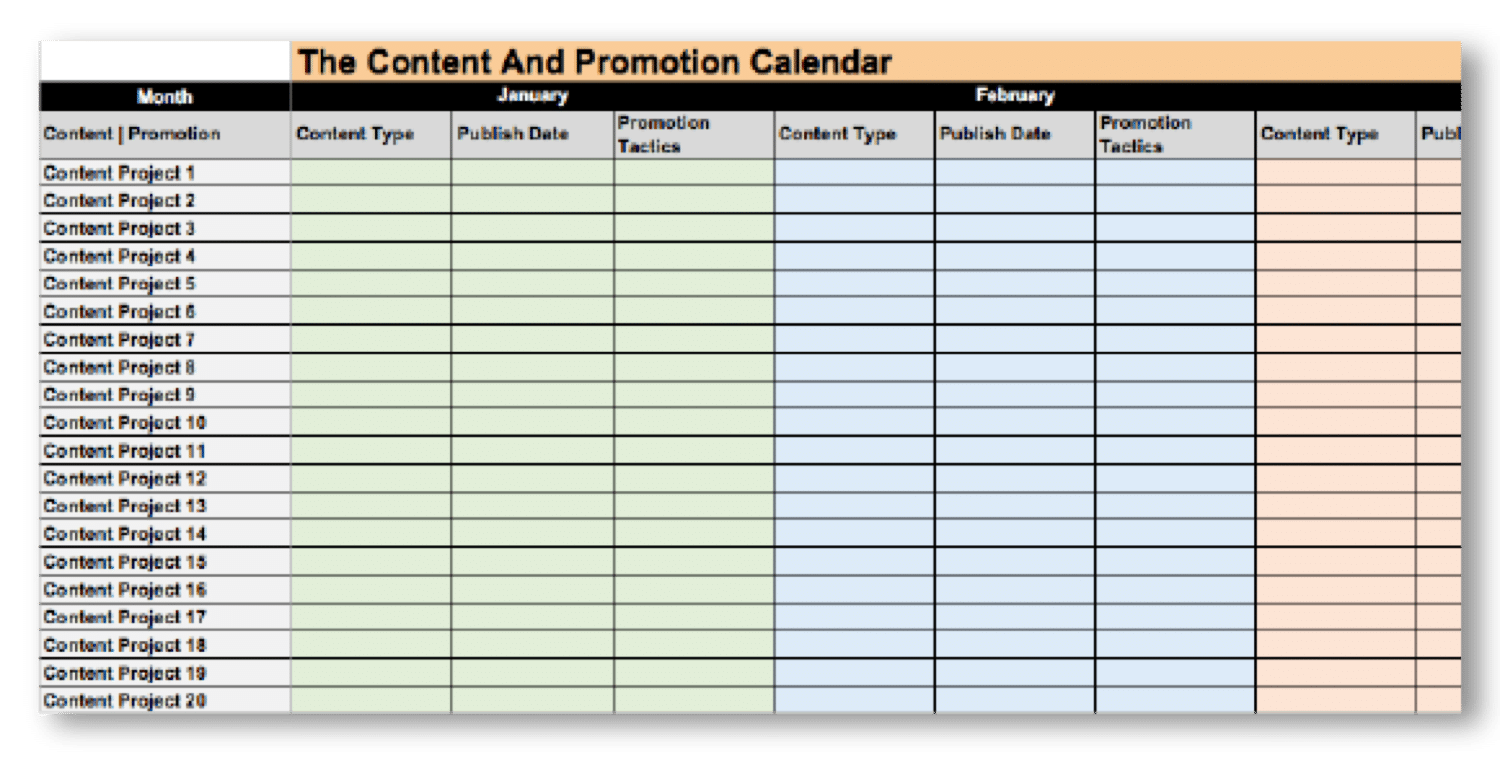 This simple addition to your social media strategy can help you improve shares and get traffic back to your blog.
Head over to the Post Planner blog to grab a free social media calendar template.
54. Research Your Competitor's Social Strategy
A great tactic for improving the amount of traffic you get from social media is to spy on your competitors. See what they are doing that is working, and then try and replicate it.
Here's a couple of social media competitor analysis tools to use:
Want a super quick social competitive analysis plan?
Let's go:
Step 1 – Find Your Competitors' Social Media Strategy
Use a tool like Sprout Social to see what your competitors are doing:
Then think about things like:
What keywords are they using?
Who are they following?
What social networks are they on?
How big is their audience?
How often do they post?
Step 2 – Analyze Their Profiles and Content
Have a look at each of their social profiles. What do they do well, and what don't they do well?
Look for things like:
Are they posting relevant and up-to-date content?
Do they have good or bad customer service?
Are there spelling mistakes?
What kind of images are they using?
Are they using unique angles to promote themselves?
Step 3 – Monitor Any Changes
Social media is a never-ending stream of content so monitor what your competitors are doing (some of the tools mentioned above can help).
Check out how to leverage LinkedIn to grow your site traffic, how to take advantage of Facebook and Twitter for your marketing.
Armed with this information, you'll be able to hopefully see gaps where you can do something effective on social media to get traffic to your site.
55. Put Social Media on Autopilot
Social Media can be a great way of promoting content to your audience.
The only problem is that it can take hours out of your day, especially if you are posting a lot of content.
Take for instance promoting new blog posts. You've got to add the title, a social sharing image and a link to the new post to each of your social accounts. And that's for every post.
Remembering to update all your social feeds like this when you publish a new blog post can be a time suck.
Not if you use this Zapier Zap to automatically Tweet your new WordPress posts:

This is only scratching the surface of what you can do. Head over to Zapier to check over 100 different ways you can automate social media.
56. Use Buffer to Schedule and Publish Social Posts
While on the subject of automation, you can use a tool like Buffer to schedule your posts in advance and automatically post them to your channels: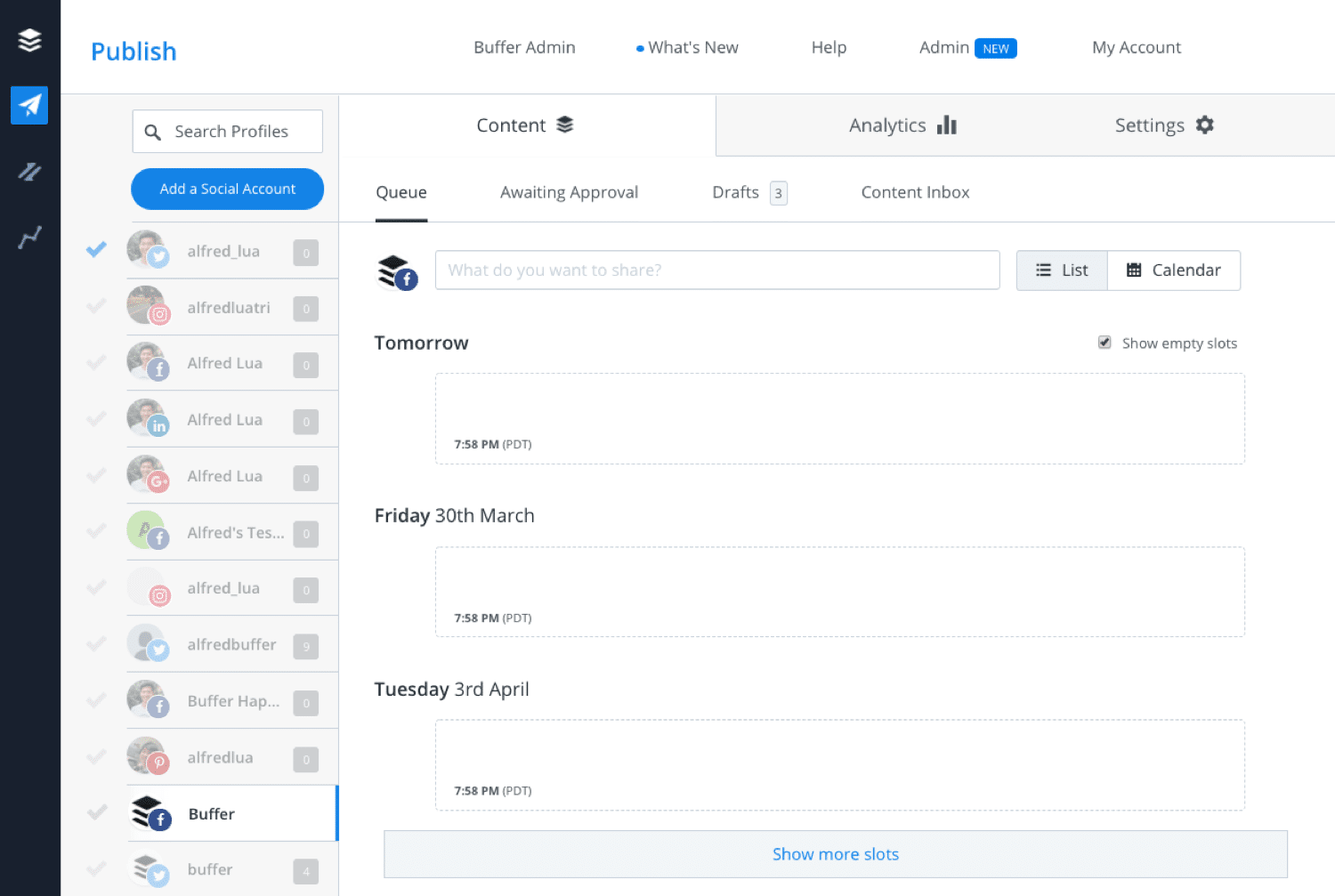 Alongside posting your content, Buffer can also suggest the best time to post. Nice, isn't it?
57. Use Quuu Promote
Quuu Promote is a paid tool that can drive traffic by promoting your content automatically to the right audience.

So how does Quuu Promote work?
In a nutshell:
You create a social media post (with a link to your content).
Quuu puts this in front of people in your niche who have signed up to get suggestions from Quuu.
Some of these people may share it on their social profiles.
You earn more traffic.
Twitter
Lots of people use Twitter, in fact roughly 46% of Twitter users log into the platform every single day: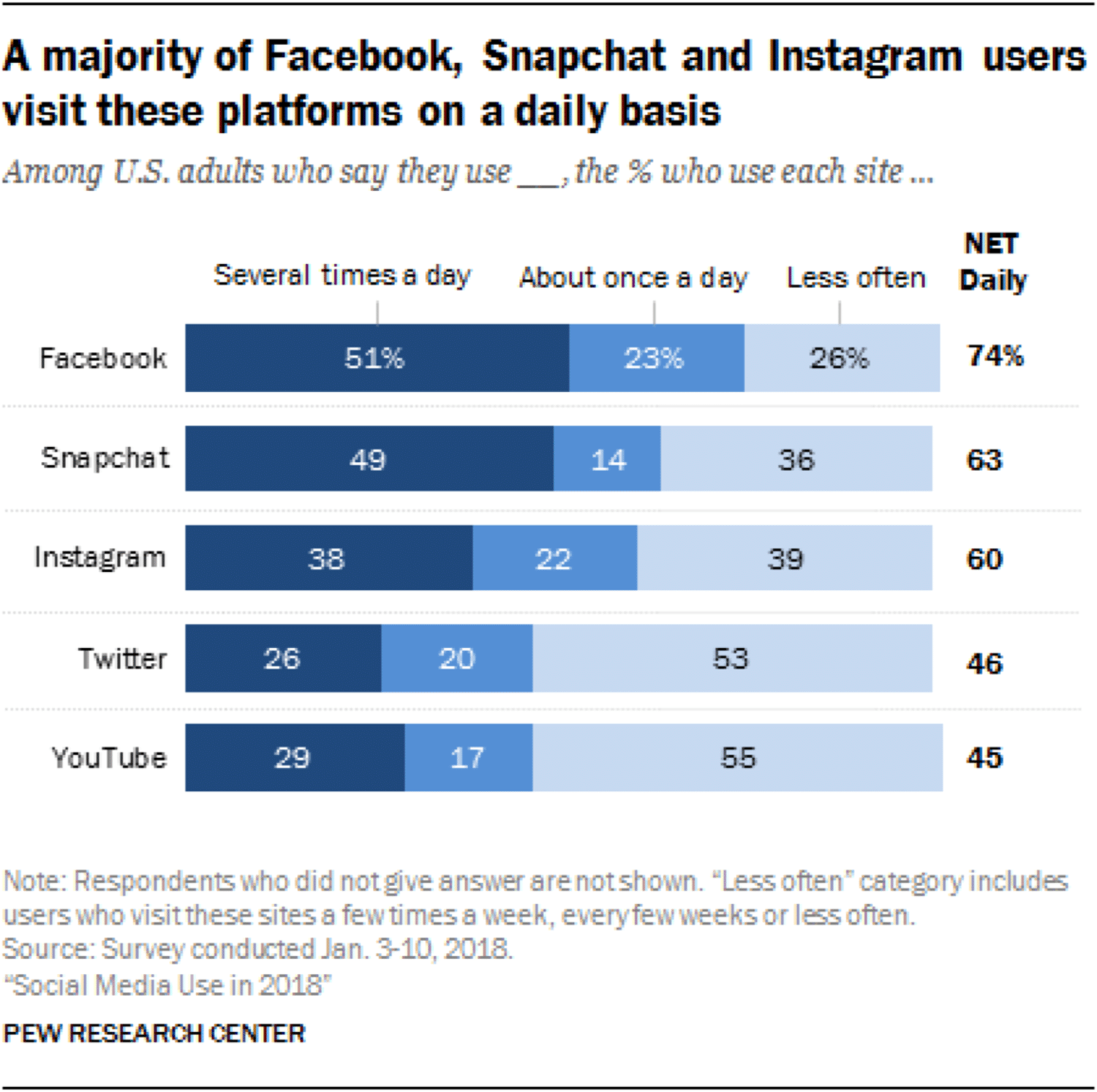 If you aren't promoting your blog on Twitter, how will anyone know about your content? Driving traffic to your blog can be almost as important as the writing itself.
If you use Twitter effectively, it can drive tons of traffic back to your website. But just tweeting the title of your blog post now and then with a link back to your site won't work.
You need to do better than that.
Here are some ways to increase your website's traffic using Twitter:
58. Drive Traffic with These Twitter Marketing Tips
Before you even get started, you need to pick the right Twitter handle, profile photo, and header image. For Twitter to be an effective traffic generating machine, you need to be proactive.
Did you know: the average lifespan of one tweet is just 18 minutes: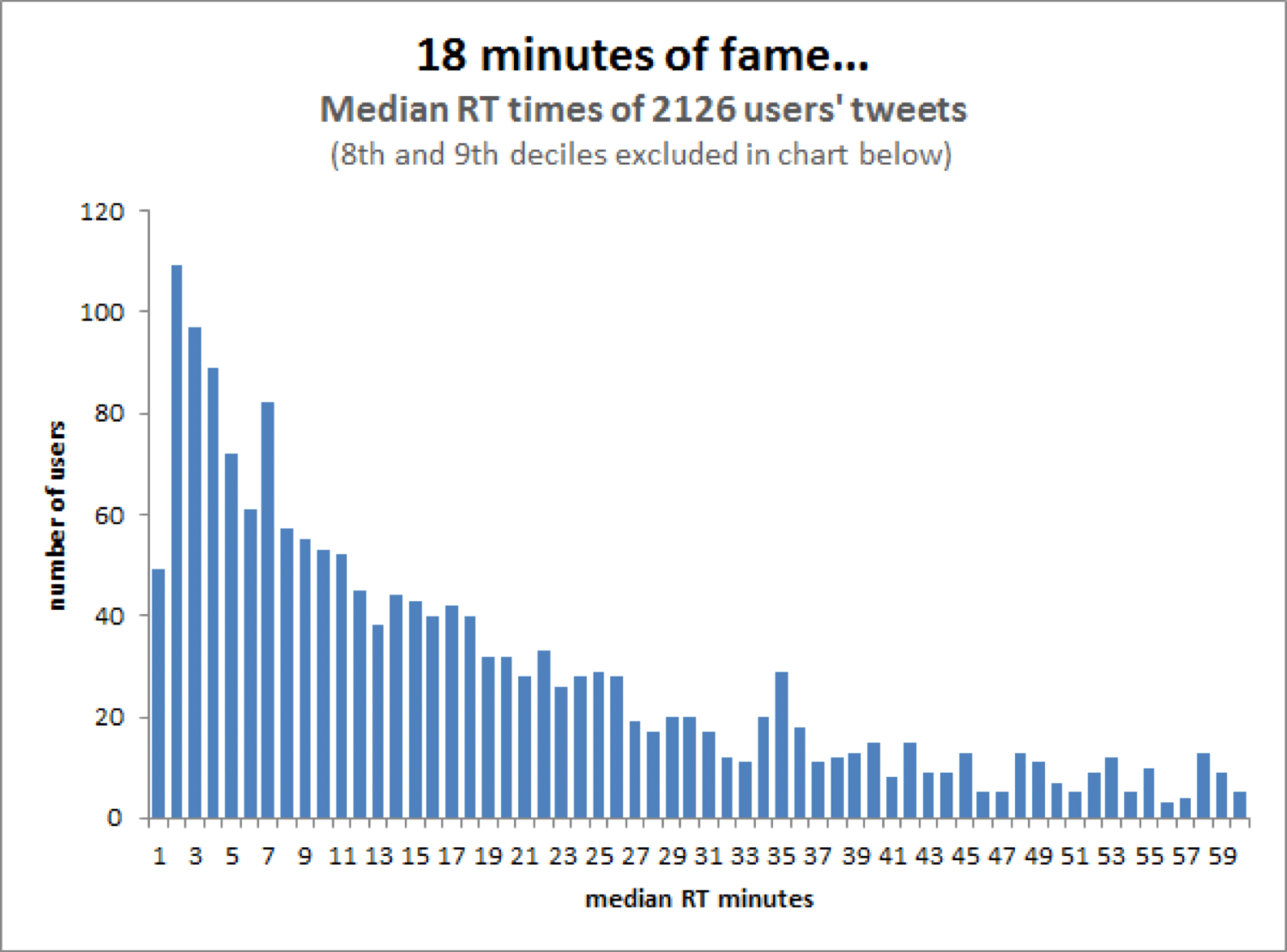 And with over 7,000 new tweets being sent every second, to get any meaningful return from your Twitter, you need a plan.
Here are some Twitter marketing tips to try out:
Use short attention-grabbing tweets.
Add a quote from the post you're promoting.
Add statistics.
Use #Hashtags & @mentions.
Retweet any mentioned content.
Ask for a retweet.
Use images.
Try asking a question (related to your topic).
Don't forget, you can also harness the power of Twitter Ads…
59. Drive Traffic with Promoted Tweets
Promoted Tweets (aka Sponsored Tweets) are standard Tweets, except they're paid for by advertisers attempting to increase their Twitter reach and/or engagement.
They are pretty easy to spot as they have a 'promoted' label beneath them: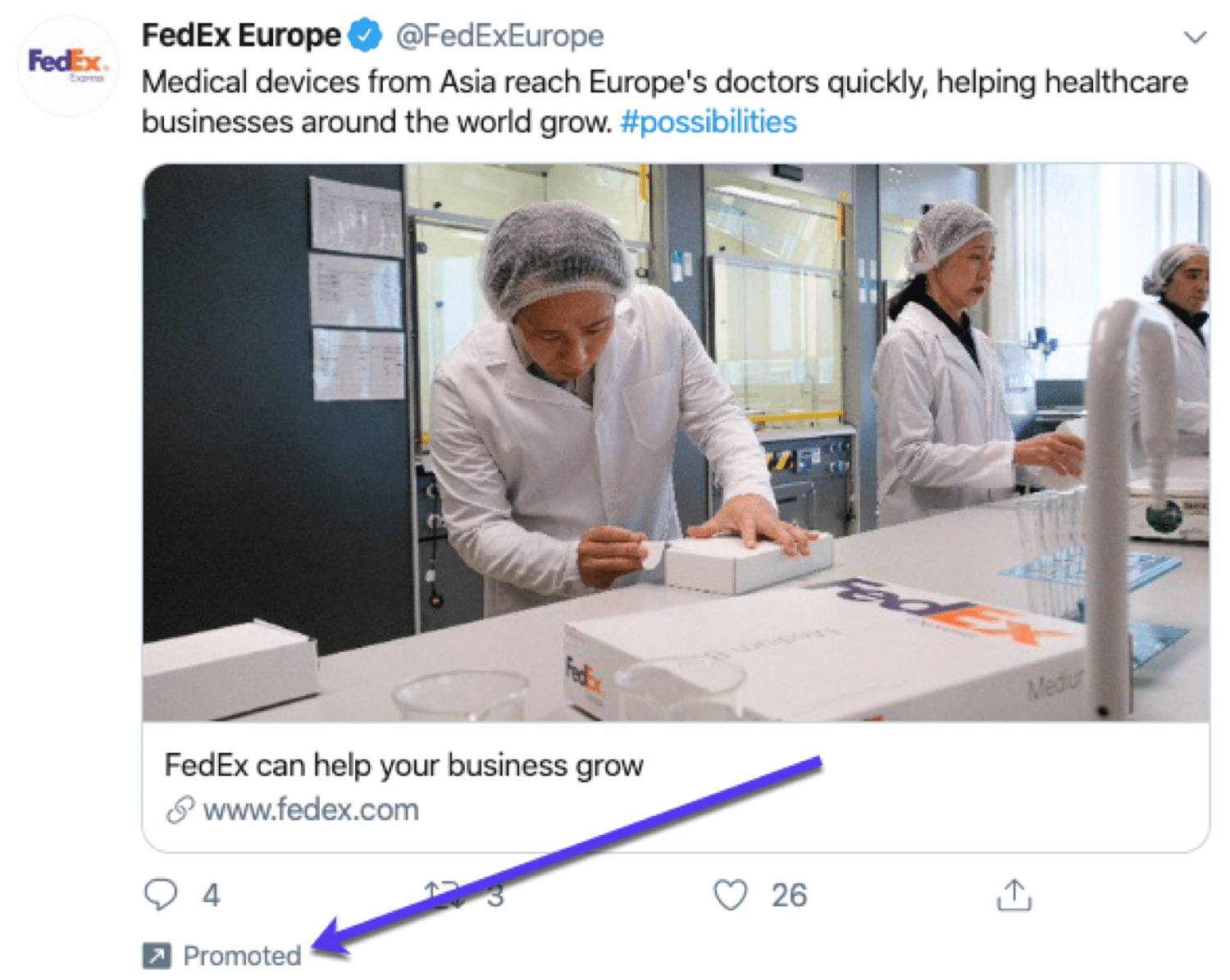 Promoted Tweets increase reach and drive traffic to your website and post-click landing pages, which in turn, increases lead generation and sales. For more in-depth tips on using Twitter to grow your traffic, check out our guide.
Go here to get started running Twitter Ads.
Facebook
Facebook has 2.41 billion monthly active users:
It continues to be the top dog of social media sites.
Used correctly, this power can be leveraged into a powerful marketing tool for your business or website.
Let's dive in:
60. Drive Traffic with These Facebook Marketing Tips
Driving Facebook traffic back to your website is essential, and FB traffic provides a great opportunity to target your ideal audience.
If you haven't already, create a Facebook page for your site, and then follow these Facebook marketing tips to help you generate more traffic:
Use images on all your posts.
Keep your updates short and to the point.
Ask your fans short questions.
Use a quote from blog articles when sharing content.
Curate content from other websites in your niche.
There's also Facebook Ads too…
61. Use Facebook Ads
You are probably pretty familiar with Facebook ads: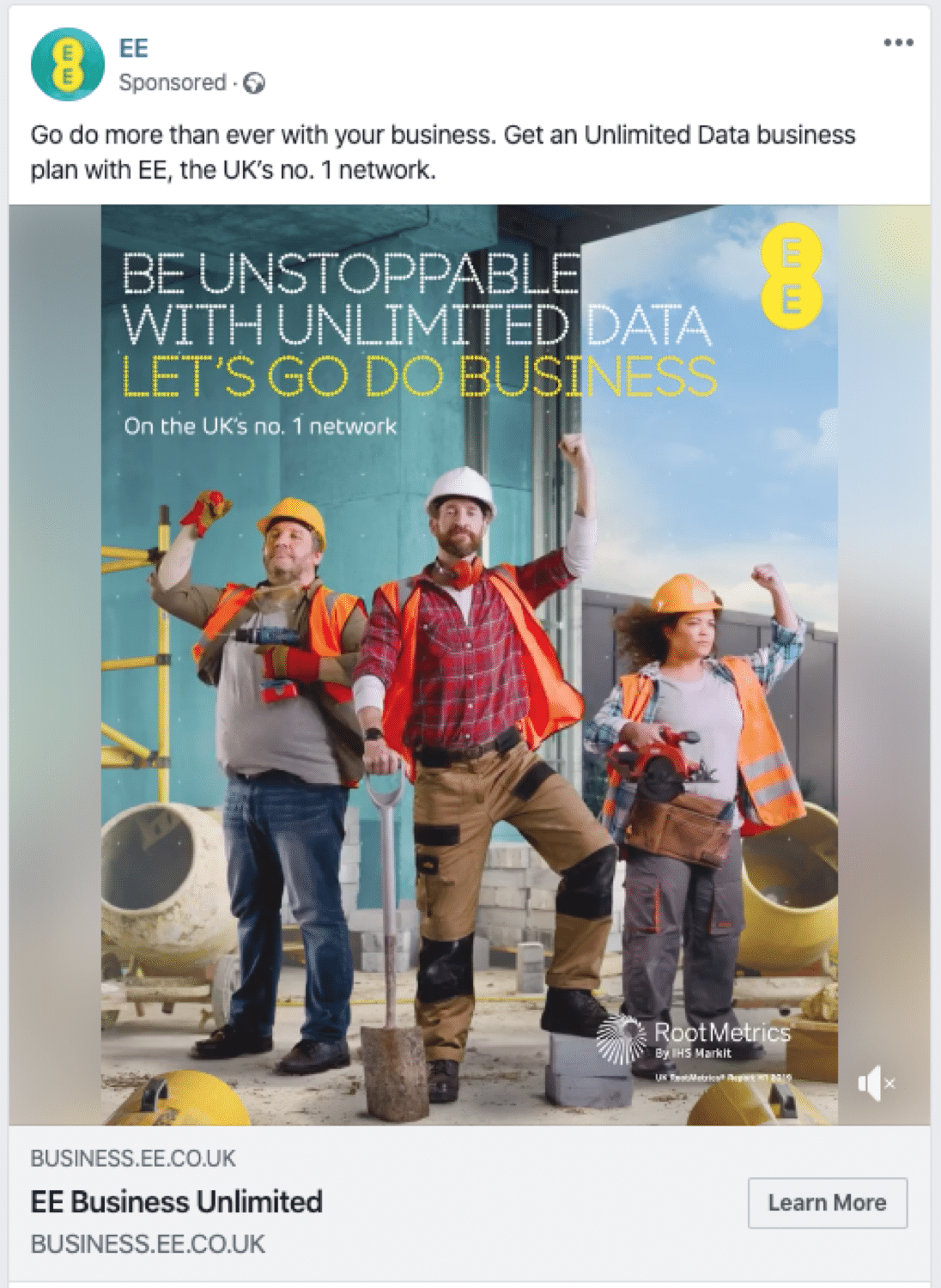 When used correctly, Facebook Ads can be an effective (and low cost) way of sending traffic to blog posts.
But if you know what you are doing, they can be the opposite of that: expensive and ineffective.
You want to use targeted Facebook ads to drive traffic from Facebook back to your site, so make sure you are going after the right (and interested) audiences.
If you are confused at all, look into using a Facebook ad tool.
62. Retarget Visitors With Facebook Ads
Don't forget you can also use Facebook retargeting ads.
Ad retargeting is the process in which you target ads to users who have previously been on your website or social media platform but haven't converted.
You need to have your Facebook Pixel installed and tracking your site traffic and website events.
Instagram
Instagram is one of the fastest-growing social platforms and can be a great way to generate traffic.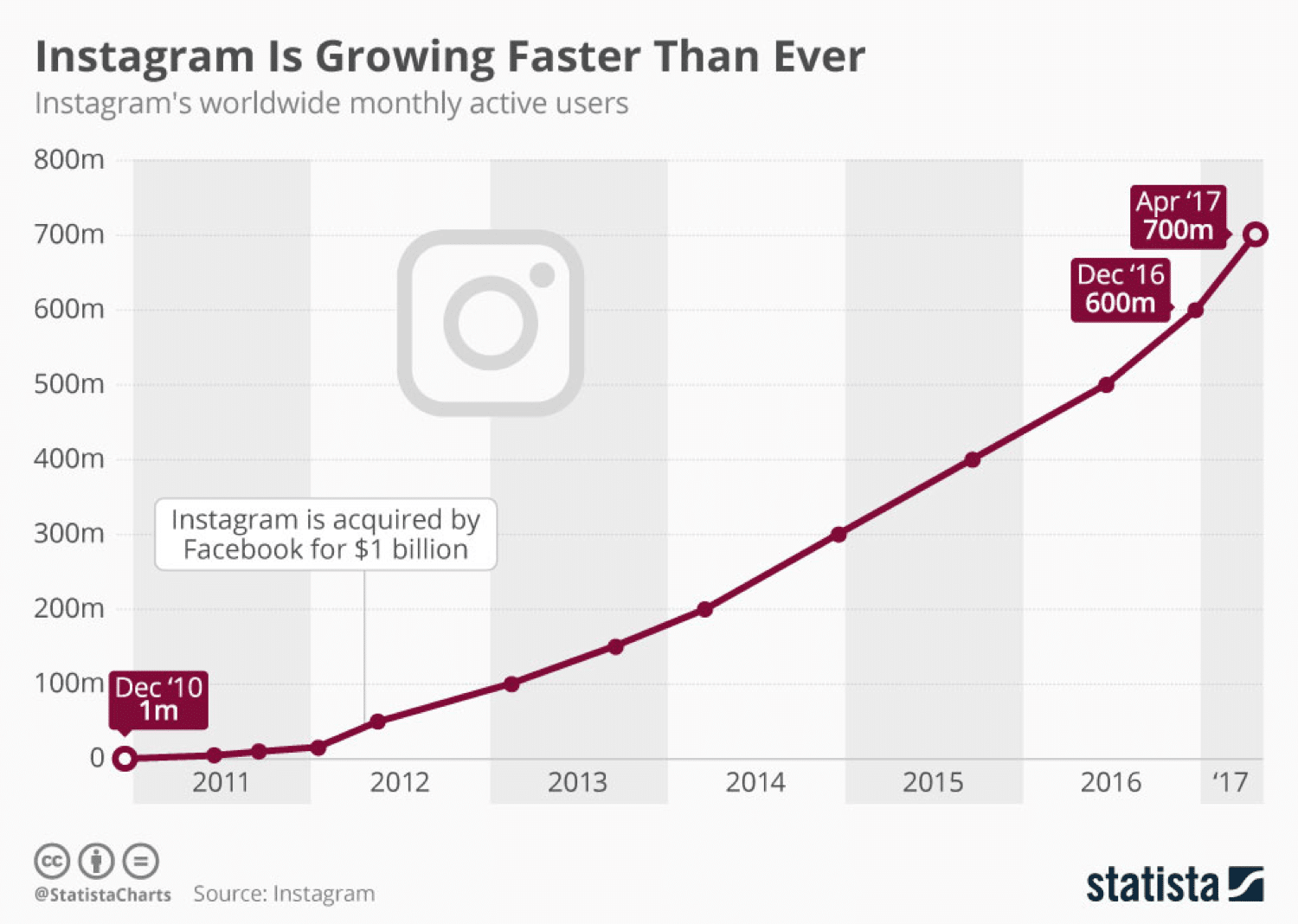 But to get the most from it, you need to consider a few factors:
Your name & username – these are the only factors that Instagram looks at in search queries.
Your bio description & profile photo – these should be appealing to your audience.
Your website URL link in the bio – this is the only place on Instagram where you can link to your site.
Profile visibility – you want to make sure your profile is set to Public, not Private.
63. Drive Traffic with These Instagram Marketing Tips
It sounds obvious, but uploading good images and videos that are relevant to your audience is the key to success on Instagram.
Think about it: if your audience is B2B, is this content useful?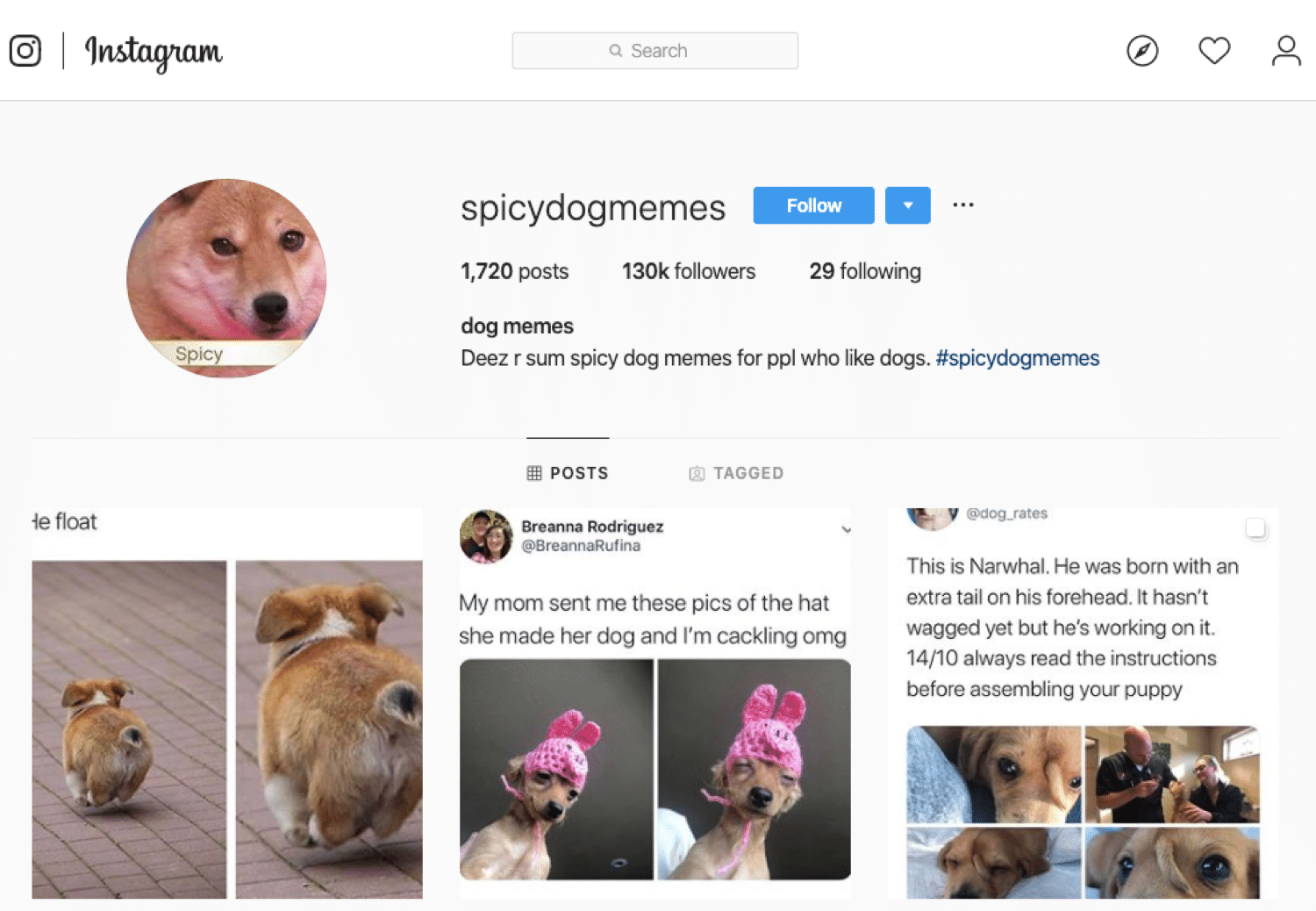 Probably not.
Alongside posting relevant content and increasing your following on a steady and consistent basis, here are some Instagram marketing tips:
Follow accounts related to your niche.
Find and use relevant hashtags.
If you can, try and get shout outs from others.
Regularly share your posts.
Post exclusive Instagram-only content.
Be active and engage with your followers.
64. Use Instagram Ads
Like Facebook ads, Instagram ads can be a great way of getting in front of your target audience.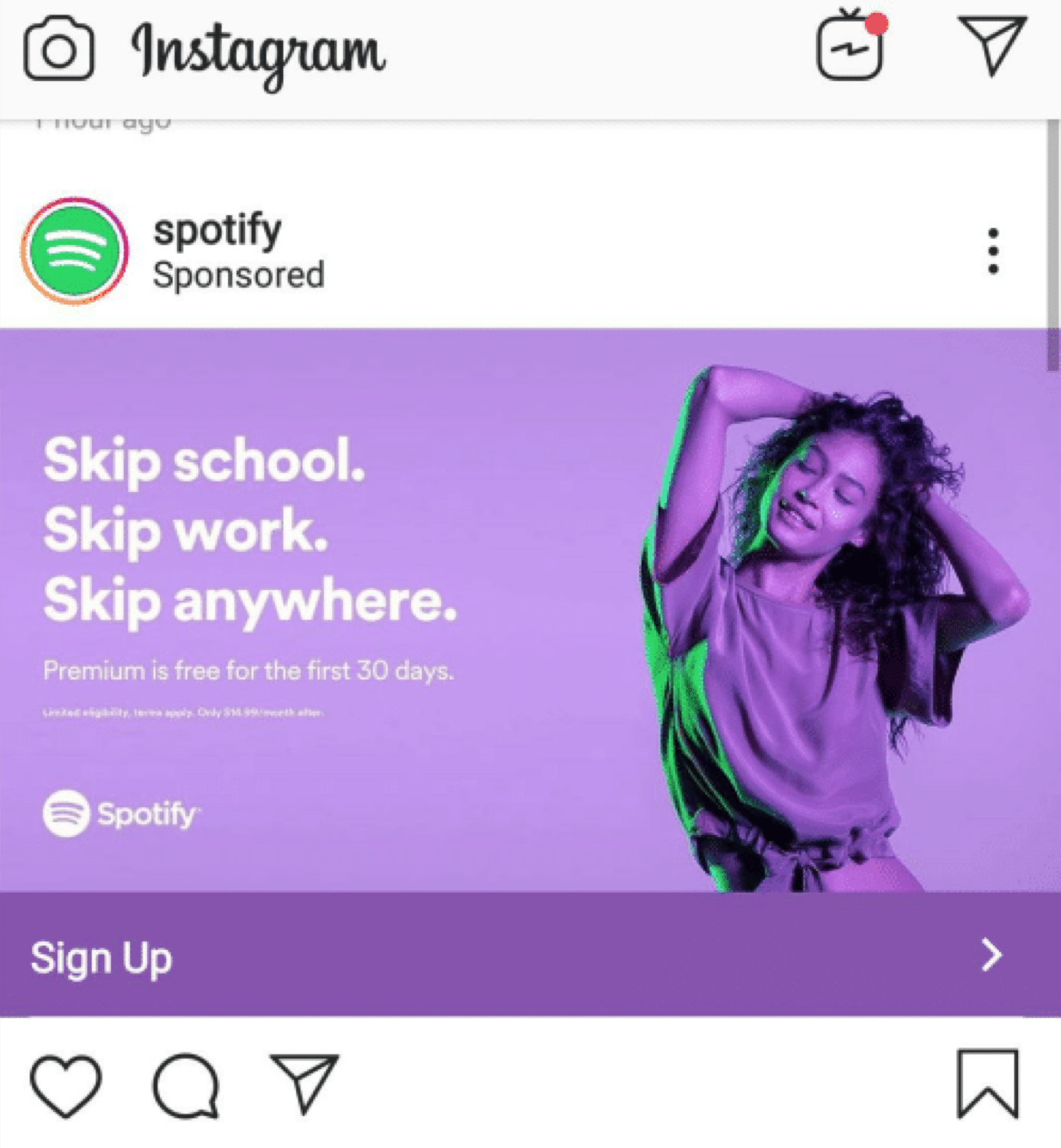 Instagram ads can be set up through Facebook's advertising platform You can run different types of ads including Photo, Video, Carousel, Slideshow, and Stories Ads.
First, you need to connect your Instagram and Facebook accounts: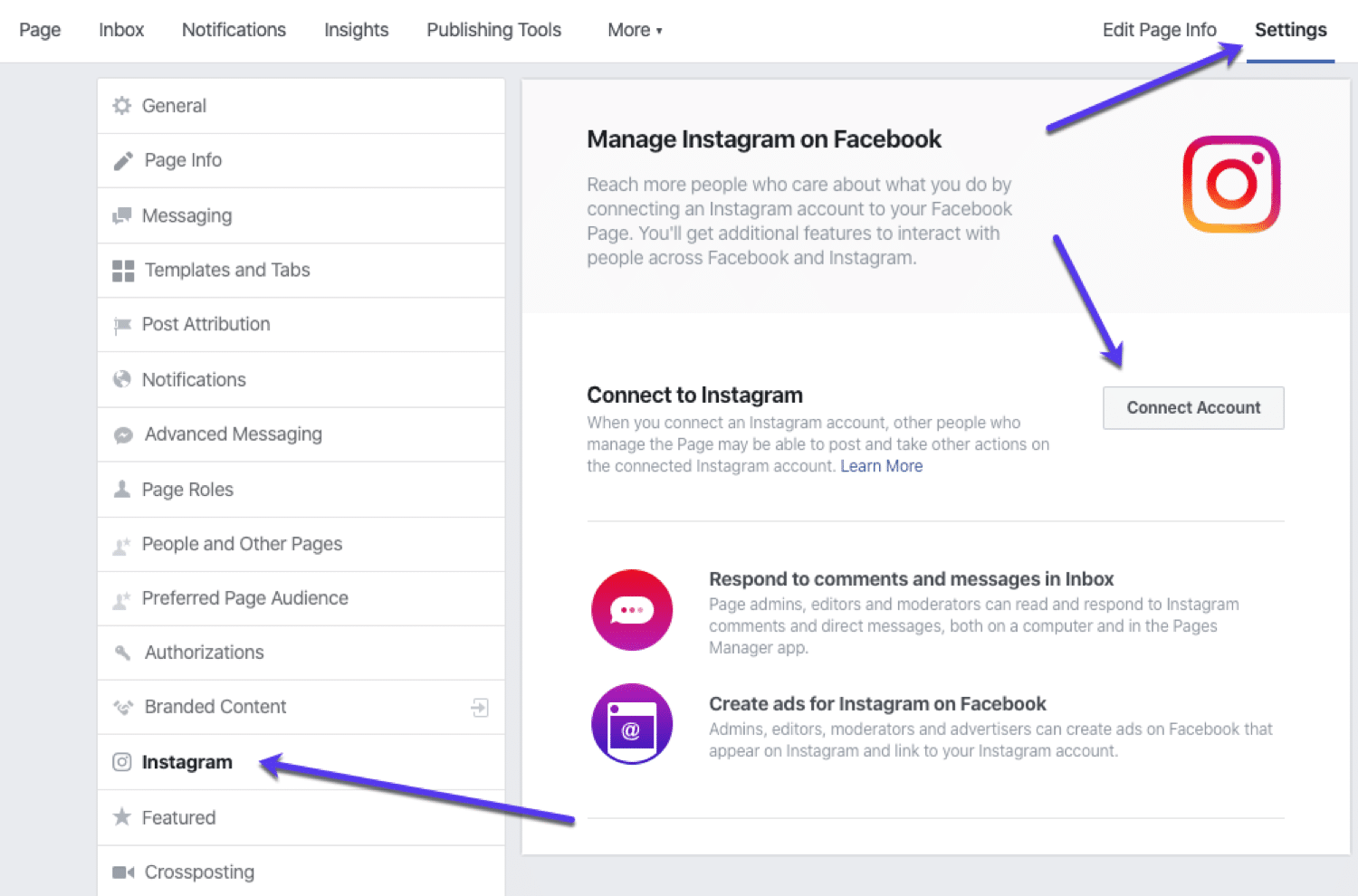 Very simply, here's how you get started advertising on Instagram:
Go to Facebook's Ad Manager.
Set your objective.
Set your target audience.
Pick your ad placements.
Set your budget and schedule.
Create your Instagram Ads.
YouTube
Did you know YouTube is the second largest search engine after Google?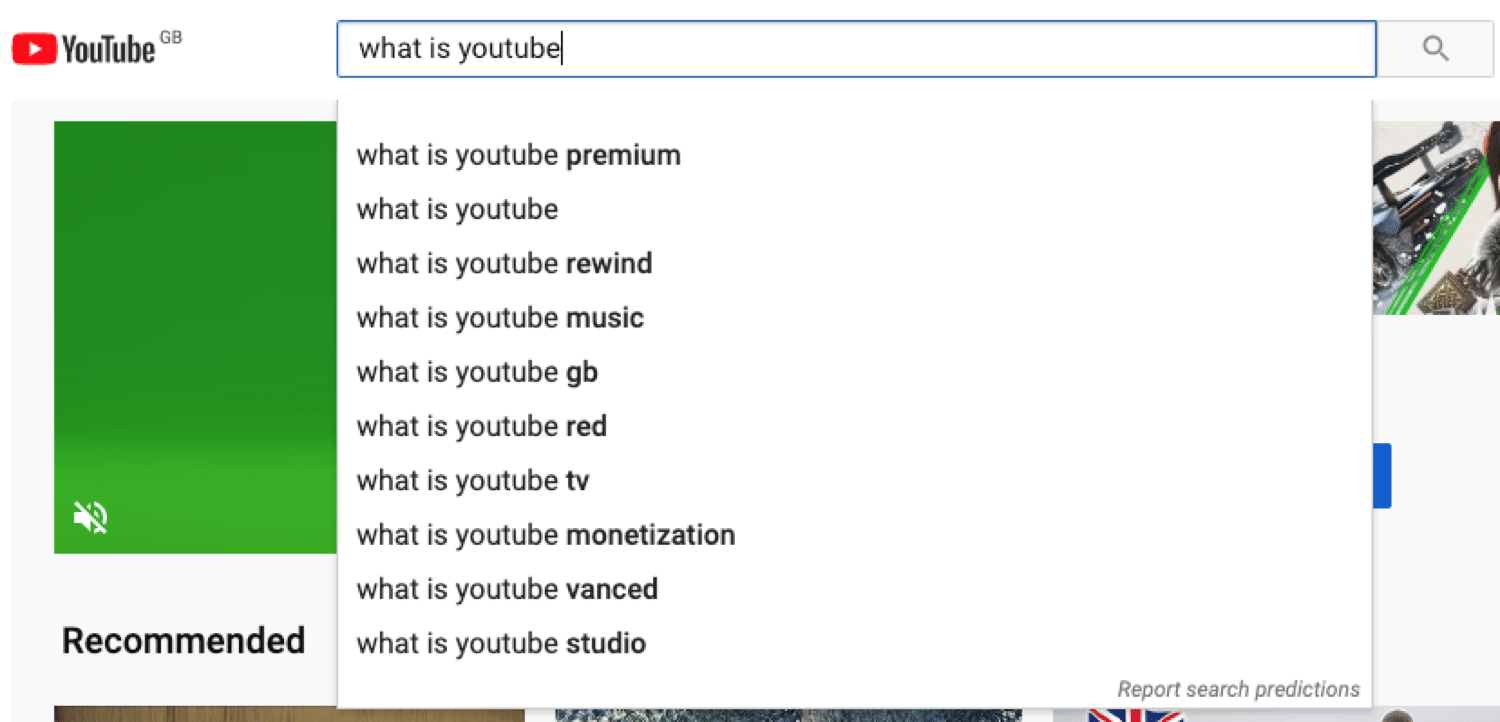 When used correctly, YouTube can be an amazing source of traffic. People watch 1 billion hours of YouTube per day, so just getting a small percentage of those views can be a game-changer.
65. Drive Traffic with These YouTube Marketing Tips
With so many videos uploaded every day to YouTube, it's easy for your content to get lost.
Thankfully, there are some simple steps you can take for generating organic traffic to and from your videos.
Here are some proven tips for getting traffic from YouTube:
A reason to visit your site like a free PDF, ebook, course, or exclusive content.
Add a link to your site in your channel header.
Use cards to help views navigate around.
Add a website link in your video descriptions.
Use a clear CTA on videos
66. Don't Forget YouTube SEO (to Rank Your Videos)
One of the best ways to get more video views is with YouTube SEO.
In a nutshell:
YouTube SEO is the process of optimizing your channel (including video playlists, metadata, descriptions, and actual videos) so that your channel shows up for the right people.
You can actually optimize your videos for search results inside YouTube and Google.
67. YouTube Ads
With a lot of your potential audience already on YouTube, it makes sense to target them with ads.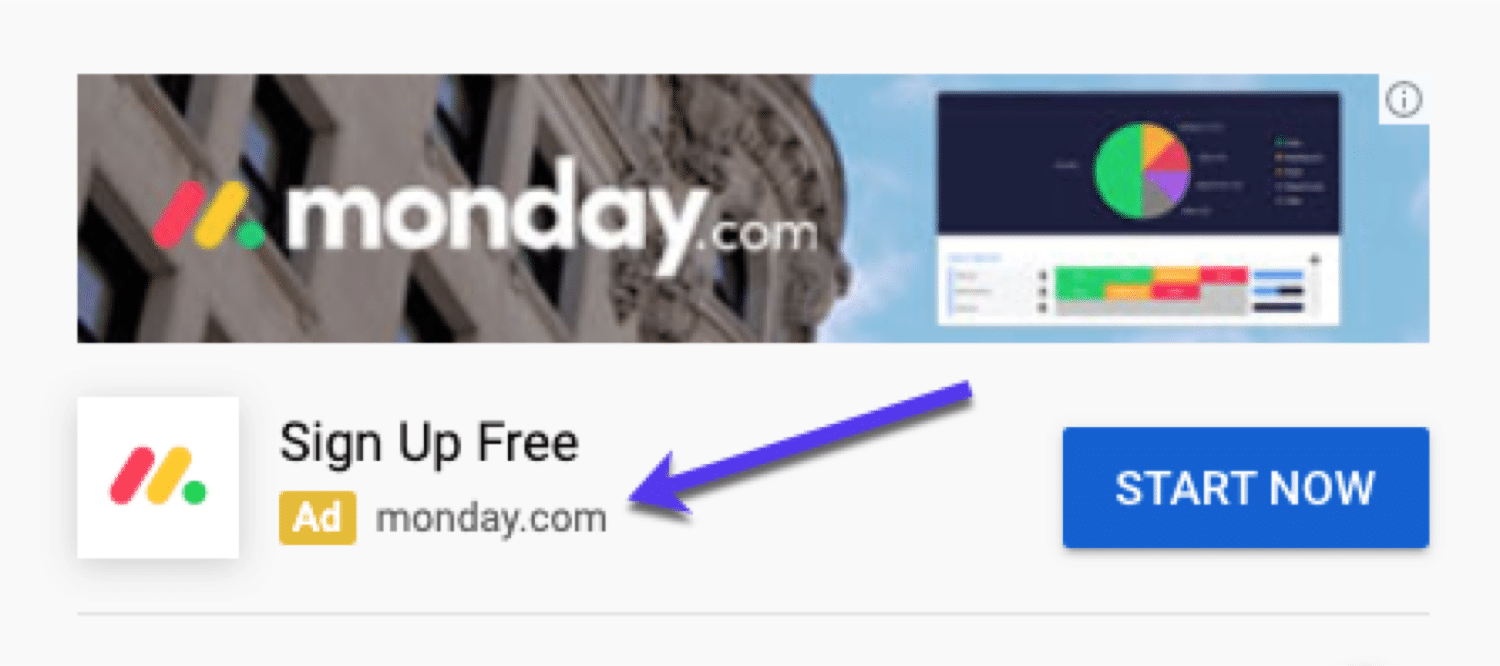 To get the most from YouTube Ads, you need to:
Target your audience.
Choose the right ad format.
Create engaging ads.
Check out this guide to YouTube advertising by HubSpot for more information.
Pinterest
Did you know that each pin on Pinterest can generate 2-page visits and 6 pageviews?
Pinterest is a great platform for sending traffic to your blog.
Not only are pins for great longevity (pins get shares over time) bu Pinterest was actively designed for sharing
Let's explore it in more detail:
68. Drive Traffic with These Pinterest Marketing Tips
Here are some tactics you can use to harness Pinterest traffic:
Sign up for a business account (and get access to Pinterest Analytics).
Make sure each pin description is detailed, helpful, and actionable.
Pin at the right time.
Create pin-worthy images (that are the right size & include text).
Join relevant Pinterest group boards.
69. Use Pinterest Ads
Pinterest ads are useful for getting your content in front of more people as they search and browse Pinterest.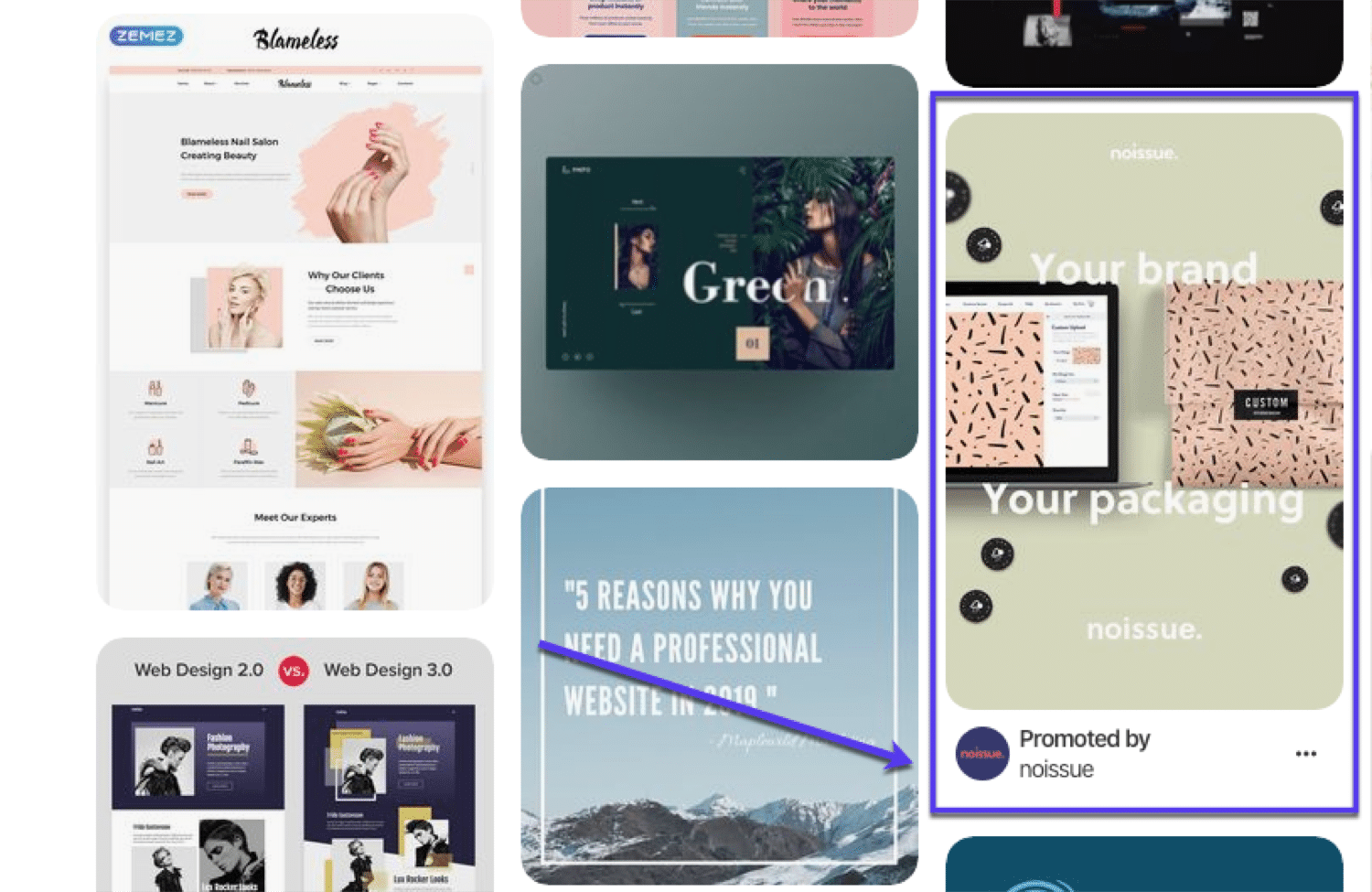 To get started:
Set up a Pinterest business account.
Install the Pinterest Tag.
Choose a goal for your campaign.
Set a campaign budget.
Create an ad group.
Select your target audience.
Choose ad placement.
Add interests + keywords.
Set budget + schedule.
Pick your Promoted Pins.
And like all paid ad campaigns: monitor and tweak accordingly. For even more information, check out this Pinterest Ads guide by Hootsuite.
LinkedIn
With over 600 million users, LinkedIn is the go-to social network for B2B.
LinkedIn is the place people go to when they want to connect with people in their industry, learn about their industry and share related content. If you want to drive traffic to your B2B blog or website, this is your platform.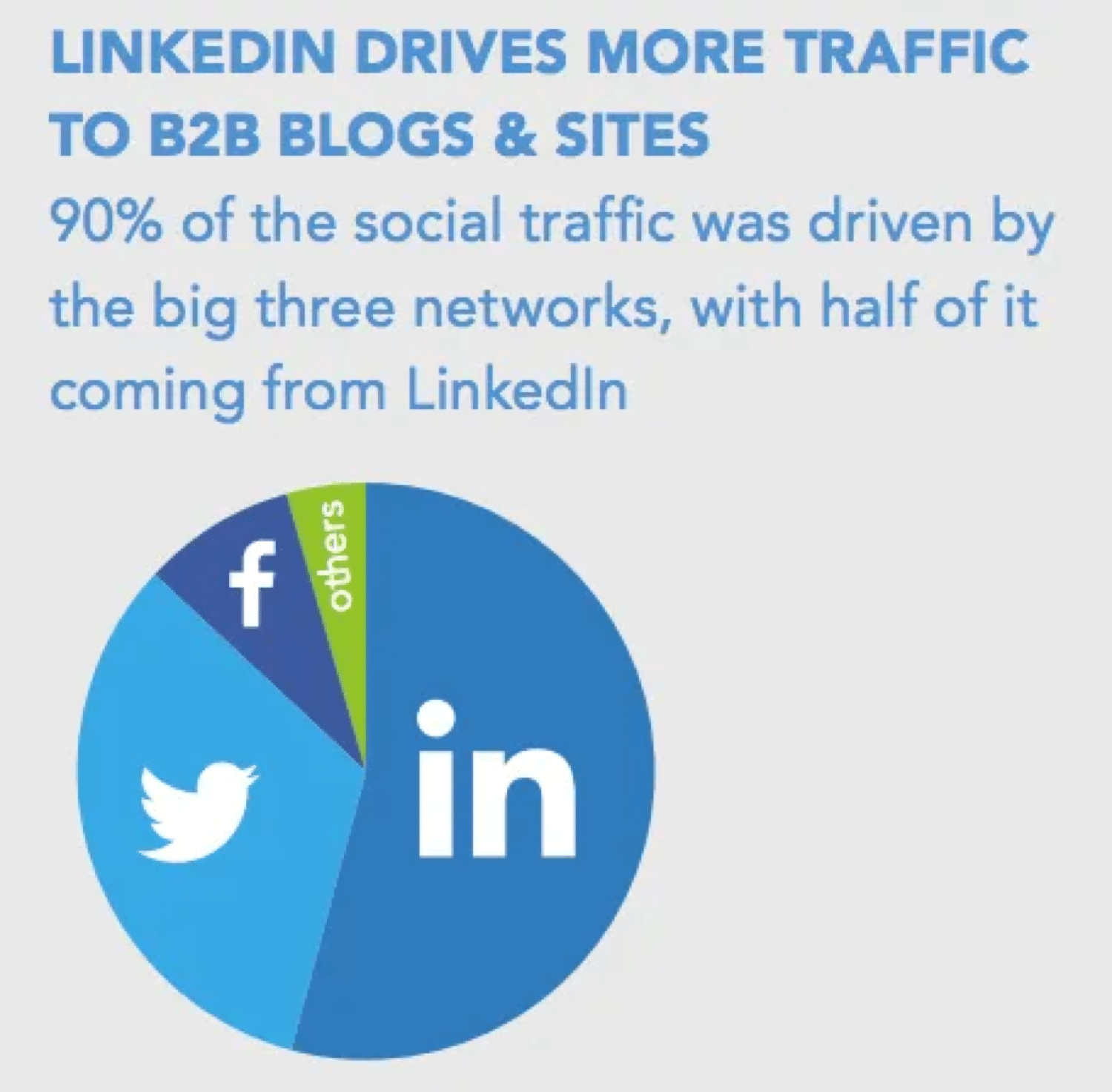 70. Drive Traffic with These LinkedIn Marketing Tips
LinkedIn can be a great traffic source if you use it right.
Here are the essentials you need to start driving traffic from LinkedIn today:
Create and optimize your personal Profile.
Join groups (or start one).
Regularly share useful content.
Don't share too much.
71. Republish Articles on LinkedIn
Don't forget you can leverage LinkedIn's publishing platform to reach their massive audience.
Republishing articles on LinkedIn is a great way to send traffic to your website and get in front of a new audience.
To get started, just hit 'write an article' on the LinkedIn homepage:

Before you publish your article, there are two things you want to make sure you've included:
A short bio – add this to the end of your post to direct people to your homepage or blog.
A CTA – directing people to a specific resource on your site that you think may help people.
72. LinkedIn Ads
You can also use LinkedIn Ads to target your audience with sponsored content, sponsored or text ads.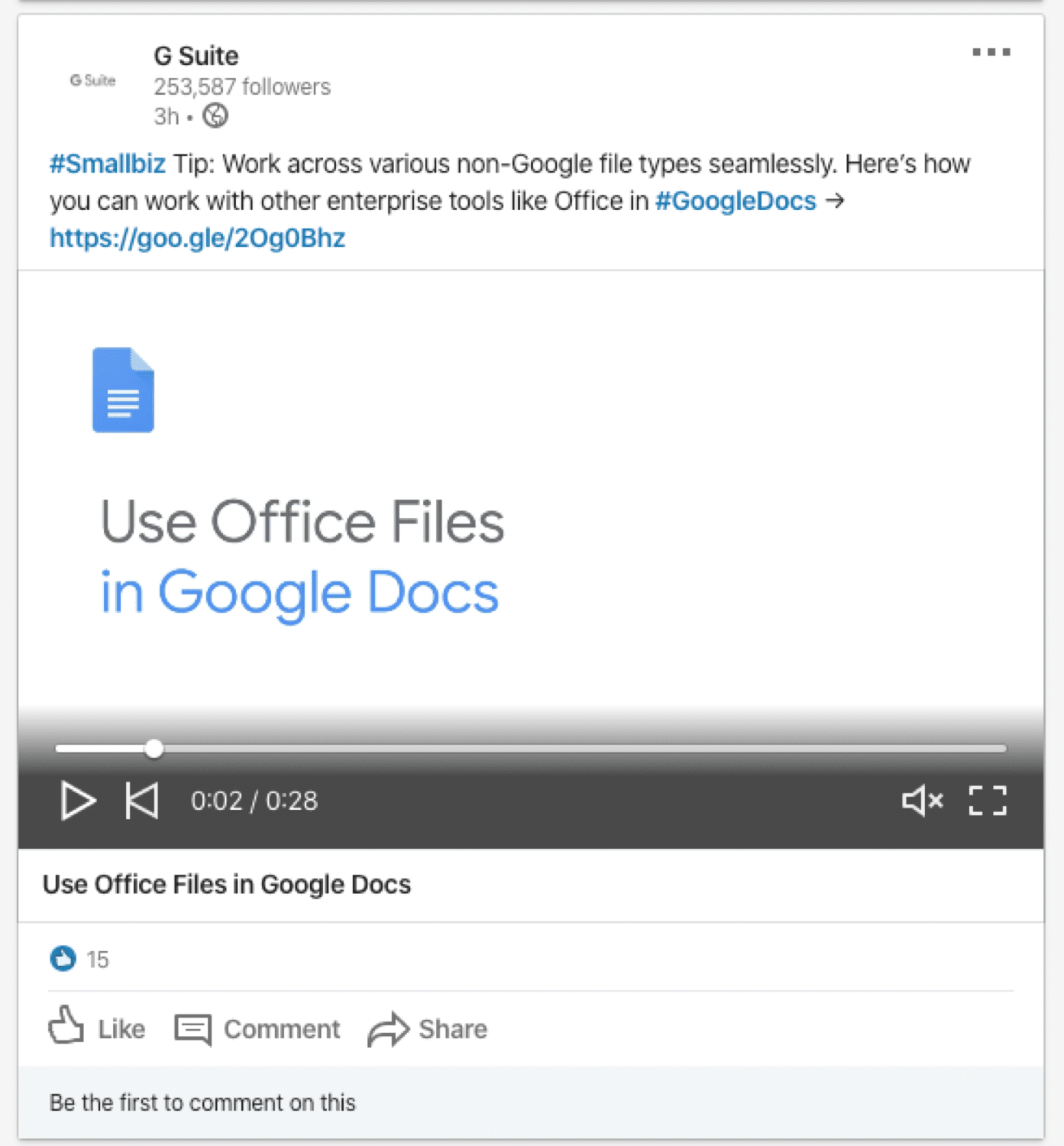 LinkedIn is obviously most suited to targeting a professional audience. So if your site isn't targeting that demographic, you may be better of saving your money.
This guide by Hootsuite provides a good walk-through of LinkedIn ads.
Other Marketing Tactics
Sometimes marketing tactics don't neatly fit into a category. Here are all the traffic boosting tactics that are left:
73. Use Paid Traffic
We've touched on this already with social ads, but paid traffic can be an effective way of getting eyes on your content. It's also highly scalable (providing you have the budget).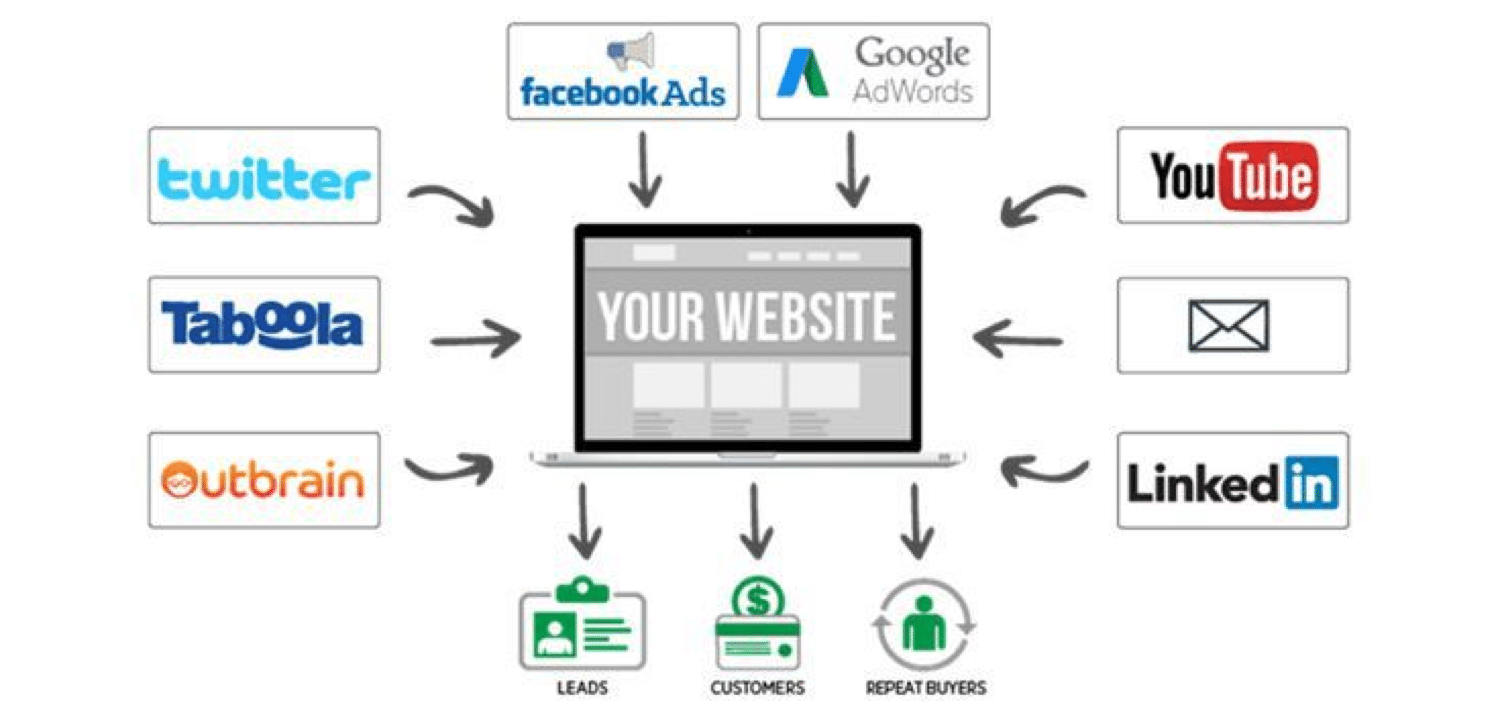 Here are some of the best-paid traffic sources to consider:
Display ads.
Paid search ads (through Google AdWords or Bing Ads).
Paid discovery (like Outbrain or Taboola).
Sponsored content.
Depending on the ads you're buying, you could pay per click (PPC), pay per view (PPV) or pay per acquisition/action (PPA).
74. Appear on Niche Relevant Podcasts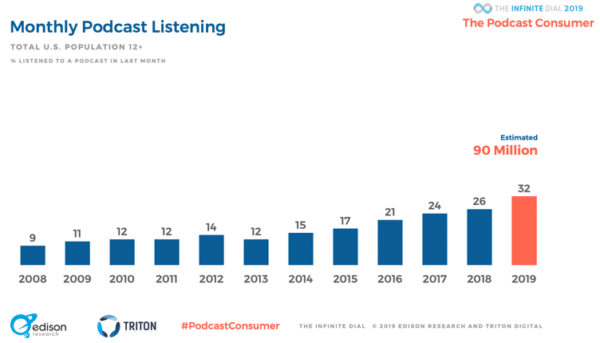 Doing podcast interviews can be a great driver of traffic.
Not only do you get a relevant recommendation on the podcast but you also get in front of a new audience. And if you are on a niche relevant podcast, you may have gained new audience members of your own.
Want to turn up a notch and appear on lots of podcasts?
Here's how to kickstart your podcast campaign:
Step 1 – Find Podcasts in Your Niche
Remember to stay on topic with finding podcasts to go on.
Look at places like Stitcher and Podbean. And don't forget to just simply Google:
YOUR NICHE + podcast
Try and aim for 50 podcasts to reach out.
Step 2 – Write Your Pitch
You want them to invite you on so make your pitch relevant.
If you haven't already, listen to a few episodes to try and get an idea of what you can bring to the table.
Step 3 – Contact the Hosts
Most podcast hosts want you to contact them.
Find their preferred contact format and send them your pitch.
Step 4 – Do the Podcast (Hopefully)
Do the podcast and try to naturally share your content and info about your website.
Step 5 – Share the Podcast.
The final step is to share your podcast appearance.
Promote it to your email list, on your social channels, your blog, etc.
It's not just other people's podcasts, though, you can have your own as an additional traffic source
75. Start a Podcast
If you are struggling to find podcasts to appear on, or you just have a burning desire to share content, why not create your own.
Here's how to quickly start a podcast:
Pick your topic(s).
Come up with a name, show description, and artwork.
Set up and test your recording equipment.
Plan your episodes.
Record your episodes.
Edit and then finally publish your episodes.
Hey presto, you've just launched a podcast.
76. Do Some Interviews (with Bloggers in Your Niche)
Interviews aren't only for large publications.
Many people will be willing to talk to you if you just ask them, even if you only have a small audience.
It's pretty simple to get started too:
Just send out a few emails requesting an interview to people in your industry. For the ones that get back to you, publish the interviews on your blog.
Not only will the recognizable names improve your credibility and traffic, you'll probably get a further reach when the interviewee shares it with their audience.
If you want some inspiration, sites like Starter Story, IndieHackers started out producing this kind of content based on interviews. Also, don't forget our own Kingpin segment!
Summary
Phew, if you made it this far, congrats. That was a long read.
If you take some of the tactics from this article on board and apply them to your site, you'll be well on your way of increasing traffic.
Try one (or a few) of the tactics and see what effect it has on your traffic. If it doesn't work for you: try another. If it does: double down and do more.
Which tactics have you tried? How do you bring in traffic to your sites? Let us know in the comments below.